Elliott on JMU's defense: Don't let size deceive you, Dukes are athletic and sound
By Jerry Ratcliffe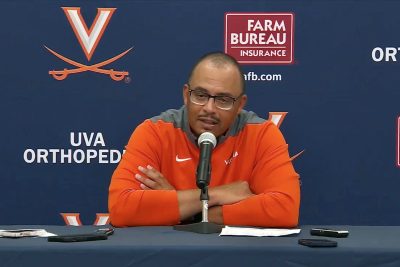 The key to Virginia's home opener against 6-point favorite JMU will be which team can control the line of scrimmage on both sides of the football.
Earlier in the week, UVA coach Tony Elliott talked about how his defense must contain JMU's running game (see related story here). Curt Cignetti, coach of the Dukes, is likely thinking the same thing about stopping the Cavaliers from establishing a ground game early.
It wasn't until the third quarter that UVA began to run the ball successfully against a powerful Tennessee defense in last weekend's 49-13 loss to the top-10 Vols. Elliott said Tuesday that it was a mistake to wait that long to get the running game going, so expect Virginia to be more dedicated to that aspect of its offense against the Dukes.
No secret that Elliott and offensive coordinator Des Kitchings want to feature a balanced offense, but that won't happen if the UVA offensive line can't punch holes in JMU's defensive front.
"[JMU's defense] is athletic, first and foremost, and very sound," Elliott said. "You don't see them out of position much. They're very twitchy on the edges, they can get after the quarterback off the edges. I'm gonna say they're sneaky stout on the inside, because you're going to look at the stat sheet and you're gonna look on paper and say, 'OK, well, they're 6-2, 280,' but when their D-tackles, No. 99, Carpenter, anchors down, he's hard to move.
"Structurally, they are sound with athletic linebackers, who are two, big athletes that can run sideline to sideline, and their corners can come up in press coverage. They have confidence in their corners to be able to play bump-and-run coverage with no help, which allows them to dictate and be able to stop the run."
Once Elliott and his staff watched JMU on film and shared it with players, it was easy to notice that the Dukes play bigger than their sizes on the depth chart.
JMU looks like this up front:
Defensive ends Mikail Kamara (6-0, 265), Jalen Green (6-1, 245), Nose tackle (defensive tackle) James Carpenter (6-2, 282) and Jamree Kromah (6-4, 275). Linebackers Jailin Walker (6-1, 218) and Taurus Jones (6-1, 214).
By comparison, JMU's defense is much smaller than Tennessee, but it's doubtful Virginia will face a defense that is as big, as good, as deep as the Vols the rest of the season.
The Cavaliers put together their best drive of the game against the Vols late in the third quarter on an 8-play, 75-yard drive that featured seven running plays, all by Perris Jones and Kobe Pace. The scoring drive, which made it 35-10, was capped off by a brilliant, 17-yard run by Jones for the touchdown.
The majority of those successful runs came on the left side of Virginia's offensive line, where big sophomore left tackle McKale Boley (6-4, 302) and left guard Noah Josey (6-5, 315) opened the holes.
If Virginia can run the ball consistently against the Dukes, it should help quarterback Tony Muskett (if he gets the green light to play) or Anthony Colandrea (another story here) use their play action and move the chains.
The Cavaliers, who averaged only 17 points per game last season and scored 10 vs. Tennessee, have struggled offensively in their 12 games in a new offense. JMU has scored at least 35 points in its last five straight games.