Elliott on Muskett: 'You don't have to be Superman' against Tennessee
Countdown to KickoffBy Jerry Ratcliffe
One of the intriguing questions about Virginia football since spring has been about the Cavaliers' new quarterback, Tony Muskett.
Just how good is this guy? Can UVA win with him in Power 5 football? Can he throw the deep ball? Can he make the transition from the FCS to the FBS?
It may take some time to get a true answer. Opening up against No. 12 Tennessee on the road may not be a good indication. Muskett transferred to Virginia after throwing for 5,687 yards and 51 touchdowns at Monmouth, which was in the Big South his first two seasons before competing in the CAA last year.
Not only will Muskett have to face a ferocious Volunteers defense known for blitzing in the opener, but he'll also have to fight his nerves. First game on this level, first game in this kind of atmosphere. A sellout crowd of just under 70,000 fans will fill up Nissan Stadium, probably about 60,000 more than Muskett is accustomed to seeing.
Tennessee's intentions are clear. The Vols will test him early, attempt to pressure and rattle him and force him into mistakes.
UT coach Josh Heupel said Thursday that he expects Muskett to play at a high level and anticipates Muskett's experience will help.
"For us, we've got to do a great job of stopping the run game, eliminating that on normal downs and trying to get [Virginia] into some third-and-long situations," Heupel said.
Muskett is a 6-foot-2, 215-pound senior, who was Monmouth's all-time leader in passing efficiency (150.4) and second all-time in completion percentage (64.2). He threw for more than 7,000 yards and 69 touchdowns at West Springfield in high school in Northern Virginia.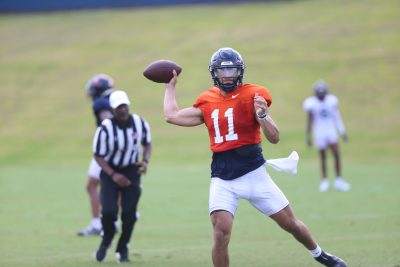 Most likely, Muskett, who was overlooked by UVA, Virginia Tech and Maryland out of high school, will be playing with a chip on his shoulder, hoping to show the masses that he's capable of performing on the FBS level. Sometimes a chip on the shoulder can be a powerful thing.
Still, walking into an NFL stadium in front of a rabid Tennessee fan base and against a team that has designs on the SEC East championship can be a daunting experience, even for a proven quarterback.
Virginia coach Tony Elliott has recognized that aspect of the opener and has given his new quarterback some advice.
"Just be himself … at the end of the day it's about just playing your game, doing what it is that has always made you successful," Elliott said about what he has told Muskett regarding Saturday's challenge. 
"My message is that you don't need to be Superman, you don't need to be a superhero. Just go be yourself and have fun and enjoy the moment."
Elliott recognized that few, if any, of his players have experienced the type of game atmosphere that awaits them in Nashville. If any of these players were on Virginia's roster when it played Florida in the 2019 Orange Bowl, they were likely freshmen without a true role.
"This is probably going to be an environment that they may not have played in before, so they gotta be ready and they can't become overwhelmed by the environment," Elliott said. "You play for the roar of the crowd, there's no question about that, then you've got to lock in and just go do your job.
"A lot of times what happens is you get into the zone and you block out what's going on around you and you're just focusing."
Virginia offensive coordinator Des Kitchings has confidence in Muskett, backed up by true freshman Anthony Colandrea, who at this time last year was playing high school football in St. Petersburg, Fla.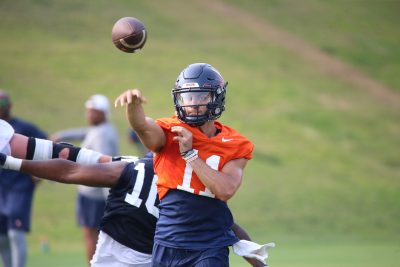 "I expect [Muskett] to play with the same temperament that he's approached everything … very even-keeled, and just be a point guard, distribute the ball, make smart decisions, getting to the right checks, throw to the open guy and use his fundamentals, that's his strength, and then the rest will take care of itself," Kitchings said this week.
Kitchings said he's had good give-and-take from Muskett in terms of game-planning for Tennessee, along with quarterbacks coach Taylor Lamb, and that Muskett has been honest with both of his coaches with his comfort level.
"You know what, Coach, I don't like that [play]," Kitchings said his quarterback has commented. "Great, we won't put that in the game plan because if you don't like it, it makes no sense having a gameplan to call it, so there's been a lot of good dialogue throughout camp on things that he is comfortable with."
That comfort level, parlayed with how Kitchings & Co. feel like they can attack Tennessee's defense, has been the focus of the game plan. The OC noted that as the game goes on and Muskett becomes more comfortable, "there's some things on the back of the [play] sheet that we can get a little bit more aggressive."
Of course, Tennessee's defensive plan will include making Muskett uncomfortable, to force him into errors that could lead to turnovers in order to reveal whether the Virginia quarterback can play as effectively in big-time football as he did in the FCS.