Elliott thrilled with opening of camp, notices growth of program early on
By Jerry Ratcliffe
Tony Elliott kicked off his second Virginia fall training camp with intensity and a sense of urgency on Wednesday, and he liked the response from a healthy, hungry group of Cavalier football players.
"A lot of excitement, a lot of energy … you could tell that they wanted to be on the practice field, flying around," Elliott said after UVA's opening practice. "There is a different level of intensity when you go from training in the summer with the strength coaches to the entire coaching staff, but I thought they responded well to the increase in intensity."
It was the first of 25 practices before the Cavaliers open the season on Sept. 2 vs. Tennessee in Nashville. Elliott's intent is to make practice tougher than games so his team will be ready to take on the Vols, predicted to be one of the nation's top teams.
"Having the mindset that we can go all day doesn't matter and we're going to have the mindset that we're going to attack every drill," Elliott said. "Part of developing that attacking mindset is when you're tired, you still run from drill to drill. You practice with tempo."
The Cavaliers' opening day lasted one hour, 51 minutes, and Elliott said that his team wasn't going to be on the practice field for an extremely long time, but while they're on the field, they're going to practice fast. The aim Wednesday was to get 40 reps in a 20-minute period, a rep every 30 seconds.
"We actually finished in about 17 minutes, so the guys were moving," the coach said, emphasizing the tempo of practice. "We'll clean up all the details during the course of the day when we have sit-down meetings with the players."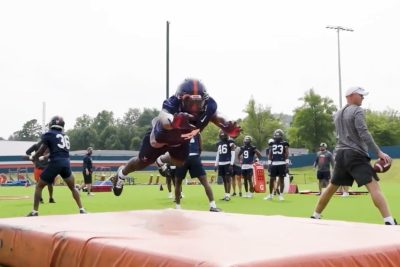 Elliott said he noticed a lot of growth has already taken place in the program in terms of everyone understanding the structure of practice.
"There's still some things that we can get better as coaches from an organizational standpoint and communication standpoint," Elliott said. "Now you have a chance to coach the details, coach the core values as opposed to just the big picture."
Because there are lots of experienced players returning to the defense, the coaches can really focus on taking that unit to a higher level.
"That's what you want out of a veteran guy, just to be honest with us," the coach said. "When they make a mistake, they've got the mental toughness to flush it and move on."
Elliott was extremely excited that this year's fall camp affords him more time to get work done.
"Last year was a little bit difficult because we had summer school going all the way until Aug. 14, classes started on the 22nd and we had meetings at 7:30 in the morning," the coach said. "The players are in class all day and you practiced at 6 (o'clock) at night.
"Now, man, we're in here at 8 (a.m.) eating breakfast together, we meet from 8:30 to 11:30, we take a couple hours break, then we're back in here at meetings, so we get a lot more time really so we can really hone in on the details."