Elliott to Cavaliers on big-game atmosphere: Don't play the game night before or on bus ride to stadium
Countdown to Kickoff By Jerry Ratcliffe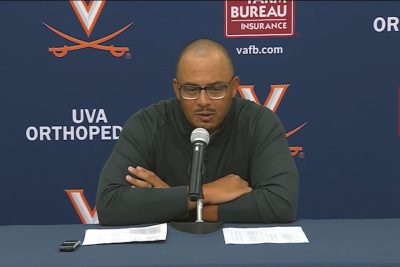 During his decade as Clemson's offensive coordinator, Tony Elliott coached in some of the biggest games in the most electric atmospheres in college football. Elliott had to prepare his offenses to face the Alabama's, Ohio State's, Oklahoma's, LSU's and Notre Dame's of the college football world on its biggest stage.
How has that experience helped his Virginia team prepare for the biggest game the Cavaliers have played in? Most of these Wahoos have not played before huge crowds or in a big-time atmosphere like they will face on Saturday against 12th-ranked Tennessee in sold-out (69,489) Nissan Stadium in Nashville (noon, Eastern, ABC Sports).
"This week it's been about trying to prepare these guys for the environment," Elliott said Tuesday at his game-week press conference. "It's going to be loud. There will be a lot of excitement. I think more so the crowd as much as the anticipation of wanting to play.
"This football team hasn't played in a long time," Elliott reminded, in reference to the tragic shootings that ended Virginia's season prematurely. UVA's last game was Nov. 12, 2022, when the Cavaliers lost to Pitt. "So helping the guys understand how to channel that emotion, not play the game before you show up. Don't play the game in the locker room. You're going to have to make sure that you manage — and kind of the analogy I've been using is gas in your tank — you've got to manage it."
Elliott told his team that they can't use all their energy in the first quarter, the first five minutes of the game.
"You've got to be able to use each quarter, each play, and not be too emotionally involved in the game," the UVA coach said.
"What I've learned in games like this is the emotions are high early and then comes down to who can lock in, focus, and then when you get into the course of the game where there are momentum changes, can you stay steady so that you can continue to do what you need to do to give yourself an opportunity to be in position," Elliott said.
The coach offered up advice to his players — don't play the game the night before in their heads, don't play it on the bus ride to the stadium. Just prepare to play for four quarters.