Everyone Scores As Virginia Cruises To Easy Victory Over Morgan State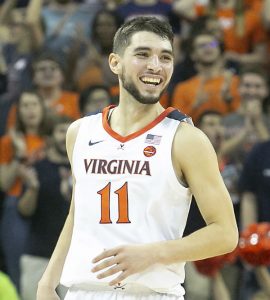 You know it's your night win every player that checks into the game scores at least one point. That was the case for No. 4 Virginia Monday, as the Cavaliers remained unbeaten on the season with an easy 83-45 win over Morgan State at John Paul Jones Arena.
The Wahoos (8-0) were led by Kyle Guy and De'Andre Hunter's 15 points apiece, as they and the other starters spent much of the second half cheering their teammates on from the sideline down the stretch in the lopsided victory.
Virginia held the Bears (2-5) without a field goal for nearly 11 minutes in the second half to put the icing on the cake.
The 'Hoos were on fire to start the contest, hitting 9 of their first 10 shots and 11 of the first 13. Guy nailed a pair of 3s early on — part of 4 UVA long balls made by first media timeout alone — as the Cavaliers never trailed throughout the contest. Despite the hot shooting, Todd Bozeman's Morgan State bunch hung with the 'Hoos, as Stanley Davis stole the ball from Marco Anthony and dunked it home to cut Virginia's early lead to 23-14 midway through the first half, before a 19-3 Cavalanche swung the momentum for the remainder of the contest.
Jay Huff slammed one home with the right hand on a nice Anthony assist to jumpstart the run. Kihei Clark, who started his third straight game at the point, cashed in on an old-fashioned three-point play on a strong drive to the hole before senior Jack Salt drew an ovation for his hustle, hitting the deck for a loose ball that set up Guy for a convincing two-hand flush on the other end.
"I think that our defense was really good tonight," Guy said. "[The Bears] went on a little bit of a run to start the first half but other than that I think we were in the gaps, playing really good defense."
Added Salt: "We play against ourselves and not the opponent if the score isn't close."
Braxton Key got in the act on a screen-and-roll from Clark, and then after forcing a 10-second backcourt violation, Ty Jerome rattled home his second 3-pointer from NBA range to cap the scoring spurt that gave the 'Hoos a 42-17 lead with 4:12 left in the half.
A Tyler Streeter 3 ended an MSU drought of nearly six minutes of game time with 2:49 left in the first half, but the Bears still trailed by 22, 42-20.
Freshman Kody Stattmann sank a triple with 38 seconds left, set up by one of Huff's three blocks on the night, and UVA headed to half with a comfortable 47-23 lead. Virginia shot 65 percent from the field and 64 percent from downtown in the first half.
Huff not only blocked two more shots in the second half, but bothered a few other MSU shot attempts, something that Coach Tony Bennett was happy to see.
"It was nice to see him bother shots and be active," Bennett said of Huff's performance. "He has good hands and skills offensively. [Morgan State] didn't set a lot of ball screens, but Jay just has to continue to work on his alertness and his activity. I thought he did a nice job. He had two good days of practice. We're going to need everybody and I'm always looking for matchups for Jay out there and I thought he did a good job and was alert.
"You could really see his length. Even if a guy beats him or beat someone else, he has the ability and the timing, with being 7-feet and being fairly quick off the floor, to bother a shot. So, rim protection is important and he took a step in the right direction. Against a team that's a little different than some of the competition in our league, size-wise and some quickness, I thought he handled himself nicely on both ends of the floor."
The second half got off to a bit of a sloppy start, as neither team could get much going out of the locker room. Hunter, who has scored in double figures in every game this season, converted off the glass to give the Cavaliers a 53-25 advantage with 16:45 to go before the 'Hoos missed eight in a row from the field. Neither team scored in over four minutes until Malik Miller cut it to 26 with 12:42 remaining — the Bears didn't get another field-goal attempt to fall until Streeter scored in the lane with 1:57 to go.
Hunter broke the nearly five-minute UVA drought with his final bucket of the night off a Guy steal and assist with 11:50 to play.
The reserves played out the closing minutes and did not disappoint. Anthony scored a season-best 8 points on the evening, while Stattmann set a career high with 9.
With time winding down on a fast break, everyone's favorite manager, Grant Kersey, bounced one in stride to former Albemarle High School teammate Austin Katstra for a power jam to ignite the crowd. Kersey wasn't done, scoring on an and-1 with 27 ticks left to the delight of the Wahoo faithful.
"It was good to see a lot of guys get opportunities to play," said Bennett, who won his 227th game at UVA and 296th overall. "We're going to need everyone. Obviously, [we] started out shooting the ball well. Guys played hard and a lot of guys got experience, so I thought it was a positive night in that regard."
Miller and Victor Curry each had 7 points to lead the Bears, who shot 26 percent (14 for 54) for the game and committed 17 turnovers, which the Cavaliers turned into 20 points. Morgan State shot just 18 percent (5 for 28) from the field in the second half, including 0 for 8 from distance.
"I thought we just made some bad plays," said Bozeman. "Clearly that's not to take anything away from UVA because Tony does an excellent job with his team. I mean I came in knowing we were going to play against the best defensive team in the country. I wanted to try to keep those [turnovers] down, so a lot of them I thought were self-inflicted, but obviously, some of them were them."
Virginia gave up an uncharacteristic 13 turnovers of its own after tying a school record with just 2 against Maryland last week. The 'Hoos shot 54 percent (27 for 50) on the night and 36 percent (8 for 22) from deep, outrebounding the Bears, 33-27. UVA shot 21 for 23 from the charity stripe.
Jerome finished with 8 points, 3 rebounds, 5 assists and a career-high 5 steals in 27 minutes, while Key added 6 points and a game-high 9 rebounds off the bench, which matched his season high. Salt had 6 points, 4 rebounds and 2 assists. Kersey scored a career-best 5 points.
The Wahoos return to action Sunday at 1 p.m. when they host VCU.

Comments