'Fear the Stache:' Vander Plas giving UVA opponents lots to fear as a nightmare matchup
By Jerry Ratcliffe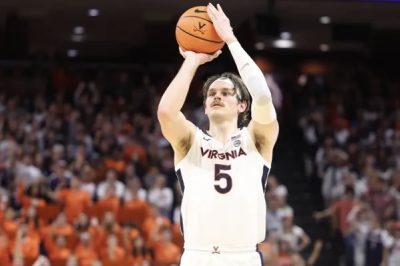 "Fear the Stache" is becoming a thing with Virginia basketball grad player Ben Vander Plas.
The grad transfer from Ohio U. showed up in the offseason sporting a nifty mustache that he experimented with during his days with the Bobcats. Now, the "stache" is part of his identity as a key figure in No. 6 Virginia's lineup.
While "BVP," as he's known among the Cavaliers' fan base, has found consistency during UVA's seven-game winning streak, some of that success has evolved since Tony Bennett has gone with a smaller lineup during that stretch. Virginia (17-3, 9-2 ACC) will put its streak on the line today at rival Virginia Tech (noon, ESPN2).
When the Cavaliers go to the small lineup, the 6-foot-8 Vander Plas moves over to the five spot, often assigned to defend a bigger player. That's not an intimidating assignment for BVP, who has a strong background at the position.
"I've guarded fives in the past, playing at Ohio," BVP said. "But MAC (Mid-America Conference) fives and ACC fives are just a little bit different in terms of just the size. We have a couple of different things when I've gotten some bigger fives, like to post up, things like post traps, choking out with the guards, things like that."
When he came to UVA, Vander Plas dropped some weight, believing that would help him become more fluid as a power forward or perhaps even some playing time on the wing. He has had some time at those spots, but not since Bennett went with the smaller lineup.
"But here we are, back at the five again," BVP said. "So, just continuing to work with Coach (Mike) Curtis (strength coach), making sure we stay strong just so I can bang around in there with the big guys in the ACC."
While Vander Plas is a strong defender and solid rebounder, he has also been an offensive bonus. As Wake Forest coach Steve Forbes said, Vander Plas is a nightmare of a matchup. Put a smaller guy on him and BVP takes it to the hoop. Use a bigger guy and BVP takes him outside and shoots over the top.
During Virginia's seven-game winning streak, he has done both. His overall field-goal percentage during that span is 43.8 percent (25 of 57), while his 3-point percentage is even higher at 48.5 percent (16 of 33).
Pick your poison.
Even more reason to "Fear the Stache."
Vander Plas explained that the idea to grow a mustache goes back to when Covid started back in 2020. He and his brother, who then was a grad assistant for the Illinois State women's team, both returned home in Wisconsin as basketball shut down.
They planned on being home a couple of weeks but as the pandemic grew, they were quarantined for months.
"My brother started growing his mustache, and I was like, 'You know what, I'm not leaving the house anytime soon, I got nobody to impress, like, I'm just gonna grow my mustache and see what it looks like,'" BVP said. "I gotta give the credit to my brother for that one. I kind of followed in his footsteps."
Last season, he sported various looks — a beard, clean-shaven, mustache. The 'stache won out in the end, and "we've just kind of rolled with it ever since."
In recent weeks, he's found himself surrounded by kids who wore BVP shirts and their best BVP impersonations.
"They had their own orange headbands with little, fake mustaches, and that was awesome," Vander Plas said. "I love that stuff.
"I'm just really thankful that people have accepted me here and are supporting me. So just a huge shoutout to everybody who has kind of hopped on the mustache train. It's been a lot of fun."
Except for opponents. Fear the Stache.
He had scoring outbursts early on, but then there were games when he didn't show well in the scoring column as he struggled with consistency. During the streak, however, he's only had one ineffective scoring game when he put up only two points in a recent win over Boston College.
Virginia has developed such a balanced offense that it can afford for one player to have an off night.
"We have a lot of pieces offensively and guys that can score in a lot of different ways," BVP said. "We can do a lot of different things on offense and I think it's showing a little, just with the different lineups we can go out there with, the different kinds of schemes we're throwing out there in terms of what we're running on offense, who's getting the ball where, just there's a whole bunch of things that we can do with a lot of really skilled guys offensively.
"It's been fun to see, the coaching staff's creativity in terms of what they want to do against a certain team, but it's definitely been fun."
Certainly, Vander Plas' experience helps allow Bennett to be more versatile on both ends of the floor. While at Ohio, BVP played in 121 games and has played in all 20 of UVA's game this season. He's a player who has seen it all and won't get rattled.
Today's trip to Blacksburg will be his first to rowdy Cassell Coliseum, but BVP is excited about the game.
"Everybody's talked about it, just that it's a fun game, you know, their fans, they get a lot of fans that are passionate and [teammates] talked about how loud it gets in there," Vander Plas said. "Those are the spots you want to be in, enjoyable games.
"Once you get in between the lines, that kind of stuff kind of goes out. You're just playing basketball. It's just going back to what you know and sticking to what you do. So the environment itself is going to be a fun one. I'm looking forward to it."