FINAL: Virginia 33, Georgia Tech 28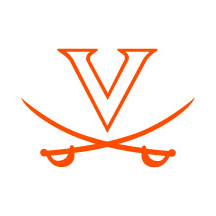 Virginia remained unbeaten at home and took another giant step toward its first ACC Coastal Division championship Saturday, as the Cavaliers defeated Georgia Tech for the 12th time in the last 14 meetings at Scott Stadium, 33-28.
UVA stays alone in first place and moves to 7-3 on the season and 5-2 in league play with one conference game to go, as senior quarterback Bryce Perkins led another heroic effort with title-game implications on the line. Perkins threw for 258 yards (24 for 35 with a touchdown) while rushing for 106 more on the ground and another score, while Wayne Taulapapa added two more scores to pace the offense.
Terrell Jana had another monster game with a game-high 108 receiving yards, as the offense put up 413 total yards on the day and committed no turnovers in the important victory. Linebackers Jordan Mack and Zane Zandier each recorded nine total tackles to lead the defense, as the 'Hoos will now have an extra week to prepare for Liberty.

Individual Statistics
RUSHING: GT — Jordan Mason 19-94; James Graham 8-42; Jamious Griffin 3-7; Jerry Howard Jr. 1-2; TEAM 1-(-2). UVA — Bryce Perkins 21-106; Wayne Taulapapa 10-37; PK Kier 2-6; Joe Reed 2-5; Lamont Atkins 1-3; TEAM 1-(-2).
PASSING: GT — James Graham 15-22-1-229. UVA — Bryce Perkins 24-35-0-258.
RECEIVING: GT — Ahmarean Brown 1-59; Tobias Oliver 4-57; Tyler Davis 3-54; Malachi Carter 1-25; Adonicas Sanders 5-21; Dylan Deveney 1-13. UVA — Terrell Jana 9-108; Billy Kemp IV 4-51; Tavares Kelly Jr. 2-46; Joe Reed 5-27; Tanner Cowley 2-23; Wayne Taulapapa 2-3.
Attendance — 44,596.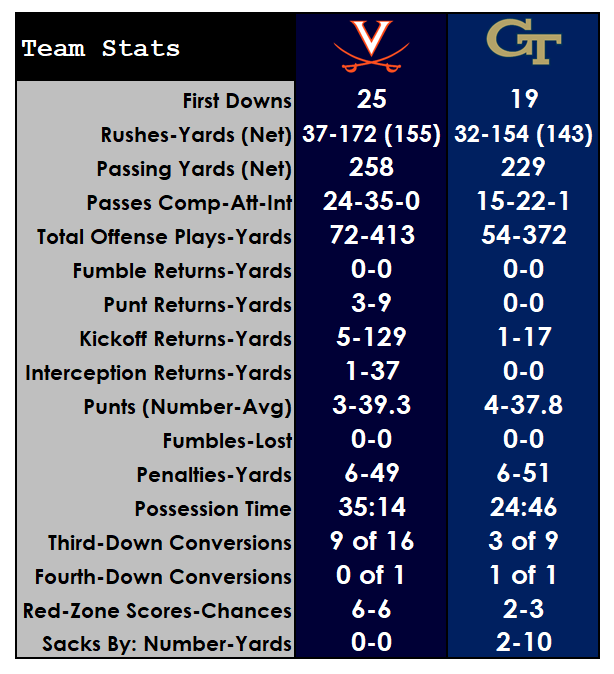 First Quarter
The Yellow Jackets got the ball first and struck quickly, as quarterback James Graham went over top of the UVA defense on a 59-yard touchdown toss to Ahmarean Brown on the fourth play from scrimmage. Wesley Wells' extra point put the Cavaliers in an early hole with 13:19 on the clock. Jackets 7, Wahoos 0.
It looked as if Perkins had an answer with an apparent 38-yard TD pass to Billy Kemp IV, but Chris Glaser was ruled to be ineligible downfield on the play. A few plays later, however, Taulapapa found the end zone to cap a 9-play, 76-yard drive and even things up with 8:39 left in the opening quarter. Wahoos 7, Jackets 7.
A Virginia holding penalty kept the ensuing GT drive alive, as Graham took it in himself from five yards out to complete a 7-play march with 5:09 on the clock. Jackets 14, Wahoos 7.
Perkins was nearly picked off on third down on the next Wahoo possession, and UVA had to punt it away with 4:05 left, but Joey Blount's team-leading third interception put the 'Hoos back into scoring position, as Blount returned it 37 yards down to the GT 28-yard line. Three plays later, Joe Reed hauled in a short pass, then put an ankle-breaking juke move on a Jacket defender and rolled into the end zone for a 9-yard score with 1:50 to go, tying the game back up. Wahoos 14, Jackets 14.
Tech gave it right back, with the Cavalier defense forcing a three-and-out and the Jackets' first punt, and the 'Hoos took over to conclude the period.
Second Quarter
A nifty Perkins scramble helped get the 'Hoos into the red zone, but his third-and-goal pass from the GT 6 fell incomplete off Reed's fingertips in the end zone. Brian Delaney came on for a 24-yard field goal with 10:36 left in the half, giving his team its first lead of the day. Wahoos 17, Jackets 14.
Tech's leading rusher, Jordan Mason, made his presence felt on the ensuing drive with a 28-yard scamper to the Wahoos' 17. The Wahoo defense was able to force a stop on third down, and Wells missed a 30-yard field goal with 4:20 until halftime to keep the Cavaliers on top.
Perkins hit Kemp on a big third-down completion to keep the chains moving around midfield when UVA got the ball back. On a fourth-and-four from the Tech 35-yard line, Perkins' pass fell incomplete with 1:21 left, and the 'Hoos turned it over on downs. Tech took advantage with a quick-strike, 38-yard completion from Graham to Tyler Davis on the very next snap to Virginia's 27-yard line. Two plays later, a 25-yard toss to Malachi Carter was reviewed and upheld for a touchdown with 44 seconds on the clock. Jackets 21, Wahoos 17.
The 'Hoos answered right back again, as Tavares Kelly Jr. returned the ensuing kickoff 40 yards, then Perkins busted loose for 43 more on the following play down to the GT 7-yard line with 27 ticks left.
Perkins, who accounted for 207 total yards in the first half, put the 'Hoos back on top just before the break with his eighth rushing touchdown of the season, this one on a 3-yard keeper with 11 seconds left. Wahoos 24, Jackets 21.
Third Quarter
UVA got it back to start the second half, and Perkins kept the momentum rolling with a couple of tough first-down runs to get the 'Hoos inside the GT 30-yard line, but a pair of Yellow Jacket sacks derailed the initial 10-play drive. Nash Griffin's short 33-yard punt flipped the field and pinned Tech at its own 2-yard line, however, and the UVA defense forced another three-and-out to get it right back with 6:44 on the clock.
Neither side could get much going until Perkins found Kelly for a career-long 35 yard grab on a crucial third-and-two from the Virginia 37 with 1:10 remaining in the period, advancing the 'Hoos to Tech's 28-yard line. Perkins picked up another huge first down just before the end of the scoreless third quarter.
Fourth Quarter
The Jackets' defense held on an important third-and-seven inside the red zone as a Perkins pass sailed out of the back of the end zone before Delaney booted through a 34-yard field goal to put his team up by six with 13:32 to play. Wahoos 27, Jackets 21.
After a three-play stop by the defense and a GT punt, the Cavaliers were back in the red zone — thanks to a 13-yard Kemp reception and a 25-yard strike to Jana — and looking to seize control of the contest. Taulapapa's 3-yard plunge put the Cavaliers up by double digits, his second touchdown of the day and 11th on the season. Reed juggled the ball but couldn't hang onto the two-point conversion with 10:57 to go, but the 'Hoos were up by a dozen. Wahoos 33, Jackets 21.
Tech countered, as Mason capped a 12-play scoring drive that spanned the following 5:27 with an easy 8-yard score, and it was back to a five-point affair with 5:30 left in the game. Wahoos 33, Jackets 28.
As the clock went under four minutes, Perkins converted on third-and-two for a huge first down that kept the chains moving and the clock running. An enormous 16-yard pickup by Kemp on third-and-four from the UVA 39 put the game away with 2:38 to go, as Georgia Tech had just used its final timeout prior to the play, and the 'Hoos closed the afternoon in victory formation.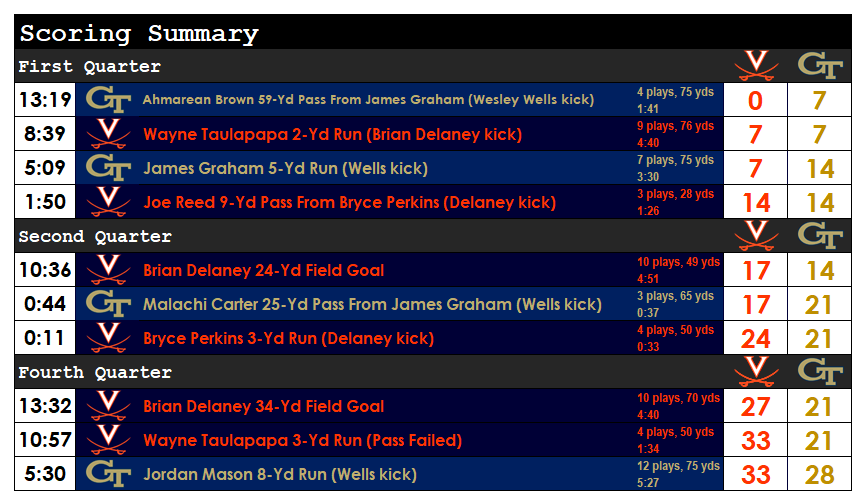 Team Notes
UVA won its fifth ACC game of the season, marking the most by the Cavaliers in a season since 2011 (5-3).

UVA is 21-19-1 all-time against Georgia Tech.

UVA is 12-4-1 all-time against Georgia Tech at Scott Stadium.

UVA is 47-45-2 all-time on Homecomings.

UVA is 2-2 all-time against Georgia Tech on Homecomings.

UVA scored a rushing touchdown on its first possession of the game for the fifth time this season (four TDs, one FG).
Player Notes
QB Bryce Perkins finished with one passing touchdown and one rushing touchdown. It is the fourth time this season and 10th time in his career he has thrown for at least one touchdown and rushed for at least one touchdown in the same game.

With 258 passing yards, Perkins passed No. 8 Marques Hagans, No. 7 Marc Verica and No. 6 Aaron Brooks on UVA's all-time career passing list. He is the seventh Cavalier all-time to pass for over 5,000 career yards. 

Perkins threw for 258 yards, marking the sixth time this season and the 13th time in his career that he has eclipsed 200 passing yards in a game.

Perkins passed for 200+ yards and rushed for 100+ yards in the game. It is the fifth time in program history a UVA quarterback has done that. Perkins has done it four times in his career. Bob Davis first did it in 1965 at Georgia Tech. 

WR Terrell Jana finished with 108 receiving yards, eclipsing 100 yards receiving for the second week in a row. Jana has two career games of 100+ receiving yards. 

TB Wayne Taulapapa rushed for two touchdowns against Georgia Tech. He now has 11 rushing touchdowns on the season. His first came on UVA's first possession of the game. His second score came in the fourth quarter to put UVA up 33-21. The 11 rushing touchdowns is the most by a Cavalier since Kevin Parks had 11 in 2013.

WR Billy Kemp finished with four receptions for 51 yards, both career-highs. 

S Joey Blount notched his third interception of the season (fifth of his career) in the first quarter. The 37-yard return was the longest of his career. 

OLB Noah Taylor finished with one tackle for loss. He now has a TFL in nine-straight games.
Up Next
The Cavaliers will have an open date next weekend before hosting Liberty in two weeks on Nov. 23 (time and TV coverage to be determined).

Comments