Five Former 'Hoos among Pro Football Hall of Fame Nominees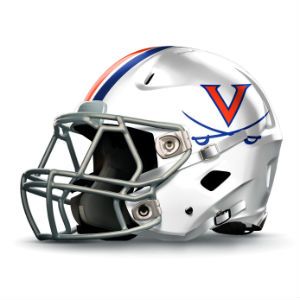 By Jerry Ratcliffe
We all knew that some day there could be some former Wahoo football stars destined for Canton. Five of them are a step closer.
Running backs Thomas Jones, Tiki Barber, and Chris Warren (who finished his career at Ferrum), joined defensive back Ronde Barber and linebacker James Farrior among the 122 modern era nominees for the Pro Football Hall of Fame's Class of 2020, announced Thursday.
The unusually large list of nominees includes only players whose careers ended less than 25 years ago. Five of those 122 nominees will be elected to the Hall when the selection committee meets on Feb. 1.
Celebrating the NFL's Centennial, there will be 20 elected to the Hall of Fame, including five modern era players, 10 seniors (a player who has been retired for more than 25 seasons), three contributors (an individual other than a player or coach), and two coaches.
All five UVA nominees have earned special places in the hearts of all Cavalier fans.
It's fitting that both Jones and Barber, who were once in the same George Welsh backfield, were nominated at the same time. Jones ranks No. 26 on the NFL's all-time rushing list with 10,591 yards, while Barber is No. 27 with 10,449.
Jones played for five different clubs, the Arizona Cardinals, Tampa Bay Buccaneers, Chicago Bears, New York Jets, and Kansas City Chiefs during a 12-year career. He retired among the top 25 rushers in NFL history (he was passed by LeSean McCoy). He is currently an actor.
Barber played his entire 10-year NFL career with the New York Giants. He retired after the 2006 season as the all-time rushing and reception leader in Giants history and is in that club's Ring of Honor.
Warren played two seasons for Welsh at Virginia before transferring to Ferrum College, a Division III school, where he became an All-American. Warren was selected by the Seattle Seahawks in the 1990 draft and played for 11 seasons, primarily in Seattle, but also for the Dallas Cowboys and Philadelphia Eagles. He rushed for 7,696 yards during his career. He left Seattle as the club's career rushing leader before that mark was eclipsed by Shaun Alexander in 2005.
Ronde Barber is Tiki's identical twin and spent his entire 16-year career with Tampa Bay where he was a Super Bowl Champion and a five-time Pro Bowl selection. He was the NFL Rookie of the Year in 1994 and a member of the NFL 2000s All-Decade Team.
He is also Tampa's all-time interceptions leader and is one of only two members of the 40/20 club (40+ career interceptions and 20+ quarterback sacks), along with Carles Woodson. When Barber retired in 2013, he was the active leader in defensive touchdowns scored (14) and retired as the best pass rushing defensive back of all time with 28 sacks. He is currently an NFL color analyst.
Farrior played 15 seasons for the New York Jets and Pittsburgh Steelers, where he earned two Super Bowl rings. A fierce middle linebacker, he was a staple of the Steelers defense. During his career, Farrior posted 1,412 tackles, 35.5 quarterback sacks, 11 interceptions, and 18 forced fumbles.
Drafted by the Jets, Farrior's career really took off when he became a member of the Steelers' defense, where he moved from outside linebacker back to his natural position as an inside 'backer.
All five players were from the state of Virginia, with the Barbers growing up in Roanoke, Jones was from Big Stone Gap, Warren from Fairfax, and Farrior from Chesterfield.
All five also had outstanding careers at Virginia playing for Welsh.
Jones, who played from 1996-99, is still UVA's all-time leading rusher with 3,998 yards on 809 carries (4.9 average) and 36 touchdowns. Barber is No. 2 on that list with 3,389 yards on 651 attempts (5.2 average) and 31 TDs.
In fact, Barber (1993-96), who preceded Jones as the Cavaliers star back, predicted that Jones would break all of his records.
Warren didn't really stick around long enough to accumulate any major statistical marks at UVA, but was praised by Welsh and running backs coach Ken Mack for his potential. Mack pointed out that Southern Cal had recruited Warren as potentially the Trojans' next great running back.
He did lead UVA in punt returns in both 1985 and 1986, along with kickoff returns in '86. Warren returned one punt for 76 yards and a TD against Navy during his sophomore season, still the fifth-longest punt return in UVA history.
Ronde Barber, who played for the Cavaliers from 1994-96, was a standout defensive back, and remains ranked tied for third in career interceptions with 15. He led the ACC in interceptions in '94 with eight.
Farrior, who played for UVA from 1993-96, remains No. 7 on the school's career tackles list with 381, including 252 solos. He was a feared linebacker on a nasty Wahoos defense.

Comments