Five Virginia pitchers toss one-hit shutout in midweek victory over Towson
Courtesy UVA Media Relations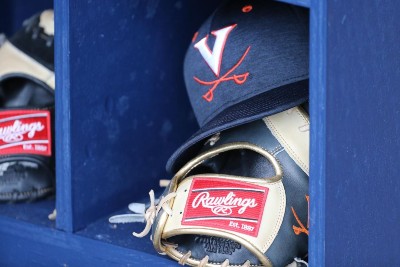 Virginia (8-8) limited Towson (2-13) to just one hit in a 5-0 victory at Disharoon Park on Wednesday. The Cavaliers recorded their second shutout of the season and have won 20-straight midweek games dating back to 2019.
Towson was hitless in its first four trips to the plate before Javon Fields singled through the right side with two outs in the fifth. Fields would be last of four runners to reach for the Tigers in the contest as the Cavalier bullpen retired the final 13 batters of the game.
"The exciting part was we only gave up one hit," head coach Brian O'Connor said. "That was outstanding effort on the part of our pitching staff. It was a collective effort, we knew that we were going chop the game up and get those particular pitchers to pitch tonight so it was great to see them all go out and pitch, really, really well."
Reliever Paul Kosanovich (San Gabriel, Calif.) was credited with his first win of the season after coming on in the third and pitching three scoreless frames. Junior Zach Messinger (Chandler, Ind.) struck out five of the six batters he faced including four-straight over the course of the sixth and seventh innings. Lefty Billy Price (Morristown, N.J.) made his fifth career start and first since 2019. He exited after one batter in the third and was credited with a pair of clean innings.
Kyle Whitten (Manassas, Va.) and Stephen Shoch (Laurel, Md.) pitched the eighth and ninth innings, respectively and each fanned two of the three batters they faced.
The pitching staff was backed by a number of standout defensive plays in the game. Catcher Logan Michaels (DeForest, Wis.) cut down a Towson runner attempting to steal third base in the first inning that led to a three-batter frame. The third inning ended on a 2-5 double play started by Michaels who leapt over the batter on a chopper in front of the plate, tagged him and threw out a leaning runner at third base.
The Virginia offense was led by Brendan Rivoli (Douglassville, Pa.) who went 2-for-4 with two RBI. He put the Cavaliers up 4-0 in the third inning with a two-RBI double in the gap between center and right. Rivoli has three-multi-hit efforts in his last six games.
Freshman Kyle Teel (Mahwah, N.J.) drove in the final Cavalier run with a double off the right field wall in the sixth. The first year was 2-for-4 with a run scored and an RBI. He's driven in a run in three-straight games.
Nic Kent (Charlottesville, Va.) reached base four times and went 2-for-4 with two runs scored and two walks. The two-hit game was his team-best, seventh of the year. Junior Zack Gelof (Rehoboth Beach, Del.) scored the game's first run when he came around on a two-out single by Michaels in the first inning. Gelof walked twice and drove in his team-high, ninth run of the year on a single to left in the third inning.
Virginia will continue ACC play this weekend with a three-game series against No. 18 Pittsburgh. The series will begin on Saturday at 1 p.m. and will be followed by game two on Sunday at 1 p.m. The finale is slated for Monday with first pitch slated for 2 p.m.
Comments