Florida's 3-run rally in ninth stuns Cavaliers, 6-5, in opening game of CWS
By Scott Ratcliffe
Virginia held a 5-3 edge midway through the ninth inning of Friday night's College World Series opener against second-seeded Florida, when the Gators reminded everyone how lethal they can be at the plate.
Cavalier reliever Jake Berry surrendered three home runs — two of them in the ninth — as Florida, the nation's top home-run hitting squad, rallied to tie the game and eventually walk it off with a 6-5, come-from-behind victory at Charles Schwab Field in Omaha, Neb.
It was Virginia's first loss of the season to a non-conference opponent (28-1). As a result, the No. 7 Cavaliers will face TCU in the first CWS elimination game on Sunday at 2 p.m. ET (ESPN).
"Certainly a very tough loss," said UVA skipper Brian O'Connor. "I give credit to Florida. They have a really good lineup and they stayed in it and certainly put some big-time swings on the ball in the ninth inning. They're a dangerous lineup."
UVA (50-14) trailed 1-0 until exploding for four runs in the top of the seventh, and added an insurance run on a Harrison Didawick RBI-triple in the ninth, but the Gators (51-15) ultimately got the last laugh.
Florida got a run back in the bottom-half of the seventh to make it 4-2, then after a 1-2-3 top of the eighth, UF catcher BT Riopelle led off the home-half with a solo blast to left-center to cut it to 4-3. Berry buckled down and retired the next three batters, and the Wahoos went to the ninth leading by the thinnest of margins.
Casey Saucke drew a leadoff walk in the ninth, and then was bunted over into scoring position by Anthony Stephan. After a Henry Godbout pop fly, Didawick stepped up and delivered a shot to right field that dropped in and scored a hustling Saucke to double the advantage.
With three outs to go, O'Connor decided to stick with Berry, who gave up a second-consecutive leadoff solo homer — this one against pinch-hitter Ty Evans — to trim it to 5-4.
Berry sat down the next batter, leadoff man Cade Kurland, for the first out of the inning, but then All-American center fielder Wyatt Langford showed why his name could be called first in the upcoming MLB Draft, lifting a Berry delivery high over the left-field wall and into the seats to tie it up at 5-apiece.
Jac Caglianone then singled before Berry walked cleanup batter Josh Rivera and then hit Riopelle with a pitch to load the bases for freshman Luke Heyman with still only one down. It was then that O'Connor decided to make the move to the bullpen for closer Jay Woolfolk, who had registered a team-high 9 saves on the season.
"I have zero regret," the coach said. "Jake Berry has done the job for this team all year long. He's been tremendous when we've had a lead and closed games out for us. And they did a terrific job against him and got his pitch count up and executed very, very well.
"The plan coming into the game is, if we had a lead in the eighth inning, was to go with Jake Berry. And that formula's worked for us a lot this year. I don't know for sure, but I would be surprised if all year that we've lost a game putting Jake Berry in in the eighth inning or beyond with a lead. And, so, that said, when you're in this situation that we are on Sunday, we'll do whatever it takes to win that game to try to advance on to the next one. And we have other guys that haven't been used that have done the job for us all year long. So it's going to take a collective effort by our entire group."
Woolfolk entered the contest in the high-pressure situation, tossing a pair of balls before Heyman delivered a fly ball to center field that was deep enough to bring in the game-winning run, as Virginia's Ethan O'Donnell caught it for the second out, but didn't attempt to make a potential game-saving throw to the plate as the Gators began to celebrate.
Berry took the loss, falling to 0-5 on the year, allowing 4 runs on 4 hits — most notably the three homers — while hitting a batter, walking 2 and striking out 2 in 1.2 innings.
UVA starter Nick Parker went six solid innings, surrendering a run on 4 hits against one of the country's top offenses. Parker recorded one strikeout while walking 3 Gator hitters, but kept the Hoos in position to win the ballgame.
"I thought Nick Parker did a terrific job of battling, and he was at about 90 pitches," explained O'Connor after the loss. "It was time to make the change. And they did a tremendous job against our bullpen."
Evan Blanco (walk, earned run) and Jack O'Connor (hit allowed) each pitched a third of an inning prior to Berry entering in the seventh.
Florida snagged the early 1-0 lead on a Colby Halter RBI single to left in the bottom of the second. UF starter Brandon Sproat held the Cavaliers to just three hits through six frames, marking just the third time all season that UVA was kept off the scoreboard going into the seventh inning.
In the seventh, Ethan Anderson got things started with a full-count, leadoff walk. Saucke followed with a single as Anderson motored over to third and then tied the game on a Stephan groundout to third. Godbout then reached on a base knock, chasing Sproat (6.1 innings pitched, 3 earned runs on 5 hits, 7 strikeouts, 3 walks) from the contest.
The next batter, Didawick, hit one to third baseman Halter, who threw home to gun down Saucke at the plate for the second out.
It was back to the top of the order and sophomore shortstop Griff O'Ferrall, who gave the Hoos their first lead of the night with a two-run double down the right-field line to make it 3-1. O'Donnell followed with an RBI single, but was later thrown out trying to steal second to end the inning.
It sounds like the Dish in here!#GoHoos | #RoadToOmaha | 📺 ESPN pic.twitter.com/DdWLugJlcz

— Virginia Baseball (@UVABaseball) June 17, 2023
O'Ferrall was 2 for 5, the only Cavalier with a multi-hit game, while Virginia stars Jake Gelof and Kyle Teel combined to go 0 for 6 on the night. O'Connor didn't reveal his starter for Sunday afternoon against the Horned Frogs (42-23), who fell by the same 6-5 score to Oral Roberts in the first game of the day. The coach said regardless of who gets the nod — likely Brian Edgington or Connelly Early — they will need to bring their best stuff and provide a quality start in order for the Hoos to have their best chance of keeping their season alive and fight another day.
As O'Ferrall explained afterwards, he believes that he and the rest of his Cavalier teammates are far from done.
"This team has fought all year long," he said, "and obviously no one wants to lose the first game, but it is what it is and we're going to ride with our guys no matter what. So basically we're not going to put blame or be down on ourselves. We're just going to get back to work."
Parker agreed that the team needs to simply put it in the rear-view and move onto Sunday.
"Not ideal to lose the first one," said Parker, "but who cares, right? We've got to come out and keep winning ballgames, and that's what we're going to do."
Game Notes
Courtesy UVA Media Relations
O'Ferrall led off the game with a single through the left side, his 27th first-inning hit and 106th hit of the year. The Cavaliers are 23-4 when O'Ferrall records a first-inning base knock.

 

Anderson moved into the top spot in program history for doubles in a season with 26. The 26 doubles are the most in the ACC and tied for the third-most in the country.

 

Virginia is 4-2 in MCWS opening games.

 

The Cavaliers are 16-17 against SEC opponents under O'Connor. Florida is the first SEC opponent UVA has faced since the 2021 College World Series when the Cavaliers fell to eventual National Champion Mississippi State.

 

UVA is 3-6 all-time against Florida and last met in the 2015 College World Series.

 

This marked the third one-run game between Florida and Virginia in the College World Series (6/15/15 – W, 1-0; 6/20/15 – W, 5-4)

 

Parker pitched five or more innings for the 10th time and for the seventh-consecutive start. He logged six or more innings for the seventh time. He has pitched into the seventh inning in six of his last seven starts.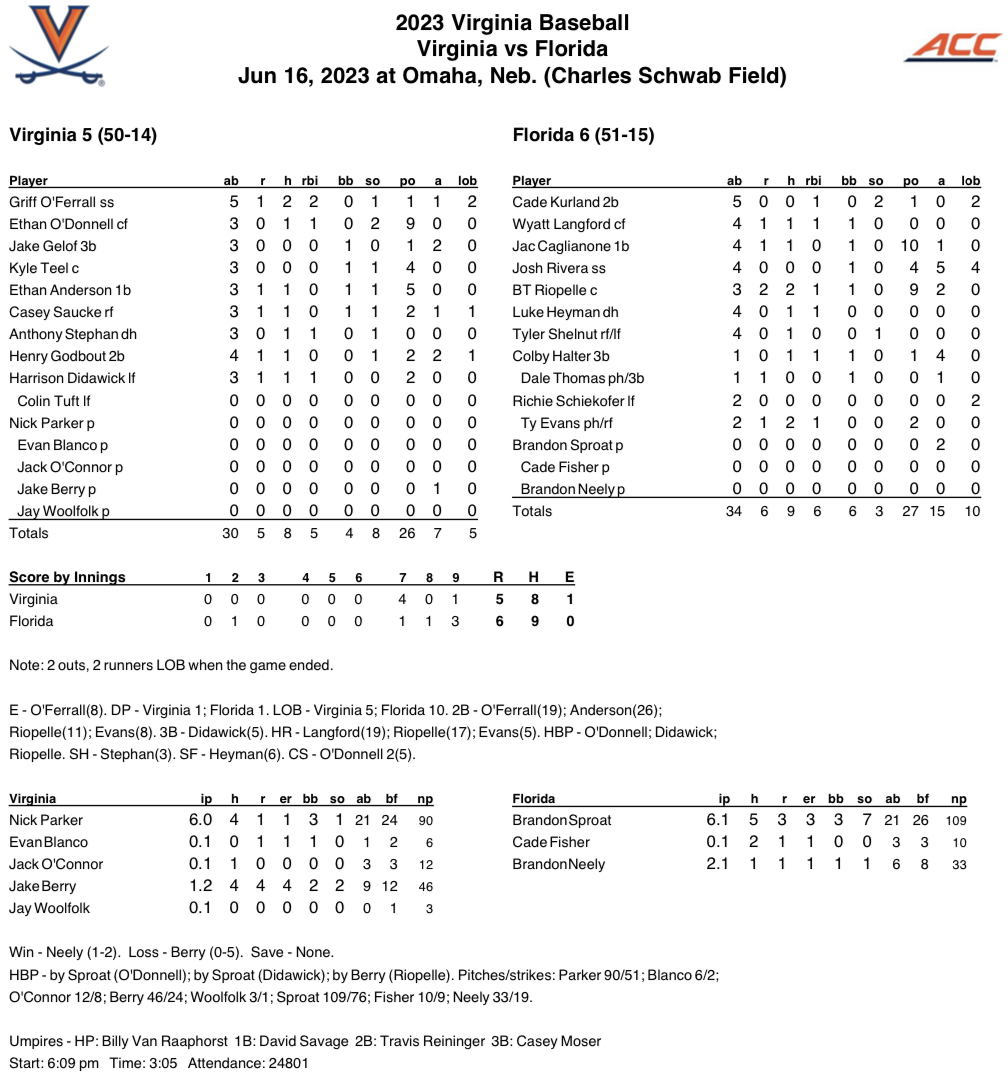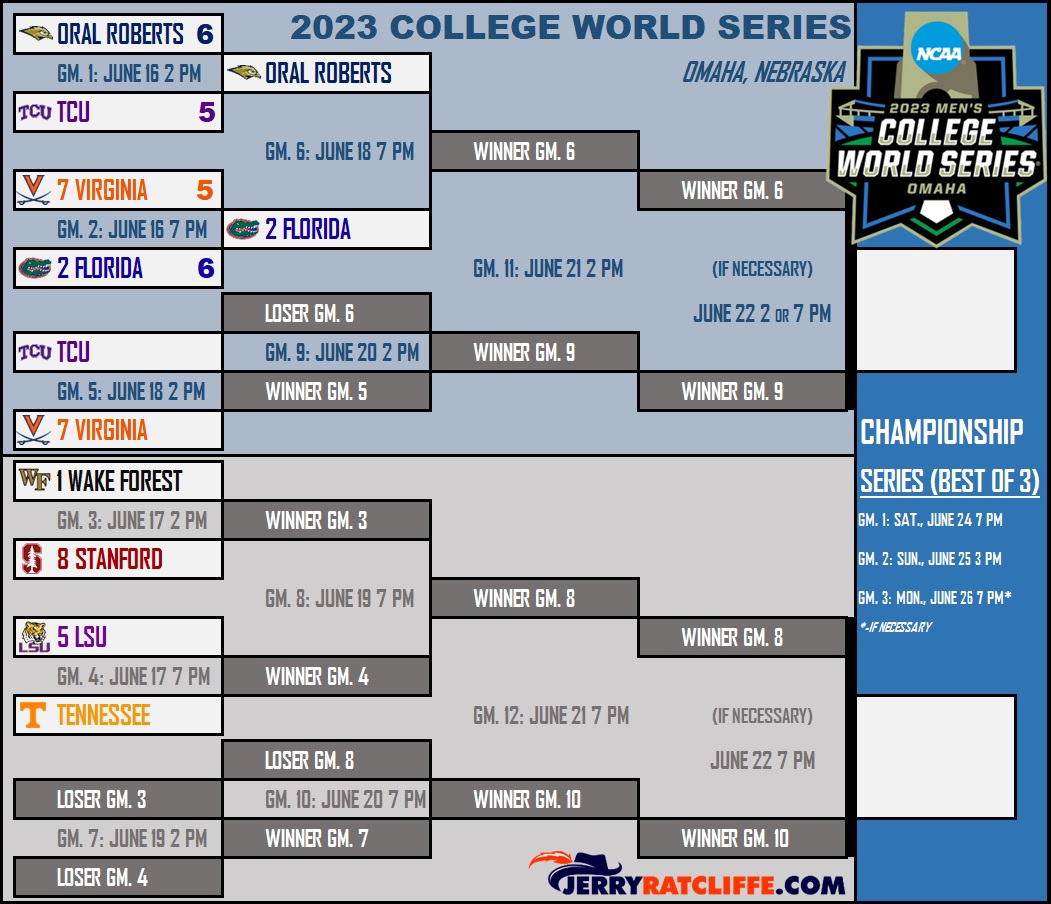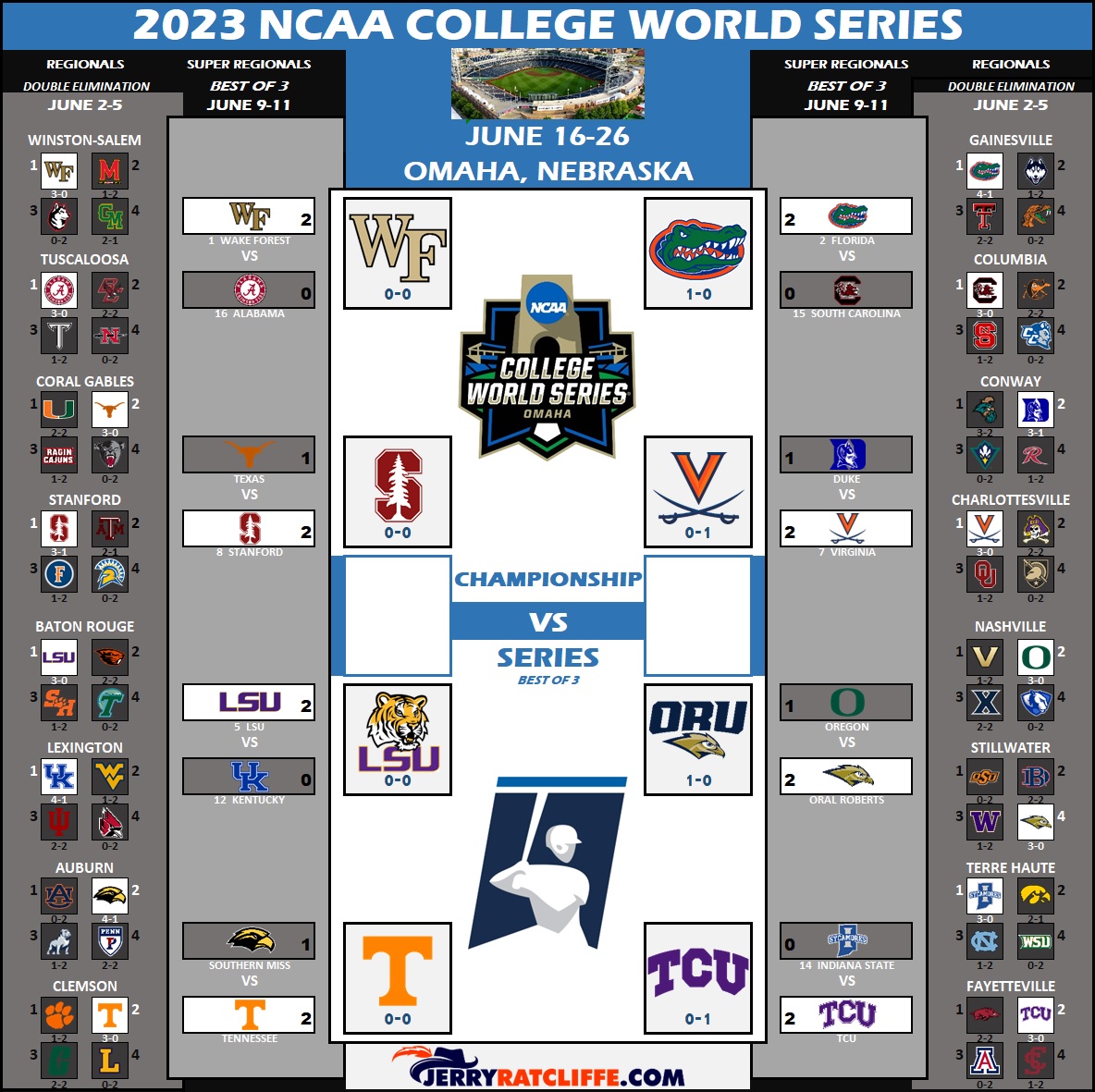 NCAA DIVISION I BASEBALL CHAMPIONSHIP
COLLEGE WORLD SERIES
Friday, June 16-Monday, June 26
Charles Schwab Field | Omaha, Neb.
All Times Eastern
BRACKET 1: No. 1 Wake Forest (52-10), No. 8 Stanford (44-18), No. 5 LSU (48-15), Tennessee (43-20)
BRACKET 2: No. 2 Florida (51-15), No. 7 Virginia (50-14), Oral Roberts (52-12), TCU (42-23)
DOUBLE-ELIMINATION ROUND
Friday, June 16
Game 1: Oral Roberts 6, TCU 5
Game 2: Florida 6, Virginia 5
Saturday, June 17
Game 3: Stanford vs. Wake Forest, 2 p.m.
Game 4: Tennessee vs. LSU, 7 p.m.
Sunday, June 18
Game 5: TCU vs. Virginia, 2 p.m.*
Game 6: Oral Roberts vs. Florida, 7 p.m.
Monday, June 19
Game 7: Game 3 loser vs. Game 4 loser, 2 p.m.
Game 8: Game 3 winner vs. Game 4 winner, 7 p.m.
Tuesday, June 20
Game 9: Game 5 winner vs. Game 6 loser, 2 p.m.
Game 10: Game 7 winner vs. Game 8 loser, 7 p.m.
Wednesday, June 21
Game 11: Game 6 winner vs. Game 9 winner, 2 p.m.
Game 12: Game 8 winner vs. Game 10 winner, 7 p.m.
Thursday, June 22
Game 13: Game 6 winner vs. Game 9 winner, 2 p.m. or 7 p.m. (if necessary)
Game 14: Game 8 winner vs. Game 10 winner, 7 p.m. (if necessary)
CHAMPIONSHIP SERIES
Best of 3
Saturday, June 24
Game One: Bracket 1 winner vs. Bracket 2 winner, 7 p.m.
Sunday, June 25
Game Two: Bracket 1 winner vs. Bracket 2 winner, 3 p.m.

Monday, June 26
Game Three: Bracket 1 winner vs. Bracket 2 winner, 7 p.m. (if necessary)
*–Elimination Game