FSU comes out swinging, sends No. 7 Virginia packing in big ACC battle
By Jerry Ratcliffe
Seems to be a commonality in Virginia's three losses to ranked teams this season, Gonzaga, Virginia Tech and Florida State.
All three were away from Charlottesville, but that's not it. Early in all three, the Cavaliers opponent came out swinging, and landing haymakers, while Virginia didn't answer the bell. Each loss was by a knock out.
16th-ranked Florida State overwhelmed No. 7 Virginia in every facet on Monday night in Tallahassee, a city that has been unkind to Wahoo basketball over the years (8 wins in 25 visits). On this particular night, it was downright brutal as the Seminoles dominated UVA, 81-60.
While the Cavaliers came out and threw a scare into FSU in the second half, this one was essentially sewn up at halftime. The Seminoles' 45 points (a 20-point lead) were the most stacked up against a UVA team since that dreaded night in Knoxville back in 2013 when Tennessee rolled up 48.
Tony Bennett knew it wouldn't be easy. FSU was bigger, more physical and more athletic. It's never easy to win in Tallahassee as evidenced by the Seminoles 24-game home winning streak in the ACC, two shy of tying Duke's record. It's one of two league programs that Bennett has a losing record against (the other being Duke).
What the Cavaliers encountered in the first half was a rolling ball of butcher knives as Florida State made everything: 53 percent from the field (16-30) and 60 percent from the arc (6-10). Virginia shot the ball decently but offense wasn't the main problem. This time, defense was the culprit along with other breakdowns including 13 turnovers that led to 21 Seminoles points over the course of 40 minutes.
Like Gonzaga and Tech, FSU established the pace and it wasn't to UVA's liking. Even though this is the highest scoring team in the Bennett era, he knew his team couldn't win at greyhound pace.
Florida State averages 79 points a game. Virginia, which plays more deliberately, the slowest paced team in the country (2 possessions less than anyone else per game), normally surrenders a mere 58.8 to opposing offenses, but the Seminoles had 45 at halftime.
Bennett talked to his team about matching FSU's physicality but the Cavaliers were like Popeye without his spinach.
"We talked about it, [the ranked teams UVA has lost to] are physical, aggressive teams and somehow when you play those teams _ and they're good _ how do you hang in there and battle and be tough-minded," Bennett said. "We've said that before, we're not the most physically imposing team but we have to do physically imposing things."
Some critics believe Virginia's achilles in such matchups is it's a little too soft, or as Bennett put it after the Virginia Tech loss, a little too "finessey."
Most of the problem lies on the defensive end of the floor.
"We can't control if they can make a big time shot or an acrobatic play, but we can control if our defenses is set, if we're active on the ball, if we're in position and not committing some lapse of judgments," Bennett said.
"We have to say, 'How good can we be? How good do we want to be?' That to me was the disappointing part, because we were there for a while and then all of a sudden it went away that quickly. You can't maybe win a game in the first five to eight minutes, but you can put yourself in a spot where you can make it dang near impossible to come back. To put ourselves in that kind of hole is frustrating."
Virginia did that twice.
FSU went on a 14-0 run early to lead 16-6 and continued to increase the margin to a 20-point cushion. UVA came out strong in the second half with its own 16-3 run and cut the Seminoles lead to 48-41, sparked by Kihei Clark's 12 points during that span. However, Florida State answered with its own 17-0 run to lead 68-43 with 8:27 to play.
Game, set, match.
"When we shoot the ball that well, they have to be able to respect the shot because we have a lot of drivers, and we have a lot of guys that can hit wide-open jump shots," said FSU's leading scorer M.J. Walker (17 points, 5 of 6 from the arc). "So we make them pick, guard the drie or defend the shot.
For us to knock down shots, it definitely opens up more opportunities for us to drive the ball. When we shoot the ball like tonight, I think it just brings energy to the rest of the team and opened up more driving lanes to get shots or get to the rim."
FSU shot shot 53 percent from the field the first half and 60 percent from the 3-point arc (54 percent for the game), and the Seminoles' 13 3-pointers were the most allowed by UVA in ACC play this season.
All of Virginia's problems weren't on defense, though. For the second time in three games, opponents took away Virginia's two most potent scorers, Sam Hauser and Jay Huff.
Hauser (3 of 7) and Huff (2 of 6) were non-factors as they combined for 15 points. Virginia's not going to win many games when that happens, although it found a way at Georgia Tech last week when both failed to reach double figures (combined 14 points on combined 7 of 12 shooting).
Bennett liked the way his team didn't fold at the break but came out fighting.
"Every time we made a breakdown, [FSU] would bang a three or get down the floor," Bennett said.
Hamilton liked how his team started strong and finished strong in a battle of the ACC's top two teams.
"I thought our energy on the defensive end is as good as it has been all year," Hamilton said. "We were just sound fundamentally and we did it with a lot of aggressiveness."
For Bennett, it was another lesson learned for his ball club.
"That's one of our pillars, thankfulness for what adversity teaches you and are you wise enough and thankful enough to apply it," the UVA coach said. "It refocuses you in ways I think that you need it."
Virginia, now 15-4, 11-2, doesn't play against until Saturday at Duke. FSU closed the gap at 12-3, 8-2.
Team Notes
Virginia's (15-4, 11-2 ACC) four-game winning streak ended
The Cavaliers suffered their largest ACC loss since losing 65-41 at North Carolina on Feb. 18, 2017
UVA fell to 1-3 vs. ranked opponents
FSU's 24-game ACC home winning streak is the second longest in league history
FSU went on 14-0 run to gain early 16-6 lead
FSU shot 53.3 percent and outrebounded Virginia 17-10 en route to a 45-25 halftime lead
FSU's 45 first-half points were most allowed by UVA in opening half since 48 at Tennessee (12/30/13)
UVA started the second half on a 16-3 run to cut the margin to 48-41
FSU's 13 3-pointers were most allowed by UVA in ACC play and tied for most in 2020-21
Series Notes
Virginia is 26-27 all-time vs. Florida State, including an 8-17 mark in Tallahassee, in a series that began in 1991-92
Florida State's 81 points were its most vs. Virginia since scoring 87 on Jan. 11, 2006 (87-82 FSU overtime win)
UVA had limited Florida State to fewer than 70 points in each of the previous 19 meetings
Head coach Tony Bennett is 9-10 all-time vs. Florida State
Player Notes
Double Figure Scorers: Trey Murphy III (13), Kihei Clark (12), Tomas Woldetensae (12), Sam Hauser (11)
Clark scored all 12 of his points in the second half
Hauser has reached double figures in 17 games
Murphy has reached double figures in 13 games
Clark reached double figures for the 11th time
Woldetensae reached double figures for the third time
Huff (2 blocks) recorded his 14th multi-block game (41st career)
Kody Stattmann returned to action after missing 15 games with a non-COVID 19 cardiac issue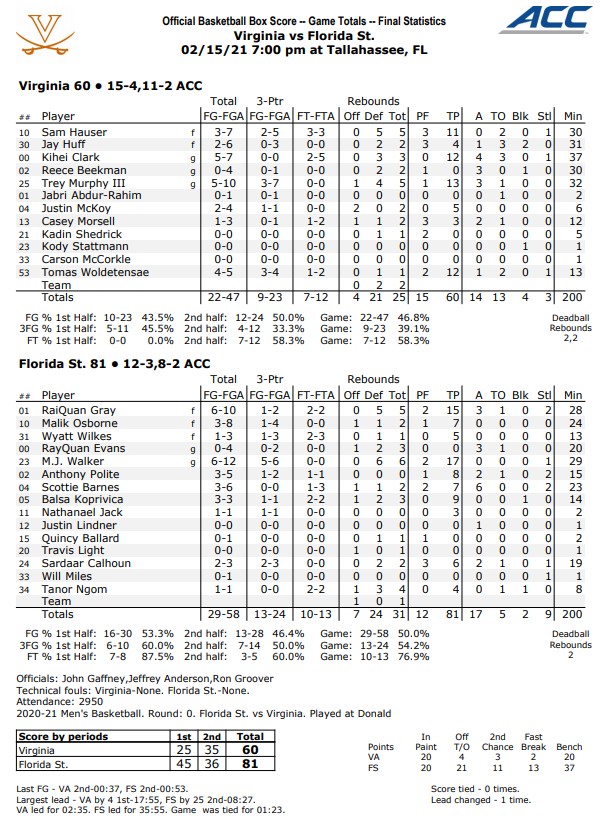 Support JerryRatcliffe.com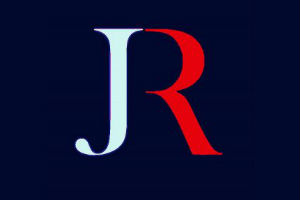 Make a one-time or recurring gift to support JerryRatcliffe.com online below. Your gift is not tax-deductible. Thank you for your support of JerryRatcliffe.com and the "Jerry Ratcliffe Show" podcast!