Gardner, Franklin spark Virginia's 58-40 win over Providence to claim Legends Classic trophy
By Scott Ratcliffe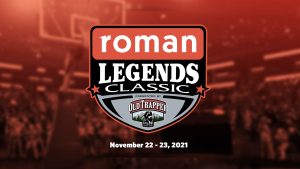 Virginia got a ton of production from its two transfers early and often, handing Providence its first loss of the season, 58-40, Tuesday in the championship game of the Roman Legends Classic in Newark, N.J.
The Hoos (4-2) have now won holiday tournament championships in eight of the last nine seasons (2019-Uncasville, Conn.; 2018-Nassau, Bahamas; 2017-Brooklyn, N.Y.; 2016-Niceville, Fla.; 2015-Charleston, S.C.; 2014-Brooklyn, N.Y.; 2013-Corpus Christi, Texas).
Armaan Franklin and Jayden Gardner provided a huge lift out of the gate, combining to score the first 19 Cavalier points, as UVA used a 13-0 run to create distance midway through the first half.
Gardner, who was named Legends Classic MVP, notched his third double-double of the season (33rd of his career), finishing with a season-high and game-high 21 points on 8-for-9 shooting to go along with his game-high 13 rebounds (four offensive).
Despite sitting most of the second half with foul trouble, Franklin got it all started, hitting his first four 3-pointers of the night to build a comfortable lead. He added 14 points on the evening (5 for 7 FG; 4 of 6 from downtown) to help pace the Cavalier victory.
Up 13 in the second half, a wide-open Kihei Clark pump faked to send a defender flying before sinking a 3-pointer. Shortly after, Clark buried another from the opposite corner to give the Hoos a 40-25 advantage with 14:57 to play.
Noah Horchler's 3-pointer trimmed the UVA lead to 11, then Justin Minaya's ensuing steal led to a pair of Providence free throws, and it was a single-digit affair, 42-33, for the first time in a long time, with just under 12 minutes to go.
Franklin was whistled for his fourth foul moments later, and had to sit and watch from the sideline as the Friars got a 3-ball from Brycen Goodine to cap a 13-2 run and cut it to six, 42-36, with 10:50 left.
The Friars (5-1) went on to miss 17 of their final 18 field-goal attempts, including the next nine in a row. The Hoos took advantage, ending the game with a 16-4 Cavalanche.
After a Kadin Shedrick putback jam and a miss on the other end, Gardner scored on a three-point play to get the Virginia lead back to double digits, 47-36, with 7:36 remaining.
A Reece Beekman and-1 and ensuing touchdown assist to Clark in the final minutes put the finishing touches on the win.
UVA shot 49 percent for the game (22 of 45), knocking down half of its 3-point attempts (6 for 12) and 8 of 10 from the charity stripe. The Hoos outrebounded Providence, 38-27, and recorded 8 blocks on the night, despite giving the ball away 15 times on turnovers.
Clark was the only other Cavalier in double figures, as he scored all 10 of his points after halftime while also dishing out 5 assists.
Beekman added 5 points, 7 assists and 4 rebounds, while Francisco Caffaro chipped in with 4 points and 7 rebounds off the bench. Shedrick posted 4 points, 7 boards and a career-best 5 blocks.
Providence was led by Horchler's 14 points, while Al Durham had 10 and Nate Watson, the Friars' leading scorer who averaged 18 a game, was held to 8 as he dealt with foul trouble.
The Friars shot an ugly 24 percent (12 of 51) from the field, including just 14 percent (3 for 22) from long range.
FIRST HALF
Trailing by three in the opening minutes, Franklin nailed back-to-back 3-pointers — the second of which he banked in off the glass — to give Virginia a 10-7 lead heading into the game's first media timeout.
The teams combined for just one basket over the next three minutes, as a Gardner tip-in off of a Caffaro miss with 12:08 on the clock capped 8 unanswered Wahoo points, but there were more to come.
Gardner scored again out of the under-12 break to make it 10 straight, and then Franklin sank his third triple to push the lead to 17-7, forcing Providence coach Ed Cooley to call a timeout at the 10:36 mark as Gardner and Franklin combined for a 7-for-7 start, scoring the first 17 Virginia points.
With 10:56 left, Watson picked up his second foul to make matters worse for Providence. The Friars finally put an end to their scoring drought on a Durham basket at the 9:56 mark, the team's first points in over six minutes.
Franklin answered with a jumper to keep his stat sheet clean, then Beekman put home a layup off of a steal, becoming the first Cavalier not named Franklin or Gardner to score for the Hoos, and it was 21-9 with 5:45 left.
Franklin drilled another long ball, his fourth, with just under three minutes to go to extend the lead to 26-11.
Providence misfired on 15 of its next 18 field goals after starting the game 3 for 5.
Caffaro was fouled just before the halftime horn, and sank a pair of free throws with just three tenths of a second, and the Hoos went into the locker room doubling up the Friars, 30-15.
Virginia shot 44 percent in the half (11 for 25), including hitting 4 of 7 3-point tries (57 percent). Providence finished the half shooting 6 for 23 (26 percent), 1 for 9 from downtown (11 percent).
UP NEXT
The Cavaliers return home to take on Lehigh Friday night at 7 p.m. on ACC Network.
Team Notes
Courtesy UVA Media Relations
Virginia (4-2) is 104-2 when limiting opponents to fewer then 50 during the Tony Bennett era

Bennett recorded his 299th win at Virginia

UVA is 150-43 in nonconference action under Bennett

The Cavaliers have captured seven November tournament championships in the last eight years

UVA outrebounded Providence 38-27

Providence went on a 13-2 run in the second half to make it a six-point game

The Cavaliers led 30-15 at halftime

UVA held the Friars to 15 points in the first half, marking a season low

UVA had a 13-0 first-half run, holding Providence scoreless for 6:39

Providence also had a 4:55 scoring drought in the first half

Providence was 6 of 23 from the field, including 1 of 9 from 3-point range, in the first half
Series Notes
Virginia is 4-4 all-time vs. Providence in a series that dates back to the 1978-79 season.

UVA defeated the Friars 63-52 in the championship game of the Emerald Coast Classic on Nov. 26, 2016

UVA is 4-1 vs. Providence in neutral-site contests

Tony Bennett is 2-0 vs. Providence as head coach at UVA
Player Notes
Double Figure Scorers: Jayden Gardner (21), Armaan Franklin (14), Kihei Clark (10)

Gardner was named the MVP of the Legends Classic

Franklin joined Gardner on the all-tournament team

Gardner added 13 rebounds for his third double-double (33rd career)

Gardner recorded his 21st game with at least 20 points and 10 rebounds (1st at UVA)

Kihei Clark (5 assists) moved into 10th on UVA's career list at 406

Francisco Caffaro tied a career high with seven rebounds

Kadin Shedrick registered his fourth straight multi-block game with a career high five blocks

Reece Beekman matched a career high with seven assists
Comments