Gelof makes history as Virginia hammers Duke, sets up deciding Game Three on Sunday
By Jerry Ratcliffe
Jake Gelof nearly won Friday's opening game of the Charlottesville Super Regional with his long blast to the outfield wall. The ball was mere inches from becoming a walk-off home run under crucial circumstances.
Instead, Duke left fielder Tyler Albright gloved it to secure a 5-4 win.
Deep into Saturday's Game Two in the best-of-three series, Gelof left no doubt, ripping a fastball 440 feet, over the left-field bleachers. With a historic swing of the bat, Gelof became Virginia's single-season home run (23) and career RBI (184) king. It was also his 48th roundtripper of his three-year career, also the most in 134 years of Virginia baseball history.
While Saturday's game was already secure, Gelof's eighth inning, two-run smash put an exclamation point on the Cavaliers' 14-4 domination of Duke, forcing a deciding Game Three on Sunday (noon). The winner punches their ticket to Omaha and the College World Series.
UVA coach Brian O'Connor as much as guaranteed his team would bounce back from Friday's loss, and the Cavaliers' dominance was apparent right out of the blocks when shortstop Griff O'Ferrall ripped a home run to left on the second pitch of the game, as Virginia would lead wire to wire.
Leading 4-0 before Duke struck for three runs in the bottom of the fourth, the Cavaliers unleashed on Duke reliever Adam Boucher in the top of the fifth when first baseman Ethan Anderson hammered a three-run homer to right, followed by designated hitter Anthony Stephan's solo blast, also to right, as UVA opened up an 8-3 lead.
Boucher, one of six Duke pitchers in the game, had given up only three home runs all season (39 innings), until giving up two to Cavalier batters within one-third inning.
For a complete, blow-by-blow account of the game, boxscore, notebook and more, see our game story here.
Gelof, who went 3 for 5 with 4 RBI and scored twice, slammed a two-run double off the center-field wall in the sixth for a 10-3 lead, then ballooned the lead to 12-3 with his two-run shot in the eighth. UVA added two more runs in that inning just for the fun of it.
"He's a terrific player," Duke coach Chris Pollard said of Gelof. "His name is going to get called in the first round here in just a few weeks. He's just a great player, and great players do what they do, they play great."
Gelof admitted afterward that he hadn't been enjoying the kind of postseason he had personally envisioned. Saturday's four RBI were his first ones in the postseason, and he also revealed that Friday's near-home run went further than he expected, noting that he had "got it off the end a little bit … I didn't think it would go out."
O'Connor, who watched his team improve to 49-13 before another sellout crowd at Disharoon Park, said he would never be able to thank Gelof's older brother, Zack, enough for calling him to notify the UVA coach that Jake was opening up his recruiting. Jake was in William & Mary's program. Zack, who played for Virginia from 2019-21 and was a second-round pick by the Oakland A's, asked if O'Connor would consider bringing his younger brother to Virginia.
The UVA skipper said that it took him about 25 games into Jake's freshman year to put him in the lineup.
"When we did, it changed our team," O'Connor said. "I remember being in Omaha that year and Kyle Peterson from D1 Baseball asking me, 'Boy, [Gelof] just swings out of his you-know-what every time he's out there. You ever gonna try to work with him on a two-strike approach?'"
O'Connor's reply was an emphatic 'no.'
"I just love his recklessness that he goes up there with," the coach said. "Because I know if [the opponent] makes a mistake, he's got a shot to hit it out."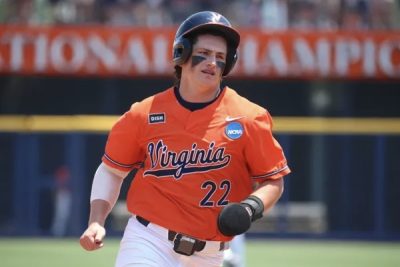 While Gelof and the nation's most productive offensive lineup was making mincemeat of Duke's pitching staff, Virginia's starting pitcher, Army transfer Connelly Early, was in complete control as he cruised to his 12th win of the season in 14 decisions.
Early went seven innings, gave up nine hits, three runs, struck out eight and didn't walk any of the 31 batters he faced in a 107-pitch outing.
"I think the biggest thing was just our offense coming out today," said Early, a junior southpaw from James River. "O'Ferrall set the tone right off the bat, and when the first batter of the game takes the ball deep, the crowd is going to get into it, and our fan base today was crazy.
"It seems like almost every time that O'Ferrall leads off the game, I swear he's got to be batting like .600 or something. From the pitching standpoint, it gets the juices flowing and you're ready to go out there and do the job."
Early was correct in his analysis. Saturday's lead-off home run was O'Ferrall's 26th first-inning hit of the season, and the Cavaliers are 22-3 in those games.
While Virginia was dominant Saturday, the win merely evened up the series for a winner-take-all rubber match.
"Credit to Virginia because they played really well with their backs against the wall," said Duke coach Chris Pollard. "Virginia showed off their offense, which can be really explosive. I don't want to take anything away from their performance, but we spotted them some leadoff batters. We had several, I think four off the top of my head, 0-2 pitches to put it away and we didn't convert.
"I told our team it doesn't matter if it's 5-4 or 14-4, we're in a one-game rubber match. So I can promise you there's no pity party on our bus ride back to our hotel. We will regroup quickly and come out and we'll go punch for punch tomorrow."
O'Connor praised his team, stating that the Cavaliers played "magnificently in every facet of the game," but realizes what's at stake Sunday afternoon.
"We won't change our approach at all. We all know what's at stake. Duke knows what's at stake, and that's what makes it great. That's why these young men come to Virginia, is to often have an opportunity to play in a game of that magnitude."