George Welsh Was at the Height of His Powers in 1990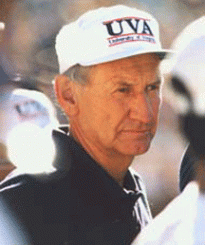 (EDITOR'S NOTE: This is Part 6 in a multi-series about the career of legendary Hall of Fame coach George Welsh at Virginia. I had the pleasure of sitting down for a week with Welsh before I wrote my book, "The Virginia Football Vault … a history of the Cavaliers," back in 2009. Most of our detailed interviews didn't fit in the book, which covered more than 100 years of Wahoo football, so much of these interviews have never been written or printed. Today's article is about the 1990 season when Welsh guided UVa to the top of the college football world for a three-week span.)
By Jerry Ratcliffe
By the time the 1990 season rolled around, George Welsh had the program just about where he wanted it.
Virginia had finally started construction on a home for the football program, the Dr. Frank C. McDue III Center (which would open the following year), which helped in recruiting some of the state's top athletes such as the nation's No. 1 recruit, running back Terry Kirby, and his high school teammate and defensive end Chris Slade, two future pros.
Coming off the 10-win season in 1989, UVa had a ton of talent returning with quarterback Shawn Moore, receiver Herman Moore, and much, much more.
It would be a historic season for the Cavaliers as they raced through their first seven games unbeaten, including Virginia's first-ever win against ACC rival Clemson, the ninth-ranked team in the country. Welsh's team rose to the No. 1 ranking in both the AP and UPI polls after clobbering N.C. State, 31-0, on Oct. 13, improving to 6-0.
Everything was going right for Virginia's program from getting Kirby's commitment and the '89 season. He truly had built a winning program.
Welsh directly attributed getting Kirby and Slade to breaking ground on the McCue Center.
"We got ahead of a lot of the ACC [with that building], we got ahead of North Carolina for the first time in terms of facilities," Welsh recalled. "We got ahead of almost everybody else because Clemson's [facilities] weren't that great at that point if I remember correctly. Maryland was in that old team house. Their stadium is nicer now but that was a crappy looking stadium back the, right? I thought it was. The field was never any good when we played. So, [McCue] got us going through the nineties."
Off the strength of the '89 campaign, Virginia opened the '90 season ranked No. 15 in the preseason AP Top 25 poll.
The Cavaliers opened with a bang at Kansas with a 59-10 victory that could have been even more lopsided. It was perhaps the hottest opener in UVa history, temperature-wise.
"They weren't ready for us," Welsh said of the Jayhawks. "They didn't know how good we were.
"I'll tell you one thing, I'm glad we got way ahead because that was so hot … that's one of the hottest games I've ever been around, ever. And the field was a new Astroturf. It was blazing. So by the end of the third quarter I was able to take all of our starters out. I remember Shawn Moore telling me 'my feet are burning.' We were trying to get water out to the shoes."
Trainers reported that the bottoms of Virginia's players shoes were starting to melt.
That win set up the Cavaliers' home opener against longtime nemesis Clemson, a team that Virginia had never beaten in 29 tries, one of the longest losing streaks to another team in the country. By then, Danny Ford had left Clemson, forced out in controversy, and replaced by Arkansas coach Ken Hatfield.
The Tigers were ranked No. 9 in the country coming into Scott Stadium, and the UVa faithful, sensing that might be the end of Clemson's dominance in the series, were psyched for the showdown.
Welsh's team, which had jumped a spot to No. 14 in the country, stunned the Tigers, 20-7, setting off a wild celebration that lasted into the wee hours of the morning. Parts of the mangled goal posts were discovered the next day at the feet of Thomas Jefferson's statue at the Rotunda.
"They couldn't move the ball on us," Welsh proclaimed, remembering that game clearly. "But they played into our hands in a lot of ways because that's when Hatfield put in the wishbone and we didn't have to defend Danny Ford's power offense at all.
"We weren't a great defensive team and that showed up at the end of the season," Welsh said. "You know, you still win championships with defense."
Welsh remembered Maryland coach Joe Krivak telling him before their game later in the season that while Virginia had a high-powered offensive team, he wasn't sure the Cavaliers' defense was of championship caliber.
"He probably shouldn't have said it, but he was right," Welsh remembered.
So was Virginia Tech coach Bill Dooley, who told Welsh the same thing.
"We didn't have quite enough playmakers on defense," Welsh said. "If we'd had a couple more guys somewhere on that side of the ball. We didn't have a dominant pass rusher at that point, no Lester Lyles. I think the linebackers were pretty good, but no David Griggs, no Jeff Lageman. We had a good collection of good kids and good players, but didn't have two guys to take over … no Chris Long type to take over the game when they had to, so that caught up to us."
Still, it was a relief to finally get the Clemson losing streak monkey off Virginia's back.
"Yeah, no more white meat," Welsh chuckled.
He was referring to a phrase that longtime former Clemson coach Frank Howard always used to describe Virginia. Howard always poked Cavaliers fans by saying, "we're going to go up there to Charlottesville and get some of that white meat," meaning he expected an easy win against UVa.
He was usually right.
"I just kept saying through those early years, Clemson is just better than us, and they always played well against us," Welsh said. "All those years, they never screwed up. But '90 was the first time we out-hit them physically, and they were a good defensive team. They had three linebackers that were high-round draft choices, three out of their four.
"You know what helped us though," Welsh asked. "In that game, we moved the ball on offense. Gary Tranquill (UVa's offensive coordinator) did a lot of research on the Run-and-Shoot offense, so we decided this could really help us because Shawn Moore could execute it."
Tranquill had visited Houston, which had brought the offense to college football, and so UVa used some of those concepts for the '90 season.
Herman Moore, a rangy, sure-handed wide receiver with leaping ability, and tight end Bruce McGonnigal fit perfectly into the offense, along with Derek Dooley (Vince's son), Kirby (who caught 33 passes out of the backfield), and Terrence Tomlin.
While Tomlin wasn't a high-profile receiver, the 5-10, 175-pound recruit from Florida, could fly and was a great addition to the Run-and-Shoot.
"He'd catch about one or two a game, but we put him to the field and just told him to run, and if the quarterback decided to throw him the ball, just go," Welsh laughed. "I mean he could really run. Other teams had to cover him, and we had him all the way out, almost to the boundary. The Run-and-Shoot teams wanted at least one little, quick kid in there."
Meanwhile, there was the threat of Moore and McGonnigal.
While most of that offense was drawn up by Tranquil, Welsh made a significant contribution.
"I watched the Denver Broncos playing with John Elway when they went to those four wide outs, and they ran [Elway] some," Welsh said. "So I said, we've got the same kind of quarterback, so we put in a draw for (Shawn) Moore. Then we put in an off-tackle play where the tailback (Kirby) would cut off on the backside and we'd pull the guard and tackle, and everybody else was spread out. That helped us a lot."
With those plays usually resulting in first downs, opposing defenses had to focus on stopping it and that opened up everything else. Tranquil's version of the Run-and-Shoot only had about six passing plays, but it was new and opponents had to try to figure out how to defend it.
McGonnigal and Herman Moore were coming across the middle, and if teams didn't defend them properly, it was all over.
UVa's offense was more than just the Run-and-Shoot. It featured some phases of the veer option and was loaded with talent.
In fact, Welsh once told me that the '90 offense was one of the best two he had ever been around.
"Yeah, the '90 team and the '71 Penn State team with Franco Harris and Lydell Mitchell and a big league offensive line and a quarterback named John Huffnagel, who was just like –not as strong– but just as good an arm and just about as quick as Shawn Moore, who could run the option.
"I don't know how you compare them, we're talking two different eras, but at Penn State we didn't have a wide out to compare to Herman, so that would give the edge to the '90 Virginia team," Welsh said.
After beating Clemson, the Cavaliers jumped to No. 11, then beat Navy (56-14), Duke (59-0), William & Mary (63-35). By then, UVa had jumped all the way to No. 2 when they played N.C. State, hammered the Wolfpack, 31-0.
By then, several of the teams that had been ranked ahead of the Wahoos had fallen and UVa was No. 1 on Oct. 16 before taking on Wake Forest on the road and cruised to a 49-14 win, followed by a bye week before hosting No. 16 and also unbeaten Georgia Tech in the huge showdown on Nov. 3 in Charlottesville.
While the Cavaliers rose through the polls, Welsh was keenly aware, but blocked it out, remaining focused on his team.
"You know, when you're coaching like that, you meet the press once a week and then your head's in the sack … you don't know what the hell is going on outside," Welsh said.
I asked, "You don't care what's going on outside?"
"I didn't, the staff didn't," Welsh said. "We were a veteran staff. Tranquil, (Ken) Mack, (Tom) O'Brien, (Frank) Spaziani had been around for 15 years. Danny Wilmer had been there since '84. It wasn't like we were a young staff.
As sports editor of the local paper, we put out a special tabloid in tribute to the game (the publication was featured on a couple of national sports networks as part of pre-game hype). It was all fresh material and we came up with the headline for the tabloid in big, bold letters: "Thrilla in Charlottesvilla."
The game lived up to the hype. In fact, legendary Atlanta sportswriter Furman Bisher, told me years later that it was the best college football game he had ever seen. That's a lot of football.
Best game I ever saw in person, that and maybe the future win over Florida State (but that's another story in the series).
It was a dark day in Wahoo history as the Cavaliers, who outplayed Georgia Tech all day long, lost 41-38 on a Scott Sisson field goal at the end. Indeed, those prognostications about a less-than-championship caliber defense haunted UVa, along with some untimely mistakes, any one of which, had they been reversed or not occurred, would have allowed the Cavaliers to win, likely by a decent margin.
"I think the thing that hurt us against Georgia Tech, is when the media held that Wednesday afternoon session with the players," Welsh said.
Charlottesville was smothered by media from across the nation. The Cavaliers had become the media darlings of the entire country and sportswriters, TV folks from all over had invaded Charlottesville for the week, demanding to tell the story of the rags-to-riches program.
"I think we had to do it because there was so much media attention," Welsh said, admitting he didn't handle it well. "I think we had to give media 12 or 15 players on a media day. A lot of them were late to the meeting, so that's what I didn't like."
Welsh shut off access after that, but he was still hounded by the press for the rest of the week.
"I remember after practice on Thursday's I was used to going out and having dinner, take that one night off," Welsh said. "I mean these TV cameras were waiting out there for us, for me and a couple of the assistants, very unusual, highly unusual, and we weren't used to it."
With all that aside, it came down to the game, a wild, high-scoring affair.
"It still came down to the defense wasn't up to it," Welsh said. "Gary did a great job calling that game [offensively]. Georgia Tech didn't know what the hell to do on defense. He had them so confused, off-balance. Pass here, run there, play-action, drop back, run-and-shoot. It was everything."
Welsh will never forget one key play in the game that likely cost the Cavaliers the contest.
"We were up 28-14 at the half and we had the ball in the third quarter, and that should have been a big advantage," the coach said. "They kicked off and we got up to around the 40-yard line and we run an option, and our right tackle stumbled and his right foot came up just like that and knocked the ball out of Shawn's hands and [Georgia Tech] recovered. It wasn't a hit. I still don't know how it happened. He missed a block or something and stumbled. Georgia Tech got the ball and they scored and that made a big difference."
There was a play where the tight end replacing McGonnigal, who had missed the game due to an (ahem) injury, forgot to go in on a goal line play and UVa scored a touchdown. The score was erased due to a penalty for not having enough players on the line of scrimmage and had to settle for a field goal.
Then, there was another freakish play that Welsh had forgotten about.
"People keep reminding me of this, the first down pass to Nikki Fisher bounced off his helmet and [Tech] intercepted. All he has to do is go there and grab it. It would've been nice to go all the way to the bowl game undefeated."
Welsh didn't believe that Georgia Tech, which went on to win part of a split national championship (the two polls decided the titles in those days), was any better than Clemson.
"But they ended up tied for the national title, so they must have been pretty good," Welsh said.
Virginia dropped to No. 9 after the loss, but the team never seemed emotionally and in some cases, physically, after that defeat.
"We had enough to beat North Carolina (24-10 the following week), but the big problem was Herman," Welsh said.
Virginia's big-time receiver had turf toe on both feet and couldn't practice. The Cavaliers had to take Herman Moore out of the Carolina game, and it helped that they led the entire game. Spaziani, the defensive coordinator, blitzed the Tar Heels the entire game and they couldn't handle the pressure.
To Moore's credit, even though he was playing in pain, made a couple of what Welsh termed "great catches."
"But we weren't the same team after that," Welsh said. "I don't know why. One loss is one loss."
Even though UVa climbed one spot to No. 8 after the UNC win, the following week was a disaster at home against Maryland.
"We're up 21-7, we had the game under control and then we screwed up a coverage and they get a touchdown pass," Welsh said. "We came down the field to win the game and that's when Shawn Moore sprinted out to throw the ball and I don't know if he got tackled or just stumbled and he fell on his thumb (throwing hand) and broke it."
Maryland came back and won 35-30, with Virginia falling to 8-2. The Cavaliers would not win again that season even though they received an invitation to play in the Sugar Bowl (though it wasn't publicly announced) after the UNC win.
By the time the rivalry game came along at Virginia Tech that week, the Cavaliers had fallen to No. 17 in the AP poll. With Shawn Moore's thumb broken, Herman Moore's toes hobbling his ability, and the team in a funk, UVa lost 38-13 to the Hokies.
"I didn't have a good feeling about that game, but it doesn't mean we shouldn't have been in that game down to the wire," Welsh said. "(Backup quarterback) Matt Blundin wasn't the worst quarterback. In fact I think he played pretty well that night."
Virginia had been heavily criticized because after receiving the invitation to the Sugar Bowl when the team was still 8-1. Welsh figured his team would beat Maryland, but hadn't expected to lose his quarterback.
"We ended up 8-3 in the regular season (the Cavaliers had dropped completely out of the poll after losing three of their last four games), so critics were saying we shouldn't have been invited, this and that.
"But we were a much better team going into the Sugar Bowl," Welsh said. "We had recovered, had good practices, Herman was healthy, everybody was fine."
Virginia would play Johnny Majors' Tennessee Vols in the New Orleans Superdome for the Sugar Bowl Trophy.
It was the 8-3 Cavaliers vs. the 8-2-2 Vols, the 10th-ranked team in the country in both polls.
Virginia led 16-0 at halftime but succumbed to a 20-point fourth quarter by Tennessee and the Cavaliers lost, 23-22.
"The mistake made, probably by me," Welsh said, "was when Shawn, who had a great first half, ran the ball and we were up 16-0. He and the doctor came to me and his throwing hand was puffed up.
"It wasn't the passing that was bothering his hand, but the constant pounding of the snap, and his hand was all puffed up, really puffed. I should have taken him out," Welsh continued. "I really should've.
"But things were going pretty well so I said let's go another quarter and that's when we called one of those play-action fakes and Herman Moore's like, I don't know if you remember that, 10 yards in the open with his hands up and Shawn can't get him the ball. That would have clinched it."
Every Wahoo fan remembers it in agony. Every sportswriter who covered the game had that moment frozen in memory. Herman Moore was at least 10 yards wide open in the middle of the field, maybe 15 or more and would likely have scored easily and made the score 23-0, and would have probably broken Tennessee's will.
That's the thing about Welsh though. He always told things the way they were. If he made a bad decision or a mistake, he didn't pass the buck.
It was still a great, memorable, bar-setting season for Virginia, providing highlights worth a football lifetime to many Wahoo faithful.
While the Cavaliers would never reach that No. 1 pinnacle again during his career, Welsh wasn't done. He continued to provide great teams and unforgettable moments.
NEXT UP: Part 7, The Seminoles come tumbling down.
Comments