George Welsh's First Win Over Virginia Tech
(EDITOR'S NOTE: When I researched my book, "The Virginia Football Vault … a history of the Cavaliers," I had the enjoyment of sitting down with Hall of Fame coach George Welsh for several days to just talk Wahoo football. Because there was limited space for the Welsh era in the book, I had lots of great stuff that never was written or published. I'm bringing all that to you Wahoos in a series about how George put UVa football on the map. This is Part 2).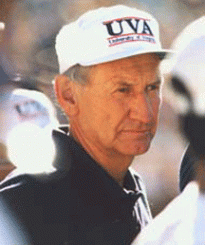 By Jerry Ratcliffe
As good a head coach as George Welsh was, and as good a staff as he had brought to Charlottesville, Welsh knew that if he was going to make the Cavaliers successful, that he needed to beat Virginia Tech.
Welsh's predecessor, Dick Bestwick, had done OK against the Hokies (better known as the Gobblers in those days), having lost a close game and tying Tech's Jimmy Sharpe in '76 and '77, and going 2-2 against Bill Dooley from '78 through '81.
Welsh dropped his first two against Dooley in '82 and '83, giving the Cavaliers a four-game losing streak against Tech, also referred to as VPI in those days.
If one win turned Virginia's program around, it had to be the 1984 meeting between the Cavaliers and Gobblers in Blacksburg. Unlike today, it was the fourth game of the season. UVa was 2-1 after having been roughed up by No. 3 Clemson, 55-0 in the opener, followed by easy wins over VMI and Navy.
VPI was 2-1 with wins over Wake Forest and Richmond sandwiched around a loss to West Virginia.
"The big thing that turned our program around was upsetting Virginia Tech and going to the Peach Bowl at the end of the season," Welsh told me. "That finally established credibility in the state and the neighboring states.
"I don't know if I would have made it [at UVa] if not for the '84 team, winning eight games," Welsh continued. "At least we proved we could win. Even though I inherited (Jim) Dombrowski and (Bob) Olderman, and a lot of other good players — people didn't realize how good they were, there just weren't enough of them — It took until '84 with (Don) Majkowski, Barry Word, Howard Petty, (Geno) Zimmerlink, who was a great tight end in a lot of ways … couldn't block much, but could catch.
"And we had a senior defense and they played very well most of the year, guys like (Ron) Mattes, Charlie McDaniel, Lester Lyles, Tom Kilgannon. The next year we didn't have anyone left hardly on defense, but the offense was still pretty good."
High school coaches around the Commonwealth told Welsh they were happy for the state because the '84 season was a signal that Virginia football was something to be contended with.
"We were much more welcome in the high schools, not only in Virginia, but North Carolina, Pennsylvania and Maryland," Welsh recalled. "Otherwise we don't get Shawn Moore, Herman Moore, Terry Kirby, and Chris Slade.
"We never got high [recruiting] rankings like Al Groh did a couple of times, but you take a look at our roster starting in '87 at least through '88 and '89. I don't know why we didn't have a higher ranking."
From '84 on, Virginia always had good backs and a good offensive line, which was a good marriage because Welsh emphasized the run. And for the most part, the program seemed to attract good quarterbacks.
Welsh had put some pressure on himself going into that '84 season and had privately told close friends at Navy that he believed that if he didn't get it going at Virginia that year that he wouldn't have credibility. Had the season not worked out, Welsh already had plans to possibly bolt from Charlottesville.
"You lose your credibility and it gets worse," he said. "I had another opportunity staring at me, or I could have gone back to being an assistant somewhere. If the '84 team had not turned it around, it might have taken until '89, and I wouldn't have lasted even if [Virginia] had wanted me."
Early in his career at Virginia, Welsh was offered by one NFL team but he wasn't crazy about going into the league.
He didn't have to worry about it because the '84 squad came through big time, especially in Blacksburg.
The Cavaliers hadn't won in Blacksburg since 1970 and the rivalry was more heated back then because players pretty much spoke their minds without being filtered by the coaches.
After UVa lost to Tech in 1983, UVa's All-ACC linebacker McDaniels, said some disparaging words about Tech's Bruce Smith, which fueled the rivalry even more heading into the '84 contest.
Virginia won that game against Tech, 26-23, on the strength of two, fourth-quarter touchdowns. UVa trailed by 10 points with 10:46 remaining in the game. Sophomore quarterback Don Majkowski came off the bench (replacing Kevin Ferguson) to lead those two scoring drives, one a 1-yard dive play by Howard Petty, and another on a 14-yard pass from Majkowski to wide receiver John Ford with 5:07 left to play.
It was Ford's second TD catch of the game, but his most dramatic reception in the game wasn't for a touchdown. It would go down in Wahoo legend as one of the most important and most difficult catches in history.
The Cavaliers were faced with a fourth-and-inches situation at the Hokies 34.
That's when Welsh pulled off one of the boldest gambles of his career. He called for a play-action pass with Majkowski faking a dive play, then dropped back and spotted Ford on a streak pattern. Majkowski, who went on to a great career with the Green Bay Packers, thought he had overthrown Ford, but everyone underestimated Ford's great speed.
Ford left his feet at about the 5-yard line, dived, and caught the ball on his fingertips and held on as he landed at the 1-yard line in an amazing combination of athletic ability and focus.
Later, Tech's Dooley said he would never forget that play, calling it "an unbelievable catch."
Around Wahoo Nation, it's still referred to as "The Catch."
Petty took it the final yard on the next play, and then Ford won the game later on his 14-yard reception.
Without that play, Welsh may have been right. It might have taken the Wahoos until 1989 to get things going, but it may have been with someone other than Welsh at the helm of the Good Ship Wahoo. He might have set sail to another port.
The Cavaliers went on to finish 8-2-2 and earned an invitation to the Peach Bowl, the first bowl game in program history.
Along the way, UVa beat Duke, tied No. 20 Georgia Tech, then reeled off three more consecutive wins over Wake, No. 12 West Virginia in Morgantown (one of the most undervalued wins in UVa history), then N.C. State (45-0), before tying North Carolina. The Cavaliers went nine weeks in a row without a loss before losing a 45-35 shootout at No. 18 Maryland in the regular season finale.
NEXT UP, PART 3: Welsh leads the Wahoos to a win over Purdue and Jim Everett in the Peach Bowl.
Comments