Gertrude's official visit to Virginia was "great"
By Jerry Ratcliffe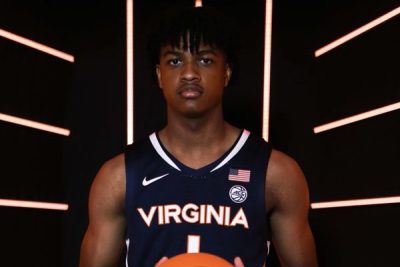 Combo guard Elijah Gertrude said he feels Virginia has made him a priority recruit after his official visit to Charlottesville this past week.
The 6-foot-3 standout from Hudson Catholic in Jersey City, N.J., is ranked the No. 27 combo guard in the nation. Virginia was all over Gertrude at Peach Jam and his visit to UVA confirmed that he felt a strong relationship with the Cavaliers.
"The Virginia visit was good, it was great actually," Gertrude told Adam Zagoria of Zagsblog. "Their message is Coach [Tony] Bennett feels I'm a great defensive player and I can take that defensive effort to another level.
"That's just one of the main things that [Bennett] was talking about. He feels I'm very skilled offensively and we can work on some things. Coach Bennett feels he can develop me offensively and defensively he can make me much better."
Gertrude told Zagsblog that UVA felt like family because the coaching staff keeps a close relationship with former players. Ty Jerome, De'Andre Hunter, Devon Hall and others have been in Charlottesville in June or July.
Asked if he believed UVA was making him a recruiting priority, Gertrude answered, "Yes, yes, that's what it feels like. Yes."
He hasn't set any other visits yet, but wants to visit Syracuse and Kansas. St. John's, Seton Hall and Rutgers remain in the mix as well.
You can see Gertrude in action by clicking on his recent EYBL highlight reel below (he's wearing No. 3 in white, then in orange):
Comments