Good news for Virginia's defense: Taylor, Carter are back
By Jerry Ratcliffe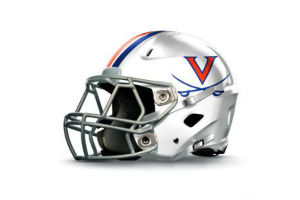 There was some good news coming out of Virginia defensive coordinator Nick Howell's brief meeting with media on Wednesday.
Howell said that both starting outside linebacker Noah Taylor and nose tackle Jahmeer Carter practiced on Wednesday ahead of the Cavaliers' final regular season game against Virginia Tech on Saturday night in Blacksburg. Both players missed UVA's win over Boston College last weekend.
More good news was that Howell believed that everything that went wrong with Virginia's pass coverage in that win over BC was fixable.
Boston College backup quarterback Dave Grosel torched Virginia's defense for 520 yards, equaling BC's all-time, single-game passing record held by Doug Flutie (1982 vs. Penn State), completing 32 of 46 attempts or four touchdowns.
"I believe everything has been fixable," Howell said. "We talk about this a lot. There's no magical formula or rocket science. When things go wrong, the chance that it's something simple is pretty high. We gotta fix those things."
Grosel's passing was the only reason Boston College was in the game. The Eagles, which finished the season 6-5 overall and 5-5 in the ACC, was held to minus-7 yards rushing against Virginia's defensive front. Grosel was sacked four times for minus-27 yards, with that yardage attributed to his and the team's rushing yardage numbers.
"We didn't play the ball in the air a couple of times and we had a couple of assignment breakdowns that led to big yardage," Howell said. "We didn't execute our assignments at a very high level."
Howell did point out, though, that Virginia's secondary made some critical plays when it mattered, a huge boost to the defense's performance.
He was correct in that UVA picked off three of Grosel's passes.
The first came with 11:08 to play in the first half when senior corner De'Vante Cross intercepted a third-and-20 pass at the Virginia 5 yard line. UVA, behind a strong performance behind quarterback Brennan Armstrong, drove 95 yards for a touchdown for a 13-7 lead.
UVA's second pick came at the 10:24 mark of the third quarter when senior corner Nick Grant picked off a Grosel pass intended for BC receiver Zay Flowers at the Cavaliers' 20. Grosel had picked on Grant most of the first half before the UVA corner got even. This time, Armstrong drove the Cavaliers 80 yards for a score and a 27-17 lead.
The last pick was by senior transfer safety D'Angelo Amos (JMU) with four minutes left in the game at the UVA 10.
Howell's defense now goes up against a Virginia Tech offense that has been up and down throughout the season.
The Hokies are ranked seventh in the ACC in total offense with 438.4 yards per game, but lead the conference in rushing with 238.9 yards (199.5 passing per outing).
"I have a lot of respect for their scheme," Howell said. "They run first but that's complimented by their perimeter game, the number of screens, the number of misdirections, and their play-actions marry really well with what they have.
"Everything looks a lot alike and they have really good players doig it at every spot in a really good scheme. You have to be aligned and assigned so you have to do a really good job."
Tech has used multiple quarterbacks this season but mostly Hendon Hooker, who is eighth in the ACC in rushing (77.5 per game) and No. 13 in passing, 1,339 yards, 65.3 percentage, 153.5 per game, with five interceptions.
Braxton Burmeister gets the next most action. He has thrown for 475 yards and owns a 53.2 percent completion average.
"I think their offense is really consistent with who ever is in there," Howell said.
Tech's leading rusher is Khalil Herbert, who ranks third in the ACC with 102 yards per game.

Comments