Guy Guns Down Auburn In Another Miracle Finish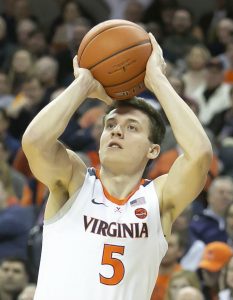 By Jerry Ratcliffe
MINNEAPOLIS — When Kyle Guy was fouled with sixth-tenths of a second remaining in Saturday night's national semifinal, the junior guard headed to the sidelines with his Virginia teammates while game officials reviewed how much time officially remained on the clock.
Guy didn't get into the huddle. Instead he lingered outside, walking around the edge.
Lord knows all the emotions rattling around his mind. The Cavaliers were down two points to Auburn, which had made a tremendous late comeback and taken a 62-60 lead with 7.4 seconds remaining.
The Tigers, with two fouls to give, prolonged Virginia's chance to tie or win the game to 1.5 seconds, when Tony Bennett called timeout to set up a miracle.
Guy took Ty Jerome's pass in the right corner, went up off-balanced as he often does, and launched a 3-point try that was off-target as Wahoo Nation collectively released a sigh that could have huffed and puffed the Nina, the Pinta, and the Santa Maria across the Atlantic.
End of the dream, end of the ride. Auburn started celebrating, Virginia's players began a dejected shuffle toward their bench. Even the public address announcer at the U.S. Bank Stadium blared out, "Auburn advances to the Final Four."
Oh, contraire.
Game official James Breeding called a foul on Auburn's Samir Doughty on the shot, giving Virginia another of its nine lives, and Guy, an 82-percent free-throw shooter, a chance to tie or win the game.
What must Guy have been thinking during that pressure-packed time out? He would be getting three free throws. Auburn's fans and Tigers' coach Bruce Pearl were adamant in their protest of the call. UVA fans were ecstatic.
Here was Guy, with a chance to make history by putting the Cavaliers in their first NCAA Final Four championship game ever. The pressure must have been immense.
"I didn't want to have anything to do with my teammates or coaches at that time," Guy said later after the baby-faced assassin sailed dagger after dagger after dagger into the Tigers' hopes, making all three and lifting Virginia to a 63-62 victory.
"I just wanted to be in my own space," Guy said. "I knew they had confidence in me. I just needed to build up my own. We all practice those shots as a kid. They were probably a little bit more spectacular than free throws, but whatever it takes to win."
After Guy had sank the first two free throws to tie, Pearl called a timeout as a last-ditch effort to freeze him.
Guy cooly made the other, giving UVA a one-point lead with six-tenths of a second, allowing Auburn to toss up a hapless prayer, setting off a wild celebration by the Cavaliers players and their fans in the stadium.
While Auburn didn't agree with the call, Guy said there was no doubt he was fouled.
"I heard [the official] call it right away," Guy said. "They were asking me did I know, because I put my hand, my face into my jersey, but that was me focusing. I knew they called a foul. I knew that I got behind the line for three shots because I practiced that. I just literally told myself that we dream of these moments and to be able to make one happen was special."
There was no doubt in the officiating crew's minds either.
J.D. Collins, the national coordinator of officiating, issued a statement after the game and said that Auburn's Doughty moved into the "airborne shooter, making contact with Guy while taking away his landing spot," and that "the defender may not 'belly up' or use the lower part of the body or arms to cause contact outside his vertical plane or inside the opponent's vertical plane."
Jerome, who had made the inbounds pass into Guy, said there was no doubt his teammate was fouled. Asked later in the locker room if there was anyone he would rather see at the line that Guy with a trip to the national championship game at stake, Jerome didn't blink.
"No," he said emphatically. "I just wanted him to get up to the line and win this game."
Making three in a row under that kind of pressure took immense focus.
"I never had any doubt," Jerome said of Guy. "I told everyone to get off the [free throw] line. I said, 'just get back, these three are going in.' Kyle's a big-time shooter, a big-time player."
The play that Bennett designed in the prior huddle, with 1.5 seconds to play, wasn't originally for Guy.
First option was for Jerome to launch a lob at the rim to Mamadi Diakite, but Auburn took that away, so Jerome spotted Guy in the left corner and saw that De'Andre Hunter had set a screen to take out Guy's defender.
"I knew I had to get the ball to Kyle," Jerome said, and that's exactly what happened.
Guy had nailed a 3-pointer with 7.4 seconds to play to draw the Cavaliers to within 61-60, another well-designed play by Bennett from an inbound pass, something UVA practices all the time in late-game situations.
"It wasn't just luck," Jerome said. "We worked on that situation a lot."
Guy said Virginia takes a lot of pride in overpreparing.
"We did a great job staying disciplined during those last 10 seconds and making something happen," Guy said.
For Auburn, it was a difficult moment as the Tigers and Pearl filed off the court, wearing despair, disbelief on their faces.
"We thought we won it, we thought we had it won," said Auburn senior forward Horace Spencer. "I didn't see the ref call the foul. I didn't understand what was happening.
"So [officials] walked over to the bench and said something to us," Spencer explained. "We were about to storm the court, so we were like, 'Damn. That's it. For real?' [Virginia's] going to make all three of these and we'll have 0.6 seconds left. You can't win like that."
Doughty, who was whistled for the foul, didn't make any excuses.
"They [officials] do a great job at reffing and they're trying to the best of their ability to make the right call," the Auburn guard said. "I can't question none of that."
Doughty said that when he had watched video while scouting Guy and Jerome that they like to kick their legs out when they shoot.
"So I just tried to be right there, let him shoot the ball and whatever happens, happens," Doughty continued. "He just hit a three the play before and I played defense the same exact way. I'm not really sure why they called that call but I'm pretty sure the refs made the right decision."
For Virginia, the only No. 1 seed to survive and advance to the Final Four, it was another close brush with defeat. The Cavaliers overcame a sluggish start with Gardner-Webb, another No. 16 seed, in the first round, but got their act together and ran away with the game, took out high-scoring Oklahoma, won another tough one over Oregon, then experienced another miracle ending to defeat Purdue in the Elite Eight.
In that game, UVA appeared done when Jerome missed a free throw with Diakite tapping the rebound deep into the backcourt where freshman guard Kihei Clark chased it down and had the presence of mind to whip the ball to an open Diakite for a 12-foot jumper that sent the game into overtime.
The Cavaliers took out the Boilermakers and advanced to the Final Four, the first time in 35 years for the Virginia program.
"These last two games, oh, my, how they ended," Bennett said afterward of his 34-3 Cavaliers.
"I do feel for Auburn, but I feel better for us right now," said Bennett, who knows the agony of defeat. "Survive and advance, I guess that's taking on a new meaning."
Comments