Hall of Famer John Smoltz Talks UVA Baseball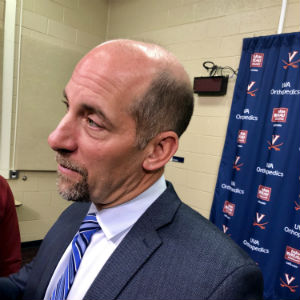 By Jerry Ratcliffe
The last thing one might expect a Hall of Fame pitcher like John Smoltz to talk about is failure.
Virginia's baseball team listened intently Saturday night when "Smoltzie," one of the greatest pitchers in Atlanta Braves and Major League Baseball history, delivered an inspirational talk about the other side of sports. Smoltz was the guest speaker at UVA Baseball's annual "Step Up to the Plate," event, the preseason kickoff to the Cavaliers season.
Seven former Wahoos were inducted into the Virginia Baseball Hall of Fame (more on that part of the story this evening).
Smoltz, now arguably the best baseball television analyst out there, often talks about failure when he has an opportunity to inspire audiences. Saturday night was another chance to present a life lesson to young players.
"Sports is incredible and teaches you a lot of things in life that can last for a long time, but I don't think people talk enough about failure, and what failure can be, and how it can motivate because we don't want to fail," said Smoltz, who pitched for 21 years in the majors. "No one wants to talk about it.
"Some of the greatest people have learned from their failures, maybe quicker than most, and use it," Smoltz said. "I find myself talking about failure a lot in order to be able to explain to these young players that not everyone's going to get to the big leagues, a low percentage of them will. But in their life they're going to learn a lot of lessons along the way  that will provide an opportunity for them to be even more successful in whatever endeavor they choose."
For a guy who has been so successful, it may not be thinkable that he has used failure as motivation. Smoltz, however, said he has a million stories of personal failure that he likes to share.
"The biggest one was in 1991, a year when I was coming off a great year on a team that lost close to 100 games," Smoltz said. "I was having my first child that year, and I went 2-11 (in the first half of the season).
"Everybody called for me to be taken out of the rotation, sent down (to the minors), or go to the bullpen," Smoltz recalled.
However, Braves manager Bobby Cox, also a future Hall of Famer, came to his rescue. He stuck with Smoltz and the rest is history.
"I knew I could have stayed at that (2-11) rate, but I turned it around and went 12-2 (after the All-Star break) and pitched the game-clinching game to put us in the playoffs in Game 7 against Pittsburgh, and Game 7 against Minnesota," Smoltz said. "There's no way you can do that without the confidence of your manager or the ability to overcome failure.
"2-and-11 is 2-and-11, doesn't matter how you get there, it doesn't look good, and you're nine games back at the All-Star break," Smoltz said. "Do the math, I'm 2-11, and all eyes are pointed at me."
With his comeback in the second half of that season, Smoltz believed if he could overcome that start that he could overcome anything.
He said he's very familiar with failure. He's failed at golf and in other situations in life, and said he's learned from every failure. After reaching age 50 (he pitched until he was 42), he attempted to make the PGA Senior Golf Tour, qualifying for the Senior U.S. Open. He didn't perform well in the event and didn't make the Senior Tour, but is making another run at it this year, learning from his failures.
"Every one of my failures has made me a better player (in baseball and golf) and a better person, and I hope to pass that on as much as I can," Smoltzie said.
The most important part of his talk, the one thing that he hopes UVa's players learned from listening to him, was the part of the speech about character.
"I really stand by that," Smoltz said. "I survived my era when baseball had a big cloud over it (performance enhancing drugs, steroids). When I played there were choices made. With every choice comes consequences. I'm most proud of the fact that I didn't fall victim to any of those temptations that were going to taint my character.
"There might be opportunities to these young men to take shortcuts to give them short gain, but at the end of the day character and wearing that jersey with pride is the most important thing you can do," Smoltz said.
Part of his message to the team was to "do anything you can as long as you can."
Some of the players he addressed will play only two more years of baseball, some perhaps only one. His hope is that the lessons learned in sports will help guide them to better things in whatever paths they choose after baseball.
"I'm speaking to 30 guys, and maybe not all 30 are listening. There may be only three, and that's OK," Smoltz said.
While his first visit to Charlottesville was short due to travel challenges, Smoltz was impressed with UVA baseball.
"I was very impressed with the baseball stadium," he said. "I have seen through the College World Series and the success that Coach O'Connor has had here, that the level that is expected here is pretty high. You don't see that in a lot of college baseball programs. This is an elite program."
He conveyed that he can relate to the pressure of expectations year after year.
"Certainly when you're part of something like I was, and expected to win every year, and everyone wanting to chop us down or give reasons why we weren't successful, we were able to do it 14 years in a row (in Atlanta), which was pretty special. So I know what that's like and I know what being expected to win is like. Unless you win it all you feel like you haven't reached your goal."
UVa coach Brian O'Connor was more than impressed with Smoltz's delivery to his team.
"John's message to our club was really impactful," O'Connor said. "Talking about how you handle failure. Certainly last year being the first season that we haven't played in an NCAA Tournament, his message was really impactful. Hopefully that helps them continue to improve individually and as a group.
"I loved the character part of the talk as well," O'Connor said. "Our players are representing this great university and the results are going to come and go individually and collectively as a group. Who they are as individuals and what they stand for is far more important than the wins and losses.
"We all love to win and we're going to be proud of winning," O'Connor said. "But we're going to be proud of winning the right way."
LATER TODAY: Seven former Wahoos are added to the Virginia Baseball Hall of Fame.
Comments