Hang another banner at JPJ for the ACC's team of the decade
By Jerry Ratcliffe
Saturday's 15-point win over Louisville to clinch at least a share of the ACC regular-season title was memorable from wire to wire. From Jayden Gardner's pre-game tears to all the game-end cheers for walk-on Chase Coleman's 3-pointer with 30 seconds to go, the afternoon won't soon be forgotten.
Virginia's 23rd win of the season was capped by beloved coach Tony Bennett taking the microphone after the game with a declaration.
"We're gonna honor [Kihei Clark], then we're gonna cut those dang nets down," Bennett told the sellout crowd that traveled to John Paul Jones Arena to say goodbye to seniors Clark, Gardner, Coleman, Ben Vander Plas, Armaan Franklin and Francisco Caffaro. Indeed, there was so much to celebrate.
Bennett presented a commemorative basketball to recognize Clark's record-breaking season and then led a parade of Cavaliers up the ladder to cut down the arena nets, a reminder of Virginia's dominance in the ACC over the past decade.
Just think about it. This is UVA's sixth ACC regular-season championship in the past 10 years: 2014, 2015, 2018, 2019, 2021, 2023. During that span, North Carolina has three, Duke 1, everybody else nada.
The quest hasn't become easier, much the contrary since the ACC decided to go to a 20-game league schedule. Running that gauntlet the way Bennett's team has is certainly trophy case-worthy.
"With 20 games, there's so much parity, and I know we shared it with whoever it'll be (Miami), but you've got to last," Bennett said. "I think the league is a lot better than a lot of people say it is and to be able to be one of those teams, after 20 games, to get a championship, I'm very thankful."
Another banner for JPJ's rafters won't point out that Virginia was 10-0 at home against ACC competition for the first time since the league expanded to a 20-game schedule, or that the Cavaliers finished 15-1 at home overall (the only loss coming vs. nonconference Houston), or that it was the ninth time under Bennett that UVA won 23 or more games.
Louisville was the perfect victim to close out a successful home season. The down-on-their-luck Cardinals have been woeful this season after making their third coaching change since Rick Pitino. But, heck, even Pitino couldn't beat Virginia, called the Cavaliers his "kryptonite."
UVA has beaten Louisville seven times in a row and 16 of the last 17, 8-0 at JPJ and 17 out of 19 against the once-storied program since it joined the ACC.
Probably didn't help that instead of flying into Charlottesville on Friday as normal, that the Cardinals flew in Saturday morning, went straight to its pre-game meal and got ready to take on the nationally ranked Wahoos.
"There's a reason why Virginia's in the top 15 in the country and probably should be in the top 10, top 5," said Louisville coach Kenny Payne. "They're a well-oiled machine with veteran players connected to each other as evidenced by 25 assists (on 29 baskets), as evidenced by 58-percent shooting (29 of 50). They pretty much got anything they wanted."
Payne said Virginia's deliberate pace, one of the slowest in the nation, gave his team trouble as well.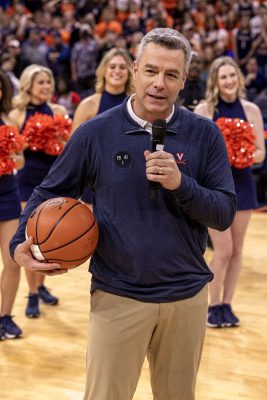 So did the Cavaliers' point-guard duo of Clark and Reece Beekman.
Bennett pointed out that Kihei's "last two floor games were terrific." In the back-to-back wins over Clemson and Louisville, Clark had 12 assists, 3 turnovers, 2 steals, directed the offense and played lockdown defense against crafty opponents like Louisville's El Ellis, who went 3 for 12 shooting and turned it over four times.
"I didn't know [Clark] was coming back this time last year … I assumed he was probably gone," Bennett said. "I'm so glad he made that decision.
"I was looking at that ball [presented to Clark] and thinking that's three regular-season championships. What a cool way to go out of JPJ."
Then there was Beekman, who over the same span dished out 19 assists with one turnover and had six steals.
Gardner, who Bennett pointed out in postgame wanted to transfer to Virginia in order to experience a conference championship and an NCAA tournament, saw his dreams fulfilled. He contributed 16 points (8 for 12 shooting) to the cause after doing similar damage to a hungry Clemson team earlier in the week.
Having locked up the No. 2 seed in the upcoming ACC Tournament in Greensboro, the Cavaliers will likely face ancient rival North Carolina in Thursday night's quarterfinals, a tough draw facing the Tar Heels in their own backyard. It's the kind of challenge a team needs to meet if greater things are to come.
A challenge befitting of the ACC's best program over the past decade, and maybe even another banner to hang.