Hauser dominates both ends of floor as Virginia turns away upset-minded Pitt
By Jerry Ratcliffe
With 16 minutes to go in the second half Saturday, Virginia and Pitt were deadlocked at 36-all. The visiting Panthers, coming off an upset over a ranked Virginia Tech team just days ago, had visions of overthrowing another of the ACC's present hierarchy.
Then, Sam Hauser happened by and did his thing. The Panthers didn't know what hit 'em.
Virginia's in-house sniper, with a little help from his friends, went on a shooting spree during an unanswered 16-point run on only six possessions to blow open a 52-36 lead. While Pitt rallied late with some defensive pressure tactics to make things interesting, it was that four-minute scoring frenzy that dug a hole too deep for Pitt.
The Cavaliers escaped the threat to claim a 73-66 win and improved to 9-1 atop the ACC standings and 13-3 overall. It was UVA's sixth straight win over the Panthers and 10th in 11 meetings since Pitt joined the ACC in 2013.
Hauser started that scoring blitz with two free throws, followed by back-to-back Jay Huff 3's and two more free throws by Tomas Woldetensae. Hauser capped off the blitz with his own back-to-back 3-pointers.
For the record, the Marquette transfer, whose shooting reputation preceded him, finished with a season-high 23 points with a performance to die for. Hauser was a deadeye from all over the floor: 8 of 9 field goals; 3 of 4 from the 3-point arc; 4 of 4 from the free throw line. Near perfection.
He didn't miss a shot from anywhere in the second half. During it all, Hauser outshined Pitt's Justin Champagnie, considered by some as a leading candidate for ACC Player of the Year. Hauser was better on both ends of the floor.
Champagnie, the ACC's leading scorer, was a point shy of his league-high average of 19 points per game, but it should be noted most of his baskets came from in the lane, layups, putbacks and the like.
It should also be noted that Champagnie missed 10 of his 18 shots. Part of that was because Hauser dominated him on both ends of the floor. Not especially known for his defensive prowess but ever improving, Hauser slapped the handcuffs on the Pitt star.
Three times Champagnie attempted to back Hauser down in the lane and three times Hauser prevailed.
"Sam was really good," Virginia coach Tony Bennett said. "He actually guarded well and offensively, when you look at his stat line, he did the job. He was the difference maker for us.
"I thought [Hauser] was really good at being, we call it a 'wall on wheels.' That part I was really pleased with."
Without that four-minute explosion, Virginia might have sweated more than necessary to finish off Pitt, which dropped to 5-5 in the ACC, 9-6 overall. The Cavaliers went on to open up their largest lead (17) at 62-45 with 7:22 to play before the Panthers desperately made their last stand. Pitt cut UVA's lead to seven several times down the home stretch.
Hauser deservedly patted himself on the back after his defensive performance garnered as much attention as his offense for perhaps the first time this season.
"I think it's a good representation [of defensive development], and I've worked hard at it," Hauser said. "Obviously, there's still some improvement to be had, but I think I played pretty solid in the end and made [Champagnie] work for his shots. He's a great player. Hats off to him … he had a really good game with a double-double, so I just tried to make it as difficult as I could for him."
The Virginia senior got plenty of help from his teammates in the scoring column as Tomas Woldetensae came off the bench when Reece Beekman got into first-half foul trouble, and hit 4 of 5 shots from the arc for 14 points _ a season high in 3-pointers.
Huff finished with 13 points, 8 rebounds and 2 blocks while Kihei Clark added 11 points and 8 assists.
It was the 15th time in 16 games that Hauser scored in double figures this season.
The scoring explosion almost midway through the second half was the story of the game. There wasn't much Pitt could do but watch helplessly.
"I think we kind of upped the ante in the energy category and played more together," Hauser said of Virginia's blastoff.
The Cavaliers torched the nets in the second half, making 65 percent of their field goal attempts (13-20), a blazing 66.7 percent of their 3-pointers (6 of 9) and 11 of 13 free throws.
That's definitely upping the ante.
"Obviously, the ball was moving really well in that stretch of offense and our defense really, really stepped up, but we weren't able to maintain that," Hauser said. "I think we let our foot off the gas a little bit and that's an area to improve."
Bennett wasn't at all pleased with some defensive breakdowns and giving up 42 points in the paint.
Something to work on before the Cavaliers hit the road Wednesday for a rematch with Georgia Tech.
Team Notes
Virginia (13-3, 9-1 ACC) shot 53.2 percent from the field and 50 percent (12 of 24) from 3-point range
The Cavaliers improved to 9-1 when scoring 70 or more points
UVA shot 50 percent or better from the floor for the seventh time (7-0)
UVA shot 50 percent or better from 3-point range for the fourth time (4-0)
The Cavaliers improved to 8-0 at home, including 5-0 in league play
Series Notes
UVA is 17-4 all-time vs. Pitt in the series that dates back to 1957-58.
UVA has won six straight contests vs. the Panthers
Virginia has won 13 of the last 14 games and is 7-1 in Charlottesville
UVA is 10-1 against Pitt since 2013-14 when the Panthers joined the ACC
Tony Bennett is 10-2 all-time vs. Pitt
Player Notes
Double Figure Scorers: Sam Hauser (23), Tomas Woldetensae (14), Jay Huff (13), Kihei Clark (11)
Woldetensae matched a season-high with four 3-pointers
Hauser had a season-high 23 points
Hauser has reached double figures in 15 of 16 games
Huff (two blocks) recorded his 11th multi-block game (38th career)
Clark added a game-high eight assists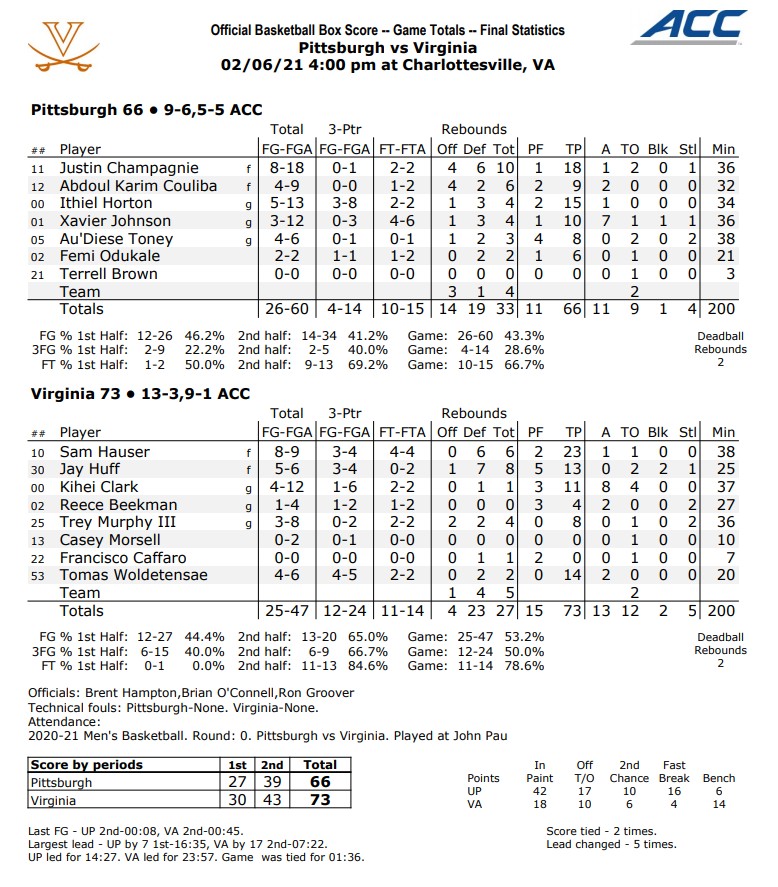 Support JerryRatcliffe.com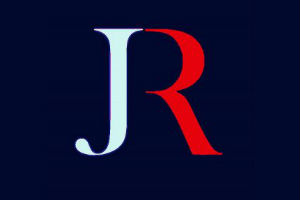 Make a one-time or recurring gift to support JerryRatcliffe.com online below. Your gift is not tax-deductible. Thank you for your support of JerryRatcliffe.com and the "Jerry Ratcliffe Show" podcast!