Hauser, Huff put up 42 as No. 8 Virginia destroys Syracuse zone
By Jerry Ratcliffe
Nothing it seemed could stop Sam Hauser on Monday night.
Hauser, the senior transfer from Marquette, had never faced the intricate sophistication of Jim Boeheim's patented 2-3 zone during his career.
No problem.
Before Hauser could attack the Syracuse defense, he had another hurdle to clear. Virginia's leading scorer on the season was bothered by back spasms during warmups.
Hauser fought off both problems to post 21 points _ all off seven 3-pointers _ to lead the Cavaliers to an 81-58 win over the visiting Orange. Senior Jay Huff added a career-high 21 points and 12 rebounds in helping the nation's 8th-ranked team roll to its seventh straight win.
UVA, now 11-2 overall and 7-0 in the ACC, led 35-26 at the half but blitzed the Orange for 46 second-half points. Trey Murphy III contributed 16 and Reece Beekman 10, while point guard Kihei Clark dished out a season-high nine assists against only two turnovers as Virginia looked every bit the part of its new top-10 ranking.
"It was weird," Hauser said of his back issues. "Just in warmups it started spasming. I don't know why but I just said I was going to go out there and see how it felt. It felt good enough to play so I figured I'd just play."
And play he did.
Syracuse threw up its unique 2-3 defense, confounding to some opponents, disastrous to others. For Hauser, he just decided to go up top and bomb the Orange into submission.
He made 7 of 16 of his field goal attempts, only three of those inside the arc. Hauser was 7 of 13 from Bonusphere, the last coming with 10 minutes left in the game.
For the first 30, it appeared that Hauser might tie or break Curtis Staples UVA single-game record 3-pointers of nine, which has stood since 1998. But Hauser had his last pair of 3-point attempts blocked and he settled for another highlight reel of seven.
Hauser now has four or more 3-pointers in each of the last three games.
While Hauser was "Mr. Outside," Huff was "Mr. Inside," killing the Orange with his rim-diving efforts, including six rim-jarring dunks on an eye-popping 8 of 11 field goals.
Syracuse wasn't sure how to choose its poison because both were lethal.
It was the second straight game where Hauser and Huff combined for 40 or more points. They had 40 in Saturday's win over Georgia Tech, and 42 against Syracuse.
The Cavaliers moved the ball expertly against the zone, getting open 3's (UVA was 14 of 31 from behind the arc) and getting backdoor layups and dunks as the team had a season-high 23 assists on 29 field goals.
"A lot of our offense has just been moving the ball around," said Huff. "We don't over dribble all that much, especially against a team like Syracuse. You can't because they collapse and have guys with long arms and can bump the ball away from you."
Virginia's defense was also strong as the Cavaliers seemingly improve game by game. Syracuse came in as the ACC's highest-scoring team, averaging 79 points per game but was held to 58, the 11th consecutive time the Orange has scored 68 or fewer against UVA.
Syracuse shot a mere 37 percent for the game (22-59) and even worse from the 3-point line (5-24), 20.8 percent. Virginia also killed the Orange on the glass with a season-high 41 rebounds to 28 for the Orange, now 9-5 overall and 3-4 overall.
Virginia will have the remainder of the week to prepare for the first of two meetings against Virginia Tech on Saturday in Blacksburg.
(COMING TUESDAY: Does Tony Bennett have the secret recipe against Boeheim's zone?)
Team Notes
The Cavaliers (11-2, 7-0 have a seven-game winning streak and have started 7-0 in the ACC for the first time since starting 12-0 in 2017-18
UVA has a 15-game ACC winning streak dating back to 2019-20.
UVA had a 12-0 run in the first half
UVA is 4-0 when scoring 80 or more points in 2020-21
Virginia is 7-1 when scoring 70 or more points in 2020-21
UVA is 35-1 when scoring at least 80 under Tony Bennett
UVA is 134-10 when scoring at least 70 under Bennett
UVA had a season-high 23 assists
UVA had a season-high 41 rebounds
Series Notes
UVA is 9-6 all-time against Syracuse, including an 8-2 mark in ACC action, in the series that dates back to 1983-84.
The Cavaliers are 4-2 against the Orange at John Paul Jones Arena
UVA has held the Orange to 68 or fewer points in each of the last 11 meetings between the teams
Head coach Tony Bennett is 8-3 all-time against Syracuse
Player Notes
Double Figure Scorers: Sam Hauser (21), Jay Huff (21), Trey Murphy III (16), Reece Beekman (10)
Huff had a career-high 21 points and 12 rebounds for his sixth career double-double
Huff matched a career-high with 12 rebounds
Hauser tied a career high with seven 3-pointers
Hauser has four or more 3-pointers in each of the last three games
Clark handed out a season-high nine assists
Murphy II had a season highs in rebounds (7) and blocks (2)
Huff (2 blocks) moved into sole possession of fifth on UVA's career blocks list with 132
Huff has 37 multi-block games (10 this season)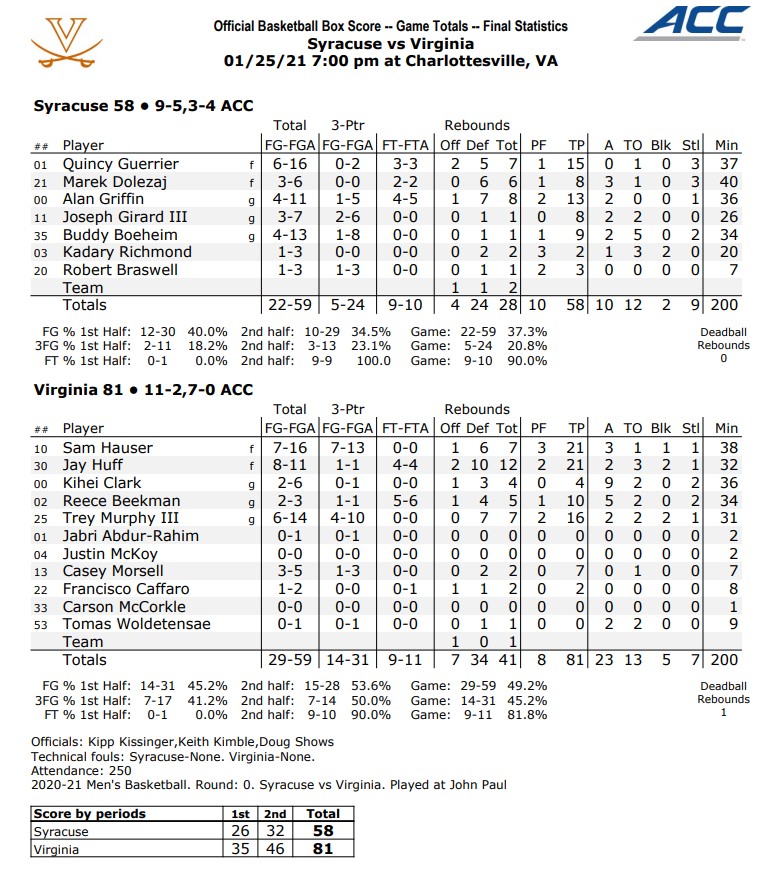 Comments