Hauser sparks Virginia out of slump in less than impressive win over last-place Miami
By Jerry Ratcliffe
If there has been one consistency throughout Virginia's roller coaster basketball season, it has been Sam Hauser.
The Cavaliers leading scorer on the season (15.3 average) and second-leading rebounder (6.8), has been a godsend from the Midwest after transferring to UVA from Marquette. Hauser grew up in the same town as Tony Bennett, Stevens Point, Wisc. _  yes, he's a loyal Cheesehead _ and possibly the best shooter to come up through that area since his current coach.
"Must be something in the water up there," Bennett giggled the other day.
As Virginia emerged from it's first three-game losing streak in more than a year, it was Hauser once again putting the Cavaliers on his back in a 62-51 win over last-place but pesky Miami.
The senior put up a game-high 18 points, his 20th double figures game in 22 outings this season, to ward off the Hurricanes and to help Virginia secured a top-4 seed and double-bye in next week's ACC Tournament in Greensboro.
"[Hauser] got an inside post up, then hit a three and his versatility really showed," Bennett said of his protege. "They're guarding him with their best players and they're making him work.
"I think you can see it on TV if you follow us and watch, but I think you talk about becoming a fan favorite, I think a crowd would appreciate if because this is a knowledgeable fan base. They've grown that way seeing the great players we've had here and they would have seen another one this year and been like wow. To behold some of these things in person, just the steadiness, the smart play, his unselfishness and then where he'll making those plays."
Hauser is the best player that Virginia fans didn't get to know. He had to sit out last season due to NCAA transfer rules, and fans were teased by reports out of practice about Hauser the scoring machine. Obviously, due to state Covid restrictions, very few fans got to see him live.
What a shame because they would have come to adorn him the way they did Brogdon, Anderson, Guy, Jerome, Hunter, Diakite and others.
Miami and the rest of the ACC would have been fine had Hauser transferred to Michigan State with his younger brother, Joey. It was Hauser who drilled back-to-back 3-pointers in a 12-0 run the final three minutes of the first half to give the Cavaliers a 41-30 lead at the break.
He finished the evening 7 of 13 from the field and 4 of 9 from Bonusphere in front of his family, who traveled in for Senior Night. The Hurricanes, who have been snakebitten with injuries all season, never really threatened in the second half, but wouldn't completely go away either.
It required a 12-point effort from Trey Murphy III and another eight points from Justin McKoy (all in the first half when UVA was unsteady) to help the No. 21 Cavaliers improve to 16-6 overall and 12-4 in the ACC in their last home game of the season (10-1 at JPJ). A road game at Louisville looms in the very near future to close out the regular season.
Wasn't the best night for senior center Jay Huff (2 of 10, seven points, his third-lowest output of the season) or point guard Kihei Clark (two points, five assists, one turnover).
Bennett's frustration with those two veterans resulted in them riding the bench for the final three minutes of the first half and five-and-a-half minutes starting the second half.
"Jay didn't have a particularly good game nor did Kihei, quite honestly and that's the reality," Bennett said afterward. "Those guys are a big part of this program, but for us to be good they need to be ready and be sharp.
"I didn't feel like those guys were ready. Kihei wasn't a senior so you can't use that as [an excuse]. They got better in the second half but we had to go with what was giving us life."
Part of that life was McKoy, who has played sparingly for his first two seasons at Virginia, and has often been seen taking extra shots out on the arena floor after games. He not only gave the Cavaliers a scoring lift but added some much-needed toughness, something Bennett had been calling for.
"I love his heart and his energy," Bennett said. "It's that way in practice. He started earlier in the year and then he's gone through a patch where he didn't play as much, but his work ethic and his effort has never wavered."
McKoy said he has been patient, hoping for another chance after starting some early in the season and then falling off the radar.
"My role is bringing energy and effort all the time," McKoy said. "Just playing the right way, scoring, rebounding. Energy and effort, I think are the biggest things."
Not to be overlooked was freshman guard Reece Beekman's defense against Miami's Isaiah Wong, who had averaged 28.5 points over his last two games. Beekman held Wong to 10 points and a 3 for 13 shooting performance in 36 minutes.
While this was the end of a three-game nosedive for Virginia, it wasn't a dramatic turnaround. The Cavaliers didn't really play better, but managed to win against a team that is only 3-15 in the ACC.
Louisville won't be a cakewalk. The question is, will Virginia be good enough to close the regular season with a win as it heads toward postseason.
Hauser said he believes Virginia can regain its Top 10 form before it's too late.
There's no doubt he'll be ready. Question is, will the rest of his teammates?
Postgame Notes
Courtesy UVA Media Relations
Team Notes
Virginia (16-6, 12-4 ACC) ended a three-game losing streak
The Cavaliers clinched a top-4 seed and double-bye in the ACC Tournament
UVA has 12 or more ACC wins for the fourth straight year
The Cavaliers finished 10-1 at home (7-1 ACC)
UVA had a 12-0 run and led 41-30 at the half
Virginia honored seniors Jay Huff, Sam Hauser, Tomas Woldetensae and Austin Katstra, and managers Matt Palumbo and Carter Furr in a pregame ceremony
UVA owned a 20-2 advantage in bench points
Series Notes
Virginia is 13-12 all-time vs. Miami in the series that began in 1965-66
The Cavaliers have a four-game winning streak vs. the Hurricanes
The Cavaliers are 8-4 against the Hurricanes in Charlottesville
Head coach Tony Bennett is 10-6 all-time against Miami
Bennett is 10-2 all-time on Senior Day at Virginia
Player Notes
Double Figure Scorers: Sam Hauser (18), Trey Murphy III (12)
Hauser has reached double figures in 20 games
Hauser had a season-high two blocked shots
Murphy III had a season-high three steals
Murphy III reached double figures for the 14th time
Justin McKoy had eight points and six rebounds off the bench
Woldetensae (3 points) returned to action after missing two games due to contact tracing and started his fifth game (first since Dec. 26 vs. Gonzaga)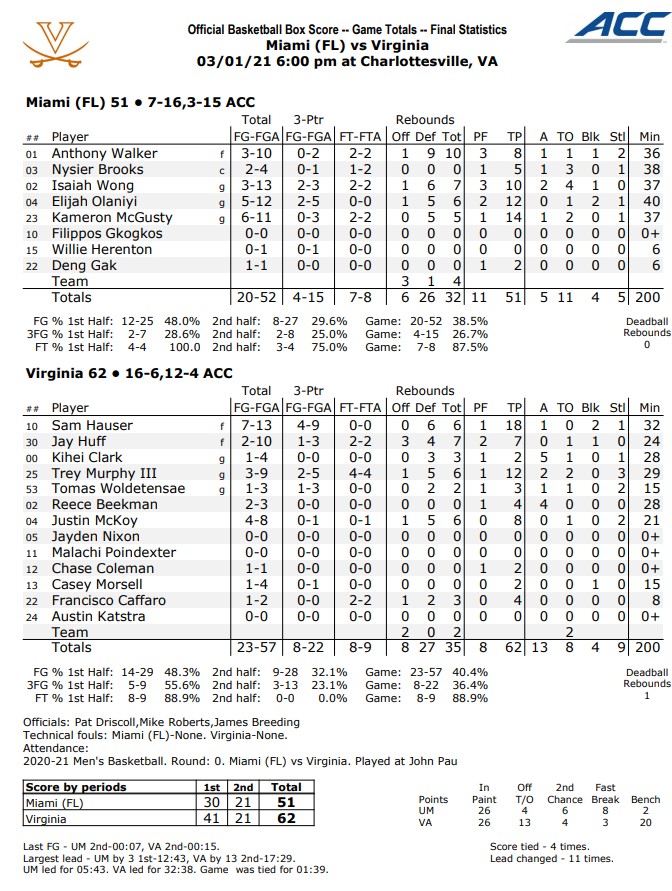 Comments