Hauser's 24 points spark Virginia past Louisville, and to another ACC regular season title
By Jerry Ratcliffe
Virginia's basketball world returned to normal on Saturday night.
Sam Hauser delivered an All-American performance with a season-high 24 points. The Cavaliers defense regained its usual suffocating style of play. UVA dominated Louisville on the Cardinals home court for a 68-58 win.
Oh, and yeah, Virginia claimed yet another ACC regular season championship, it's fifth under Tony Bennett, to capture the No. 1 seed in next week's ACC Tournament.
This one was the most improbable of them all. A week ago, the Cavaliers were in the throes of a miserable three-game losing streak. ACC opponents had figured out a way to negate UVA's strengths and the chances of Bennett's team reclaiming a projected league title looked dim.
Heading into the weekend, two things had to happen and they did, as improbable as it seemed.
Florida State, which had dominated UVA a few weeks hence, had to lose at Notre Dame. FSU was a seven-point favorite. Virginia had to beat a desperate Louisville team on the Cardinals' home court.
As the old UVA saying goes, 'Why do they call Louisville's arena the Yum Center?" Because winning there is soooo delicious.
The Cavaliers are not only 11-2 against the Cardinals since they joined the ACC in 2014, but own a 5-2 record at Yum.
Florida State choked its brains out at Notre Dame, falling behind by 20 points at one point, before losing by 10, leaving the door wide open for the Wahoos. Virginia played its best game in weeks by taking it to Louisville, leading wire-to-wire. Louisville needed the win to lock down a double-bye, top four finish for next week's soiree in Greensboro.
Hauser had other ideas. He didn't transfer from Marquette to Virginia and sat out a year just to come in second.
The UVA senior sank 9 of 14 shots (2-5 on 3's, 4-4 from the free throw line) and pulled 8 rebounds, while sitting out most of the final nine minutes, in leading Virginia to a 17-6 record, 13-4 in the ACC.
Meanwhile, the defense smothered Louisville and held the Cardinals to 36.8 percent shooting for the game. Kihei Clark and Reece Beekman handcuffed Louisville's ACC Player of the Year candidate, Carlik Jones, who went 2 of 15 from the field and scored a mere six points.
With the win, UVA won't have to suit up again until a noon game next Thursday to open the ACC Tournament's quarterfinal round.
"I told [the team] before the game, I took this job at Virginia to hopefully have chances at title fights, and we talked about that," Bennett said after the game. "It's not lost on me. I'm sitting right now in the locker room where we had one of the biggest celebrations when we beat Purdue to go to the Final Four."
When Bennett entered Saturday's victorious locker room, he greeted his team this way:
"Congratulations to the 2021 ACC Regular Season Champs," Bennett shared.
That declaration turned loose a wild celebration as the team and coaches converged into the middle of the room, water flying all over the place as they jumped up and down with glee, Bennett crouching and fist-pumping as if he were Tiger Woods winning another major.
"We talked about what a title fight meant and being able to live with the results win or lose, but lay it on the line and don't yield, and to have those opportunities and special moments in this building (UVA is 7-2 overall at Yum) and to see what some of the guys did and to get the contributions from the bench. Sam, what he did today was special. Trey (Murphy III) and just a bunch of guys made it taste sweeter.
"We'll put a mask on the ACC trophy for sure."
Fitting for a season fulfilled under the Covid pandemic, the same one that denied the Cavaliers the opportunity for a run at last year's title with the ACC Tournament abruptly halted moments before the quarterfinals were to start.
Virginia jumped on Louisville early, leading 18-8 midway through the first half and 28-21 at the break. Hauser had already established his scoring presence and the defense was playing at the top of its game, holding the Cardinals to 27 percent shooting at the break.
Hauser just kept bombing away in the second half, scoring Virginia's first 10 points, including a bomb from downtown Louisville for a 46-38 lead with 12:56 to play.
Bennett pulled Hauser and Huff with just under 10 minutes to play even though Louisville had cut into the Virginia lead, drawing to within 51-47. Hauser only returned briefly and Huff remained on the bench as Murphy and UVA's bench kept the Cardinals at bay.
The Virginia coach felt comfortable leaving his shooting stars on the bench, especially after reserve Tomas Woldetensae hit three free throws to make it 54-47, followed by a Murphy jumper. Reserve Justin McKoy, who has played his way into more floor time of late, scored back-to-back baskets, and Beekman made two free throws for a 62-49 lead with 5:28 to play.
Louisville kept missing, helping Virginia's cause as the Cavaliers finished off the Cardinals.
"A pivotal moment was when Tomas got fouled shooting that three ball in the corner and made all three free throws," Bennett said. "[Louisville] was coming back, so I thought that was significant. They went small ball. We said we've got to match up.
"Sam got in a little foul trouble, and then you saw Justin make a big rebound, Tomas got another, just everybody, Casey (Morsell), different guys. I liked how Reece and Kihei touched the paint but made good decisions. That kind of contribution andthat was an MVP type performance in my opinion, what Sam did in this league. I think he and Jay are probably in the running for that. I hope they can both get it and share it."
Louisville's Jones was averaging 17.6 points per game and was bidding for ACC Player of the Year honors after winning the same in the Big South for Radford prior to his transfer. Clark and Beekman, with a little help from their friends, smothered Jones.
"Looking at the stat sheet, [Jones] is a heck of a player and obviously he missed some shots, but as always, can we make a really good player take tough shots and earn their buckets," Bennett said of the defense against the Louisville star.
Hauser said that when UVA learned Florida State lost, they Cavaliers couldn't turn a blind eye to the results.
"We knew what was at stake. I think that gave us even more motivation for this game," Hauser said. "At the start of the year, this was one of our goals and check the box off, but we've got a lot more to do for sure. It's definitely great to get this championship and be a part of this program."
Murphy finished as UVA's second-leading scorer in the game with 17 points, breaking out of a mini-slump with a 7 of 12 shooting performance.
"This is exactly what I came here for, and I wanted to play against the best competition and win championships at the highest level," said Murphy, who transferred from Rice in the offseason. "I'm super excited, super proud of my guys, super proud of the coaching staff."
Postgame Notes
Courtesy UVA Media Relations
Team Notes
Virginia (17-6, 13-4 ACC) clinched its 10th ACC regular-season title (5thunder Tony Bennett) and sixth No. 1 ACC Tournament seed
UVA has 17 or more wins for the 10th straight year and 13 or more ACC wins for the fourth straight year
UVA finished 6-3 in true road games
UVA has won six or more road games for the fifth straight season
UVA shot 53.8 percent in the first half and led 28-21
UVA matched a season low with three 3-pointers
Series Notes
Virginia is 17-5 all-time vs. Louisville in a series that began in 1923-24
UVA is 11-2 vs. the Cardinals in ACC action
The Cavaliers are 5-2 vs. the Cardinals in Louisville and 7-2 overall at KFC Yum! Center
UVA has held Louisville to 59 or fewer points in 10 of 14 contests since the Cardinals joined the ACC in 2014-15
Tony Bennett is 12-2 vs. Louisville as head coach at Virginia
Player Notes
Double Figure Scorers: Sam Hauser (24), Trey Murphy II (17), Jay Huff (10)
Hauser had a season-high 24 points
Hauser has reached double figures in 21 games
Hauser matched a season high with two blocked shots and added a team-high eight rebounds
Huff (4 blocks) passed Mamadi Diakite for second on UVA's career blocked shots list with 158
Huff recorded his 17th multi-block game (44th career)
Huff has reached double figures in 17 games
Murphy III reached double figures for the 15th time
Justin McKoy (4 points) matched a season high with six rebounds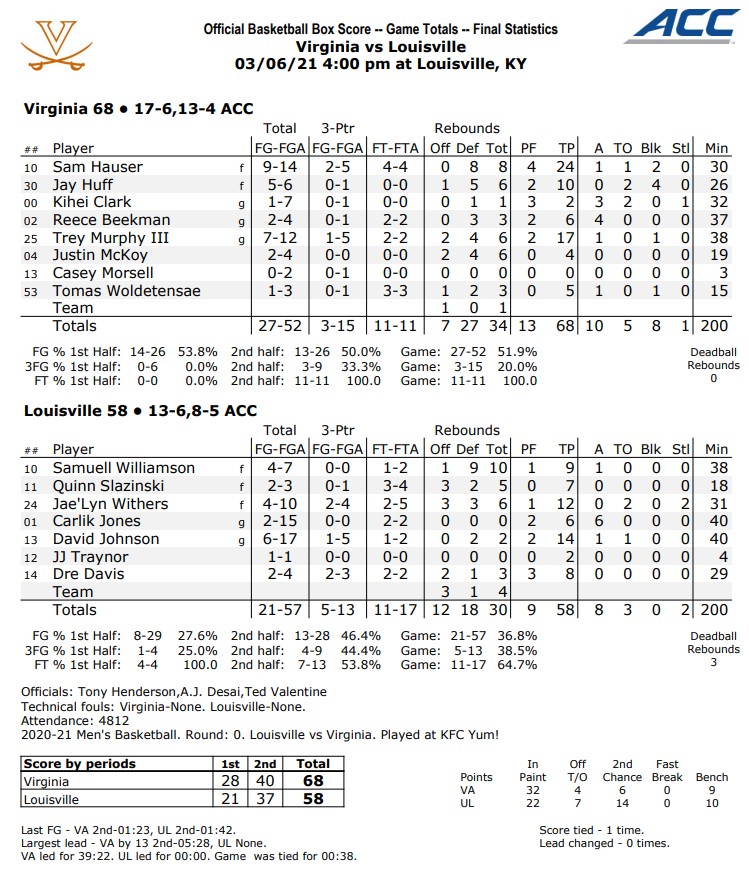 Support JerryRatcliffe.com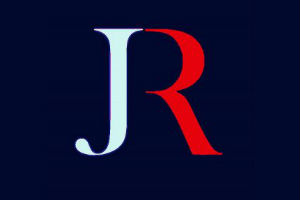 Make a one-time or recurring gift to support JerryRatcliffe.com online below. Your gift is not tax-deductible. Thank you for your support of JerryRatcliffe.com and the "Jerry Ratcliffe Show" podcast!