Here's the scoop on Virginia 5-star recruit Jarin Stevenson, with an added twist
By Jerry Ratcliffe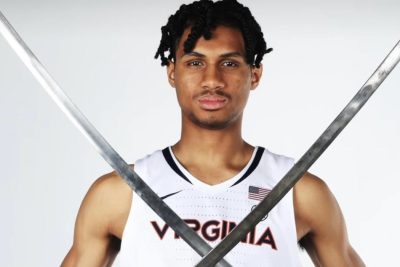 Where does Virginia stand in terms of recruiting the nation's top power forward, 5-star Jarin Stevenson? Will Stevenson reclassify to the recruiting class of 2023 and make a commitment soon? Is there a potential hidden link to UVA's chances?
We spent a half hour on the phone with Jarin's father, Jarod, on Thursday and came away extremely impressed with the entire Stevenson family. First-class, laid back, a perfect fit for the Virginia basketball family.
Jarin is a 6-foot-10, 200-pound power forward at Seaforth High School in Pittsboro, N.C., rated the No. 12 overall prospect in the nation in the recruiting class of 2024, the No. 1 power forward and the No. 2 overall prospect in the state of North Carolina.
Stevenson has made official visits to Virginia, Georgetown, Missouri and Alabama (last weekend), and is likely to visit UNC next week. Then it's decision time for the Stevenson family, who will determine whether to reclassify to the present recruiting class of 2023 or remain in the '24 class. Jarin is 17 years old and will turn 18 in October, so as his father pointed out Wednesday, if the decision is to reclassify to '23, then the family won't have a lot of time to play with because players in the class of '23 will start reporting to their respective college programs by mid-June.
Virginia, for an example, will begin hosting its incoming class of freshmen by June 16 for classes and informal practices.
The Stevenson family has visited UVA on several occasions, including an official visit last month when Jarin tweeted out that he "had an amazing visit at UVA men's hoops," along with a 30-second video of him posing in a Cavaliers uniform.
"Oh, it's been great," father Jarod, a former big-time scorer for the University of Richmond, said in our conversation, when it came to interaction with Virginia coach Tony Bennett and staff. "I mean, we've been up there a number of times on unofficial visits, and every time we've been there, Coach Bennett has been great.
"We like everything he's doing at Virginia, his Five Pillars and the way he develops players. We definitely like what he's doing with the Virginia program."
One of the big factors the Stevenson family will consider in selecting a future home for Jarin is the developmental impact of the program and coaching staff.
"I think Jarin has a good base to build upon, so the school we pick has to be a school that develops the guys and makes them better," Jarod Stevenson said. "Has to be a good player-development program.
"Jarin is a really good team player, but I've noticed that because he's a taller guy at 6-10, and sometimes we've gone to an all-star camp and (coaches/counselors) don't really know who Jarin is. So, they say, 'OK, just go set a screen on the ball and roll. Even though Jarin can dribble and shoot, if the coach told him to do that, he's just gonna go out there and set a screen and roll every time.
"So it has to be a coach that we trust that's going to push him and give him freedom, just to be able to show some of the things he can do. That's a big factor."
Certainly, Bennett and his program have built a reputation on player development and have sent numerous players to the NBA, one of the latest being Trey Murphy III, whose family knows the Stevenson family. In fact, Jerod Stephenson said that Bennett has often compared Jarin to a Murphy-type player.
"Virginia sees Jarin as a stretch four, a big guy who can play on the wing a little bit," Jarod said. "I guess the guy they compare him to is a guy who came from where we are in Trey Murphy. They compare Jarin to him a little bit, although he's a taller guy who can shoot and do things with the ball, so that's definitely nice to hear."
Jarod Stevenson played at Richmond from 1994-98 as a 6-6 small forward and was the CAA Player of the Year in '98, leading the Spiders to an upset over No. 3-seeded South Carolina in the NCAA tournament. He left the school as one of its top 10 all-time scorers and went on to a long professional career overseas.
He coaches Jarin at Seaforth, so he knows his son's game inside and out.
"I'd like to think he's a little bit like me," Jarod chuckled. "I think I sort of helped him with his shooting. I was a pretty good shooter, so hopefully I influenced him a little bit. And I think he's sort of laid back like I am, the same demeanor."
One of the most impressive things Jarod has seen Jarin do on a basketball court required a change in demeanor for just an instant. Jarod described it this way:
"We had a game against another high school where their team was mostly a bunch of football players and it was played real physical. Jarin got hit in the mouth and his tooth was almost about to fall out. But he kept playing and had a triple-double. So I was pretty impressed with that.
"It's the first time I saw him really play angry, so that was good to see. I wished it didn't take him getting his tooth knocked loose, but …"
Jarin Stevenson has a pretty complete game, something UVA's Bennett refers to in players as a "complete player," in that he is solid offensively, defensively, can shoot, rebound and handle the ball.
Jarod would agree to that assessment.
"Some of Jarin's strengths are also sort of some of his weaknesses, because he's a good team player," Jarod said. "He doesn't really force anything, especially on our team. He's the best player by far and he doesn't really force shots. He'd rather pass it to somebody who's wide open in the corner, even though the [open] guy can't shoot. He would rather pass it to that guy. So I guess that's a strength, but sometimes I think it's a weakness, but he's a good team player.
"He's a good shooter. He's 6-10 and he can dribble and shoot and pass. There's not a lot of big guys who can do all three of those things, and he's a pretty good athlete, so I think that's sort of what makes him different. I guess he's special."
Because he's only 17, he needs to get stronger (UVA strength and conditioning coach Mike Curtis is known as one of the best in the business). Defensively, Jerod said Jarin can guard almost anyone, positions one through five.
"He still has to get better, but he does pretty good. So yeah, he has to get better at everything, especially if he wants to get to the level that he hopes to get to in terms of making the NBA."
In terms of reclassifying, the Stevenson's are studying the situation.
"It's something we're still considering," Jerod said. "I guess my wife (who played at UNC) and I sort of put the brakes on that a little bit to see if he's really ready, but it's definitely something he wants to do, so we're still exploring it and seeing how to go."
There is another potential aspect, a hidden tie to Virginia that we weren't aware of until recently.
Jarod Stevenson was recruited to Richmond by former Virginia player Anthony Solomon, who played for Terry Holland on the 1984 Final Four team. Solomon was an assistant coach at Richmond during Stephenson's career there and the two have remained life-long friends.
Solomon was associate head coach to Mike Brey at Notre Dame until Brey stepped down after this past season. It was the third time Solomon worked as an assistant to Brey during Brey's lengthy career. Solomon was also head coach at St. Bonaventure from 2003-07, and has been an assistant at Georgetown, Dayton, Clemson, Manhattan, Bowling Green and Delaware, as well as Richmond, during his career.
As one might expect, Solomon would like to come home to the state of Virginia (he's a native of Newport News), and guess what school in Virginia has an opening for an assistant coach? UVA.
Certainly, we would never tell Bennett who to hire, but Solomon makes perfect sense. He's a guy who brings tons of experience, knows the state, knows the ACC from different angles than the UVA staff, could add fresh perspectives, new ideas.
Wouldn't it be cool for Virginia fans to bring Solomon home and reunite the Stevenson's at the same time?