Holland, Guy To Appear On The Jerry Ratcliffe Show Saturday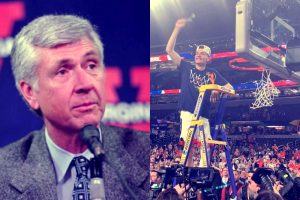 One of the greatest coaches in ACC basketball history and the "Most Outstanding Player" of the 2019 Final Four will grace Saturday's edition of "The Jerry Ratcliffe Show," on ESPN-Charlottesville (102.9 FM and AM 1450).
Terry Holland, who coached the Cavaliers from 1974 to 1990, and led UVA to its first ACC Tournament Championship, an NIT title, two Final Four appearances, and numerous trips to the NCAA Tournament, will join Hootie for a look back at his fabulous career and revisit this year's national championship team.
Holland and wife, Ann, have just moved back to Charlottesville after having lived in North Carolina and a short stint in Denver, following his retirement as athletics director at East Carolina. Holland was also AD at Virginia, and largely responsible for getting John Paul Jones Arena breathed into existence, and at his alma mater, Davidson.
Guy, who just completed his junior season with the Cavaliers, is one of the greatest 3-point shooters in UVA history. The former "Mr. Basketball" in Indiana during his high school career, was selected as the "Most Outstanding Player" in the Final Four, helping Virginia win its first national championship in program history.
Guy will revisit the season, the tournament, and the title during the show, which airs from 9 a.m. until 10 a.m., a great lead-up to the National Championship celebration at Scott Stadium.
For those who miss the show or live outside the broadcast area, they can catch it on our podcast on this website later in the day.
Comments