'Hoos blank Richmond to stay unbeaten
Courtesy UVA Media Relations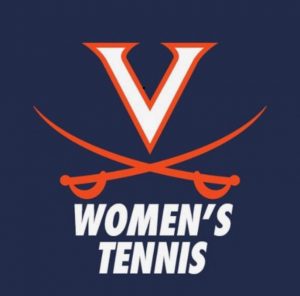 The No. 11 Virginia women's tennis team continued its impressive start to the season on Thursday, taking a 7-0 victory over Richmond at the Boar's Head Sports Club.
The Cavaliers (4-0) swept through all three doubles matches to claim the doubles point before winning all six singles matches in straight sets to lock up the shutout of the Spiders (1-4). Rosie Johanson clinched the match for the Cavaliers with her 6-1, 6-2 victory at two singles.
Virginia will return to action this weekend, opening Atlantic Coast Conference play at Boston College. First serve is set for 10 a.m. on Sunday.
MATCH NOTES
Freshman Natasha Subhash won 6-0, 6-0 to secure the first singles point for Virginia. She is now 4-0 in the dual season.
Four UVA players remain undefeated in the dual season. Junior Vivian Glozman is also 4-0 in dual play, while senior Chloe Gullickson and sophomore Sofia Munera both improved to 3-0 in dual play.
Munera and Subhash also remained undefeated as a doubles tandem in dual matches, improving to 4-0.
No. 11 Virginia 7, Richmond 0
Singles
1. No. 30 Natasha Subhash def. Emily Dunbar (UR) – 6-0, 6-0
2.. No. 35 Rosie Johanson def. Dessi Zlateva (UR) – 6-1, 6-2
3. Amber O'Dell def. Kiana Marshall (UR) – 6-2, 6-3
4. No. 78 Sofia Munera def. Lea Owens (UR) – 7-5, 6-0
5. Vivian Glozman def. Marta Buendia (UR) – 6-1, 6-2
6. Chloe Gullickson def. Justine Bryson (UR) – 6-1, 6-1
Order of Finish: 1, 6, 2, 4, 5, 3

Doubles
1.. Gullickson/O'Dell def. Lyndell Giffenig/Marshall (UR) – 6-1
2. Munera/Subhash def. Andrea Campodonico/Dunbar (UR) – 6-2
3. Glozman/Johanson def. Owens/Zlateva (UR) – 6-1
Order of Finish: 1, 3, 2

Comments