Hoos left in the bubble? Where to watch your favorite former Cavaliers in the NBA Playoffs
The NBA Playoffs are here, and Virginia basketball fans will have the opportunity to catch two games a day featuring former Cavaliers for the next week. Of the eight Wahoos currently playing in the Association, five will be participating in the postseason in Orlando, which begins today — Malcolm Brogdon (2011-16), Joe Harris (2010-14), Mike Scott (2007-12), Justin Anderson (2012-15) and Devon Hall (2014-18).
With first-round matchups running every other day this week, the Nets and 76ers began their respective series Monday, while the Pacers and Thunder started up on Tuesday. That means you'll get two chances a day to see a few of your favorite Hoos competing at the highest level this week. Before we break down each player's season, here's a look at the schedule for each of the UVA alums' team's first-round games (* — if necessary):
Indiana Pacers (45-28)
#7 Malcolm Brogdon (16.5 ppg, 4.9 rpg, 7.1 apg)

No. 4 seed in East vs. No. 5 Miami Heat (44-29)

Schedule (MIA wins, 4-0)
Game 1: Miami 113, Indiana 101
Game 2: Miami 109, Indiana 100
Game 3: Miami 124, Indiana 115
Game 4: Miami 99, Indiana 87
Philadelphia 76ers (43-30)
#1 Mike Scott (6.0 ppg, 3.6 rpg, 0.8 apg)
No. 6 seed in East vs. No. 3 Boston Celtics (48-24)
Schedule (BOS wins, 4-0)
Game 1: Boston 109, Philadelphia 101
Game 2: Boston 128, Philadelphia 101
Game 3: Boston 102, Philadelphia 94
Game 4: Boston 110, Philadelphia 106


Brooklyn Nets (35-37)
#10 Justin Anderson (2.8 ppg, 2.1 rpg, 0.8 apg)
#12 Joe Harris (14.5 ppg, 4.3 rpg, 2.1 apg)
No. 7 seed in East vs. No. 2 Toronto Raptors (53-19)
Schedule (TOR wins, 4-0)
Game 1: Toronto 134, Brooklyn 110
Game 2: Toronto 104, Brooklyn 99
Game 3: Toronto 117, Brooklyn 92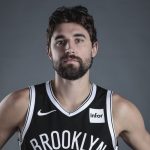 Game 4: Toronto 150, Brooklyn 122

Oklahoma City Thunder (44-28)
#14 Devon Hall (1.8 ppg, 0.6 rpg, 1.2 apg)
No. 5 seed in West vs. No. 4 Houston Rockets (44-28)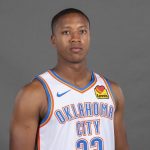 Schedule (HOU wins, 4-3)
Game 1: Houston 123, Oklahoma City 108
Game 2: Houston 111, Oklahoma City 98
Game 3: Oklahoma City 119, Houston 107
Game 4: Oklahoma City 117, Houston 114
Game 5: Houston 114, Oklahoma City 80
Game 6: Oklahoma City 104, Houston 100
Game 7: Houston 104, Oklahoma City 102
Switching teams in the offseason, Brogdon has elevated his game as the starting point guard for the Pacers. The 2017 Rookie of the Year has been a solid performer for his new club this season, and if the Pacers can pull off the upset of the Heat, Brogdon could face the team that originally drafted him, the top-seeded Milwaukee Bucks, in the second round.
Since the restart in late July, Brogdon, 27, is averaging 18.2 points, 6 rebounds and 6.3 assists in his six games, shooting 43.5 percent from the field (37 for 85) and 40 percent from beyond the arc (14 for 35).
Harris, 28, has also seen his role continue to expand, starting all 69 games he played for the Nets this season (he started all 76 the previous season with Brooklyn). Joey Buckets, last year's 3-point Shootout champion, is showing off his hot hand in Orlando.
In his six games in "the bubble," Harris is shooting 62 percent from the floor (49 for 79) and a scorching 54 percent (20 for 37) from 3-point land, averaging 20 points, 4.3 rebounds and 2.3 assists. And now he's got a familiar face with him on the sideline.
Anderson, 26, got the call-up from Brooklyn's G League affiliate, Long Island, ahead of the restart, and has earned some playing time on a squad that has been decimated with injuries. In seven games with the Nets in Orlando, Simba — who has also played for the Mavericks, 76ers and Hawks during his pro career — has averaged 3.6 points, 2.7 rebounds and 1.1 assists.
Scott, 32, will see more action as well, as Ben Simmons was moved from point guard to power forward prior to the restart, but suffered an injury in the bubble and will not be available for the playoffs. Scott's minutes are likely to increase as a result.
The Chesapeake native has played in five games in Orlando (starting one), and has averaged 10 points, 4.6 rebounds and 1.6 assists.
Hall, 25, set career highs in minutes played (24), points (12), assists (4) and steals (3) in the Thunder's final seeding game Friday against the second-seeded LA Clippers, knocking down 3 of 6 from downtown. The Virginia Beach native has only seen action in 11 NBA games, but he proved that he can contribute if and when his number is called.
The teams that wound up with UVA's three rookies, De'Andre Hunter (Atlanta), Ty Jerome (Suns) and Kyle Guy (Sacramento), each failed to make the playoffs.

Comments