'Hoos Making a Difference' will honor Vigorito, Farrior at today's homecoming game
By Jerry Ratcliffe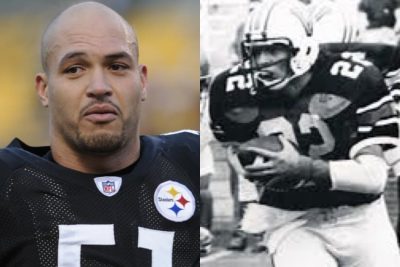 Joe Bock remembers walking into Virginia's locker room after games and black-and-blue welts, bruises, shaped like facemasks on Tommy Vigorito's back.
Those were the kinds of physical beatings the rugged running back would take for the Cavaliers during his career (1977-80). Describing Vigorito as a workhorse would be an understatement.
"Viggy was the toughest running back I ever saw," Bock said Friday night at the Virginia Football Alumni gathering. Bock, who had a lengthy pro career, saw a lot of running backs during his time. "He never once complained about all those carries, the physical punishment. He was one tough cookie."
Vigorito, who traveled with his family from New Jersey to Charlottesville for today's homecoming game, is one of two former players to be honored by the Virginia Football Alumni Club (special on-the-field ceremony). James "Potsie" Farrior (1993-96), also made the trip from Los Angeles with his family for the special recognition.
It will be the first of two such recognitions for Farrior this fall. Next month, Farrior and another former UVA player, Heath Miller, will both be inducted into the Pittsburgh Steelers Hall of Fame. More on Farrior momentarily.
When Vigorito left Virginia in 1980, he ranked No. 2 all-time on the Cavaliers career rushing list behind only John Papit, who had set the mark from 1947-50. Vigorito, who finished with 2,913 rushing yards, is still No. 7 on that list, having only been passed by Thomas Jones, Tiki Barber, Terry Kirby, Kevin Parks and Wali Lundy.
He toted the mail for 648 carries, still the fifth-most ever by a UVA back, and is also 12th on the school's all-time, all-purpose yardage list with 3,922, including 587 yards in kickoff returns.
"I took a lot of beatings," Vigorito said Friday night. "I had a lot of concussions that I didn't know about. Now they have doctors on the sidelines and after he examines you, tells you whether you can play or not.
"I was young and stupid," Vigorito cracked about the physical play.
From Virginia, he was drafted in the fifth round by the Miami Dolphins and Don Shula, for a five-year career. He has two favorite memories from the NFL, one being Miami's marathon overtime playoff victory over San Diego, an all-time classic; and the other was an 87-yard, game-winning kickoff return against Pittsburgh on Thursday Night Football.
"It was a [Miami] record, but somebody broke it about four years ago," Vigorito said.
Bock said there was a great quote from former Dolphins great Bob Kuenchenberg in Sports Illustrated about Vigorito. Kuenchenberg was a guard for Miami for 14 seasons.
"Kuenchenberg was quoted as saying, 'Vigorito has the quickest white feet I've ever seen,'" Bock laughed.
Still, with all of his football accomplishments, Vigorito said his favorite moments at UVA had nothing to do with statistics.
"I think the guys I played with that are here this weekend are my warmest memories," Vigorito said. "I've talked with several of them tonight. Guys I haven't seen for years."
Saturday's special recognition, the "Hoos Making a Difference" program started by the football alumni club last year, means a great deal to Vigorito, as it does for Farrior.
One of the greatest defensive players in UVA history, Farrior was first-team All-ACC his senior season, finishing third on the school's career tackles list with 381. He came to George Welsh's program as a Parade All-American out of Matoaca High School.
Nicknamed "Potsie" by his parents, who took the name from the Happy Days television sitcom, he was a key cog in some of Virginia's greatest defenses along with Jamie Sharper, Anthony Poindexter and others.
Farrior went on to a celebrated 15-year career with the New York Jets and Pittsburgh Steelers, where he won two Super Bowl rings, and has already been named to the Steelers Ring of Honor.
During his time in the Steel City, Farrior recorded 1,440 tackles, 35.5 quarterback sacks, 11 interceptions and 18 forced fumbles for an intimidating defense.
He and his family moved to Los Angeles after living in Houston, and he now is currently a stay-at-home-dad looking after his four children, three girls and a boy. Or as he joked Friday night, "I'm their taxi driver. They're all into sports, so they keep me on the move."
Being back in Charlottesville is a special weekend for Farrior and his family.
"Just to be around all the people that I know, that I've come in contact with over the years from UVA and all of my old teammates that I haven't seen in such a long time is really special," Farrior said. "It's such a good feeling to be back and be able to relive some of these good memories we had at Virginia."
Being recognized by the football alumni club is also special.
"It means a lot to me. It's definitely an honor, and I'm definitely humble about what they're doing for me and Tommy Vigorito," Farrior said. "I spent four years here and I created a lot of memories with a lot of these people. For them to recognize me for my accomplishments on the field and off the field is really special. It's something I'll cherish for the rest of my life."
Farrior played on some of Welsh's best and most exciting teams, so he didn't have to think too hard to pick out some of his favorite UVA memories.
"The fondest memory I have here is our 1995 win over Florida State (FSU's first loss after 29-straight wins over ACC opponents)," Farrior said. "That's something I'll cherish for a long time, my whole life probably."
The '95 season was loaded with memories for Farrior, including a last-minute loss to No. 14 Michigan at the "Big House" to start the season (an 18-17 loss), and another last-minute loss at No. 16 Texas by a 51-yard field goal into the win at Texas (17-16). However, FSU was No. 2 nationally when the Cavaliers upset the Seminoles on one of the most magical nights in Scott Stadium history.
Farrior said that beating Virginia Tech (42-23 in 1995) was also a highlight, just because of the rivalry, even though he went 1-3 against the Hokies.
One of the most underrated wins in UVA history came in 1996, a rematch with the Longhorns, this time in Charlottesville, and this time with a much different outcome.
"That was a payback game for us," Farrior said. "We definitely took the loss from the year before to heart. It was special to beat those guys, seeing a lot of their players go on to play in the NFL. It was a good feeling to get them back."
19th-ranked Virginia stunned No. 13 Texas, 37-13, and administered a beating to famed Longhorns running back Ricky Williams, who was limited to 44 yards on 19 carries and no touchdowns.
"We tore it up that game," Farrior smiled. "I remember we had a really good game against Ricky. We were playing with a chip on our shoulders and I think he took the brunt of that."
Farrior had an outstanding career with the Steelers, something he said was a dream come true.
"I never expected to be in the NFL. It was a long goal of mine growing up like any other kid and to have had a successful career like that, to live that out, is something incredibly special. I still pinch myself when I think about it."
So was winning his first Super Bowl.
"It was the first time I'd won something that big since Little League," Farrior said. "That first one was definitely something special. Great memories."
Just like being named to Pittsburgh's Ring of Honor was special.
"When you look at the Steelers' Ring of Honor and you see all those guys that are in there, just to be a part of that and have my name mentioned is incredible," Farrior said. "Most of those guys are in the Pro Football Hall of Fame, and that makes me feel great to be mentioned with those names."
Farrior and his younger brother, Matt, have established a foundation that provides financial assistance and mentoring for students, assistance in various forms to families in need, scholarship financial assistance for college students, and works with the National Bone Marrow Registry.
Comments