'Hoos Overcome Early Miscues, Cruise To 48-34 Season-Opening Win At Syracuse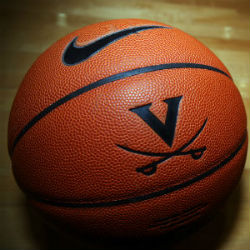 Virginia got a pair of double-doubles, a solid defensive effort and an overall impressive ACC road win to start the 2019-20 campaign, walking out of the Carrier Dome with a 48-34 win against Syracuse. The 11th-ranked, reigning national champs picked up where they left off, in the win column with a new group of leaders.
Senior forward Mamadi Diakite led the 'Hoos (1-0, 1-0 ACC) with 12 points to go with six rebounds and a pair of blocks, while both junior Jay Huff (11 points, 12 rebounds) and second-year point guard Kihei Clark (10 points, 11 rebounds) added double-doubles to pace the effort, which wasn't perfect by any means.
UVA struggled to knock down shots early on and couldn't hold onto the ball on numerous occasions, but the Orange (0-1, 0-1) was stifled by the Cavalier defense, finishing the contest shooting an ice-cold 23.6 percent (13 of 55) on the night.
Tony Bennett wasn't happy with his team's 16 turnovers (10 in the first 20 minutes), but the Wahoos decisively won the rebounding battle, 47-28, dished out 14 assists — Clark had half of them with seven — and led all but two minutes and 12 seconds in a hostile environment with essentially a whole different cast of characters.
The 'Hoos scored 26 of their points in the paint, as the team only completed 16 percent (4 for 25) of their attempts from 3-point land, but the ones that fell were timely and helped keep the momentum on their side.
Up by just two possessions early in the second half, the Cavaliers used a 12-3 run over the following six-plus minutes — highlighted by a pair of confident Diakite jumpers and capped by a Kody Stattmann 3-pointer — to give them a comfortable 42-27 lead with 8:29 to play.
The 'Hoos didn't make a field goal over the final five and a half minutes of the game, but they didn't need to.
Virginia missed five of its first six shots, as Braxton Key got the 'Hoos on the board just before the first media timeout. The Orange couldn't get anything to go other than a bucket from junior big man Bourama Sidibe in the opening minutes, making just one of their first 14 shot attempts over nearly 11 minutes.
Diakite scored his first basket shortly before Clark, who played all 40 minutes, netted the team's first 3-ball of the season to get the offense going. Huff tipped one in to make it 10-2, and the Carrier Dome crowd fell silent.
Freshman Casey Morsell got the start and came out firing, missing his first two attempts from deep. The new Wahoo got his first points to fall with 9:27 on the clock, giving the 'Hoos their largest lead of the first half, 13-2, before Syracuse finally showed signs of life with a quick 8-0 run to get back in it, book-ended by Elijah Hughes and Buddy Boeheim 3-pointers.
Key answered with a bucket off of a nice save and assist by Morsell, and then Key hooked Diakite up with a sweet dish to push the lead back to seven, 17-10, with 4:48 left until the break. Huff and Diakite finished the half with two tough interior buckets apiece to give UVA a 25-19 lead at the break.
On the evening, the Cavaliers shot 40.8 percent (20 of 49) from the field, and the UVA bench outscored the Orange, 16-5, thanks in large part to Huff's strong performance. Key added 7 points, 10 rebounds, two steals and a pair of assists, while Stattmann finished with 5 points — including a nice reverse layup in transition late in the contest — to go along with his three rebounds, two assists and a block.
Syracuse was led by Hughes' 14 points (4 for 14 FG, 3-10 3PT), while Boeheim added 7 (3-12, 1 for 8 from deep). No other Orange player scored more than 4 points on the night, as the team shot 5 for 29 (17 percent) from downtown and committed nine turnovers.
Virginia returns to John Paul Jones Arena for the home opener on Sunday at 6 p.m. against in-state opponent James Madison (ESPNU).

Comments