Hootie Wayback Machine: Looking Back at the '84 Peach Bowl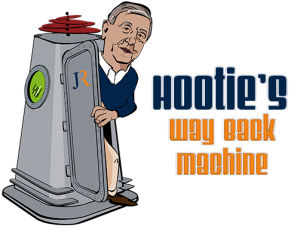 In honor of Virginia's invitation to its 20th bowl game, the 2018 Belk Bowl in Charlotte on Dec. 29, I thought it would be fun to jump into the "Hootie Way Back Machine," and take a trip to Dec. 31, 1984, the Cavaliers' first-ever bowl game.
It was a Peach Bowl matchup between George Welsh's Wahoos and the Big Ten runner-up, Purdue, which featured a couple of future NFL stars in quarterback Jim Everett and cornerback Rod Woodson (who played safety for the Boilermakers).
Virginia had come close in both 1979 under Dick Bestwick and 1983 under Welsh, but neither could pull off the seventh win, adding to decades of frustration for the Cavaliers' football program.
The anticipation for the game in Atlanta Fulton County Stadium was unlike anything Wahoo Nation had ever experienced.
The '84 season was the key year in Welsh's UVA career. He told me several times that had he not beaten rival Virginia Tech that year and had his team failed to make a bowl game, he wasn't sure that he would have been in Charlottesville much longer. He figured either he'd be fired or he'd get frustrated and leave.
Luckily for Wahoo fans that neither happened and Welsh went on to become Virginia's greatest coach and a member of the National College Football Hall of Fame.
Not only did UVA make it to its first bowl, it won its first bowl, beating the Boilermakers 27-24.
The thought was that Virginia simply pounded Purdue into submission.
"I attributed that to the fact — and this is one of those subtle things that nobody knows about — it was 80 degrees down there a lot of that week, and we practiced [in Charlottesville] here a couple of times in those temperatures, while I think Purdue was practicing indoors," Welsh told me years later. "And then during the week down there, at least for three or four days it was warm, so what I decided to do was — [Purdue] went out and practiced at nine in the morning, and I waited until the afternoon to practice to make sure I was in the heat because as I remember, it was a 4 o'clock game, and I think that helped us."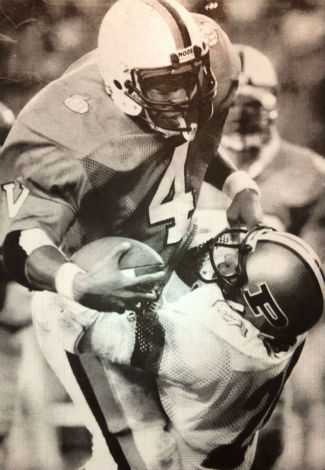 Welsh remembered walking off the practice field a couple of days before the game, and noticed that his team looked tired and asked running back Barry Word about it. Word affirmed that he was tired but said his legs felt good and thought the team would be fine with a little recovery time before the game.
In those days, Welsh was into an "Eat to Win" diet for his team, lots of pasta two days before the game, carbohydrates, steak on Friday.
Purdue's Everett led the Boilermakers to a 24-14 halftime lead, but that was fine. Welsh and his coaching staff challenged the players to win the game with the running attack in the second half and that's exactly what they did.
"We've been in this position before — down 10 or 14 points at the half," Virginia quarterback Don Majkowski (who went on to the Green Bay Packers Hall of Fame) told reporters after that game. "We just said, 'Let's go out and play ball the way we're used to playing. This is for all the marbles. Let's just let our hair down and play the best we can.'"
Then-UVA running backs coach Ken Mack told his running backs that they needed to produce yards and control the ball during his halftime talk, and to keep Everett on the sidelines.
The Cavaliers carried out that game plan to near perfection. UVA ran the ball 36 times the second half and attempted only six passes.
Running backs Word and Howard Petty rushed 22 times for 127 yards between them in the second half, wearing down Purdue's defense, which was a little suspect to begin with.
Boilermakers' coach Leon Hartnett had said, "our defense is at its best when it's on the sidelines."
Welsh thought Purdue simply ran out of gas.
Well, the Boilermakers certainly ran out of points. They didn't score in the second half and managed only four possessions after halftime. Everett, who passed 42 times for 253 yards in the game, only had 119 after the break.
UVA's comeback started at 2:09 in the second half when it took the ball at its own 29 and eight plays later Majkowski's keeper into the end zone made it 24-21. Petty and Word had five carries on that drive for 48 yards and the "Magic Man" hit freshman sensation John Ford for 30 more.
Toward the end of the quarter, the defense stopped Everett again, and Majkowski put together another effective 16-play drive that covered 74 yards and resulted in Kenny Stadlin's 19-yard field goal tying the game at 24-all.
The Cavaliers' defense stonewalled Purdue most of the second half and one of the two big plays on that side of the ball came on the Boilers' next possession when UVA's Scott Matheson clobbered Ray Wallace, forced a fumble and recovered it at Purdue's 42.
The boys from the Big Ten were about to be beaten.
Petty was the big dog on the ensuing drive with four carries and 19 yards, the last rush moving the ball to Purdue's 1-yard line. That set up a tough decision for Welsh because it was fourth-and-goal.
Welsh decided to kick it, but took a five-yard delay of game penalty to give Stadlin a better angle and Stadlin came through with what eventually was the winning field goal with a little more than seven minutes to play.
"When you get a chance to go ahead, you've got to go ahead and make them beat you," Welsh said afterward.
Purdue attempted to do that with Everett driving his team into Virginia territory. Everett had a first-and-15 from the Cavaliers' 30 and went back to a play that had worked for a touchdown earlier in the game, a pass to Steve Griffin. Griffin ran his route to the 15 but with a different result than earlier.
UVA's defensive back Ray Daly was there.
"It was the same pattern they had beaten me on before," said Daly, who would win Defensive MVP honors. "Griffin did the post corner again, and I was just in better position. I was able to get in front of him for the interception."
The Boilermakers never got the ball back as Petty, who won Offensive MVP honors, and Word grinded out the final yards.
Petty had 114 yards rushing in the game, Word 86.
What a moment it was when Welsh held the Peach Bowl championship trophy over his head, a photo that still hangs in Scott Stadium's press box.
"It took us a long time to get here," said defensive tackle Ron Mattes, who played the game with a cast protecting his broken right arm. "We didn't want to let it slip through our fingers. It says a lot about our team to come back like we did."

Comments