Huff dominates as Virginia goes to 3-0 in the ACC at Boston College
By Jerry Ratcliffe
Before Saturday afternoon's game at Boston College, Tony Bennett offered up a history lesson to his 22nd-ranked Virginia basketball team.
"I reminded them that [Boston College] got after us here last year," Bennett said, referring to one of UVA's worst losses of the season a year ago. "They were short-handed but still took it to us."
The Cavaliers got the message.
While both teams were short-handed Saturday, the Cavaliers continued to improve defensively and let 7-footer Jay Huff dominate the game in a 61-49 win. Virginia remained unbeaten in ACC play at 3-0 and 6-2 overall, while BC fell to 2-9 and 0-5 in the conference.
The Eagles were without starting senior forward Steffon Mitchell, perhaps their best defensive player, who scratched 30 minutes before game time with a calf injury. Meanwhile, Virginia was without three of its players: Kadin Shedrick and Kody Stattmann, both out with non-Covid issues, and Casey Morsell for the second straight game.
UVA's coaching staff welcomed back associate head coach Jason Williford and assistant Brad Soderberg, who missed the Cavaliers previous outing against Wake Forest due to contact tracing matters, but were still minus assistant Orlando Vandross.
Huff turned in a monstrous performance with a career-high tying 18 points (7-11 field goals), 8 rebounds and a season-high 5 blocked shots, his seventh multi-block game of the season (34th of his career). He was followed in double figures scoring by Sam Hauser with 17 points, and a third consecutive double-double, and Kihei Clark with 12.
"We were getting some lanes to the basket and Huff was creating havoc out there, coming in from nowhere to block shots … he's a phenomenal player," said BC coach Jim Christian.
BC has some early success with a 13-0 run (25-18 lead) as Virginia went scoreless over an 8 minute, 44 second stretch. The Cavaliers recovered and shut out the Eagles over the final 3:25 of the half to regain a 29-26 lead.
"When we got the seven-point lead, [Virginia] didn't waver and when they made a run at us, we wavered a little bit," Christian said.
The Cavaliers played decent defense in the first half but turned it up a notch after the break, outscoring the Eagles 32-23 and holding them to 30 percent shooting from the field and 25 percent from 3-point range. Virginia held BC's two leading scorers on the season, Wynston Tabbs (0-9) and Jay Heath (2-10) to the combined 2 of 19 shooting from the field and a combined six points.
Virginia's defense has been improving ever since a lopsided loss to No. 1 Gonzaga a couple of weeks ago.
"We haven't played an offensive team like Gonzaga [since], and they are as special as it gets this year," Bennett said. "Humble Pie doesn't taste good, but it was a reality check that 'hey look, we've got to fight,' and we've got to figure out some adjustments to help our personnel and just know that without that it's going to be really difficult."
Along with Huff's harassing blocked shots, while altering others, Virginia had 27 defensive rebounds and scored 17 points off 11 BC turnovers.
"[Virginia] has ridiculous one-on-one defenders … they don't get beat," Christian bemoaned. "Every guy that steps on the floor for Virginia guards the ball unbelievably well without help."
The pressure was more evident in the second half when UVA increased its lead to 10 at 41-31 and 43-33 before going on a tear, outscoring the Eagles 13-1 during a run that pushed the Cavaliers to a 56-39 cushion. During that span, Hauser scored seven points on a 3-pointer, a reverse layup and a persistent two-rebound putback. Huff attacked the rim twice during that scoring flurry, while Clark drove the lane for another basket.
Huff was so dominant that his plus-minus rating for the game was a +31.
"I felt good about the start," Huff said of his 10-point, 5-blocks first half. "To be honest, I feel like I probably dropped my shooting percentage today just because I missed a few chippies, a few easy ones or just some that I would like to make, but it still felt good to just have a good strong first half and then I wanted to make sure it led into the second half.
"I didn't realize I had that many [blocked shots], so that was good to hear as soon as I came out of the locker room after the game."
Huff's big start helped the Cavaliers, who had been slow-starting in wins over Notre Dame and Wake Forest, and who fell well behind Gonzaga early in that blowout.
"I thought Jay was really good today," Bennett said. "[BC] wasn't elite at stretching and shooting today with their big, so Jay could really gap it up against their (matchup) zone and then come across and help. His length bothered them and then, when he played one-on-ne, he was good."
The Cavaliers host Notre Dame on Wednesday (2:30 p.m., ACC Network) a team they defeated 66-57 in South Bend on Dec. 30.
Team Notes
No. 22 Virginia (7-2, 3-0 ACC) have a three-game winning streak
BC had a 17-2 run in the first half to gain a 25-18 advantage
UVA had a scoreless drought of 8:44 in the first half
UVA had a 10-0 run and closed the half with an 11-1 run
UVA outscored BC 32-23 in the second half
UVA is 2-0 when holding opponents to fewer than 50 points
Series Notes
Virginia is 17-8 all-time vs. Boston College, including a 13-8 ACC mark, in the series that dates back to 1971-72
UVA has won 10 of the last 12 games in the series
UVA is 5-5 against Boston College in Chestnut Hill
UVA has limited BC to 58 or fewer points in six of the last eight meetings
Head coach Tony Bennett is 11-5 all-time against Boston College
Player Notes
Double Figure Scorers: Jay Huff (18), Sam Hauser (17), Kihei Clark (12)
Huff matched a career high with 18 points
Huff recorded a season-high five blocked shots
Huff registered his seventh multi-block game of the season (34th career)
Hauser tallied his third straight double-double with 17 points and 10 rebounds
Hauser had a season-high two steals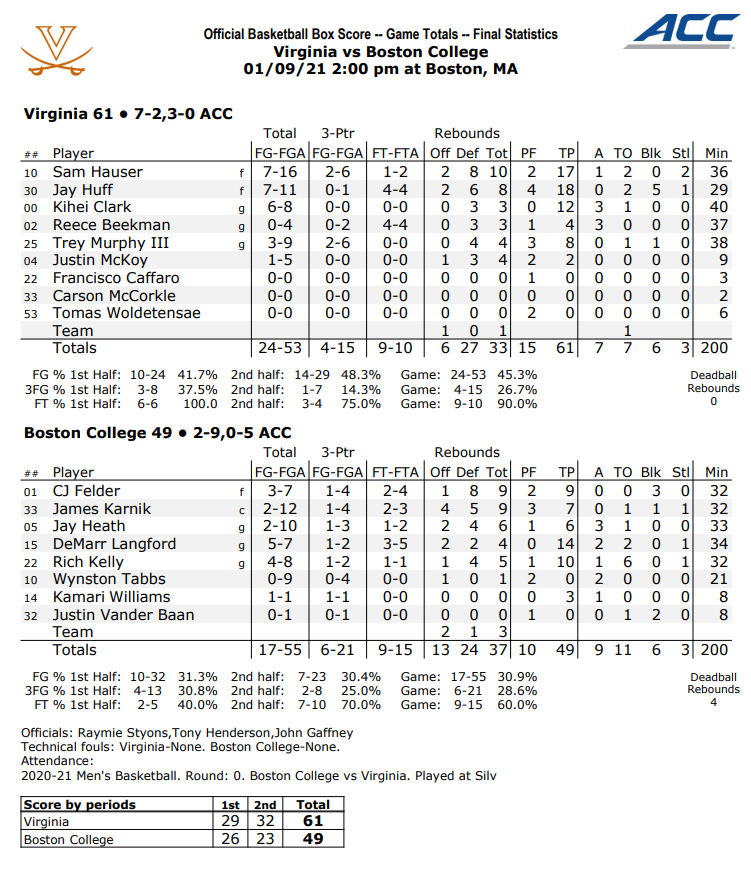 Comments