Intense Bennett got halftime message across at UNC; Gardner relishes another shot at Heels
By Jerry Ratcliffe
Should Virginia make any significant postseason run, Tony Bennett will likely point back to halftime of the Cavaliers' loss at North Carolina as a turning point.
UVA trailed, 42-26, at the break in Chapel Hill, and was getting pounded by a team the Cavaliers had beaten in Charlottesville in the first matchup. While Bennett didn't exactly go into a wild tirade in the locker room at the half, things did get pretty intense. He realized something had to change right then and there.
"Yeah, Coach Bennett was fired up," said senior forward Jayden Gardner. "Not cussing, but fired up as like passionate. He will yell, but he'll yell like he's determined, but yet very poised. But he knows when to get after you."
Bennett was intensely suggesting to his team that it not back down in the second half after watching the Tar Heels shoot 57.7 percent from the field and 56 percent from the 3-point line (9 of 16).
"Carolina is good and talented and they played terrific against us in the first half, and sometimes if you're really about pursuing quality, when people are doing tough things and good things against you, you can't get discouraged," Bennett said of that first half in Chapel Hill. "You just know over the course of the game, you've got to win those battles.
"I didn't want our guys to let up and I wanted them to go at it even more with a level of intensity. There's always a little more in there and it's a focused, unified passion that makes us even better. I thought I saw that in the guys in that second half, and I thought they carried it over to our remaining games."
Virginia fought and scrapped in the second half, and even though they lost, 71-63, the Cavaliers outplayed the Heels over that span. UVA outscored UNC 37-29 after the break and held Carolina to 33-percent shooting (7 of 21 field goals) and only 1 of 6 makes from beyond the arc (16.7 percent).
Not only that, but the defense buckled down and didn't allow the Heels a single fast-break point. UVA actually outscored UNC in the paint, 26-20, thanks much to Gardner's game of 19 points and 12 rebounds. Meanwhile, UVA held Tar Heel big man Armando Bacot to 11 points and 6 boards. Stretch forward Pete Nance did some damage though, with 22 points, making all four of his shots from the 3-point line.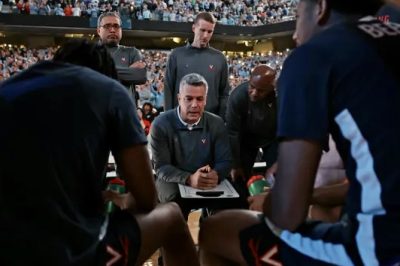 The two old rivals will meet in the rubber match at 7 p.m. today in the ACC Tournament quarterfinals in Greensboro. Carolina is fighting for its postseason life. Some bracketologists believe UNC has to at least make it to Saturday's championship game to make the NCAA field.
Virginia is certainly in the NCAA Tournament and currently projected as a No. 4 seed. While a win over Carolina likely wouldn't impact UVA's seeding, further advancement in the ACC Tournament possibly could. If nothing else, a win over last year's NCAA runner-up could springboard UVA's momentum going forward.
"Carolina is a team that you don't know what version you're gonna get, which makes them dangerous," Gardner said. "You don't know if their guards are going to hit every three or if it's Armando dominating in the paint. You have to be prepared for anything. It can be Armando, Nance, R.J. Davis, or Love."
Gardner certainly will be a key regardless. His mid-range jump shot is among the most dangerous in the nation.
In the first meeting, Bacot wasn't a factor, rolling his ankle in the first few minutes and not returning. That was the first time Bennett chose to go with a small lineup, which worked in the second half and Virginia prevailed. Nance, with a back issue, also missed that game.
Bacot rolled his ankle again in Wednesday night's win over Boston College, and while he did come back briefly in the second half, UNC was winning by a rout and so he sat out the rest of the game. Bacot said he would be ready for the Virginia game.
"Just the way the last game went, I think just another crack at them, and send them home if we were able to, would be special," Gardner said. "It would be another test and a chance to see where we are two weeks after we played them."
Fellow senior Armaan Franklin, who scored 14 points and hit 6 of 14 shots in the last meeting with UNC, remembers that halftime well.
"Coach Bennett didn't want us to let them run us out of the gym in the second half," Franklin said. "Play hard the second half, and we did. That's probably one of the hardest we played in the second half in a while. Fight back and don't roll over and be sound on both ends of the floor."