Interesting twist in phone call with Bennett convinced Minor UVA was home
By Scott Ratcliffe
With the Virginia men's basketball team losing nearly all of its frontcourt depth following the 2022-23 season, Tony Bennett was in desperate need of some size. Not long after the departures of Jayden Gardner, Kadin Shedrick, Francisco Caffaro and Isaac Traudt, Bennett was able to reel in Jordan Minor, a 6-foot-8, 240-pound graduate transfer from Merrimack University in North Andover, Mass., who will likely jump right into the starting power-forward spot at UVA in the fall.
Originally from Kingston, Mass., Minor attended Boston College High School for his first two years before transferring to Brimmer and May School in Chestnut Hill. He ultimately decided to attend Merrimack, but was also considering UMass and Brown.
In his four seasons with Merrimack, a member of the Northeast Conference (NEC), Minor played in 107 games with 76 career starts, averaging 12.6 points, 7.4 rebounds, 1.5 assists, 1.9 blocks and 1.0 steals per game across his career.
"Freshman year you're really hungry, just trying to play, and then getting older, you work on skills and things like that, and become more of a leadership role and come into a bigger role," Minor said. "Especially last year."
As a senior in 2022-23, Minor led the Warriors to a 12-4 conference record and first-place finish in the NEC in the regular season, putting up career-high averages in points (17.4), rebounds (9.4), assists (2.3) and blocks (2.6) per game. He shot 52 percent from the field (186 for 361) and 59 percent from the free-throw line (115 for 196). He posted 15 double-doubles in 28 games. Minor led the NEC in rebounds and blocked shots, and had the second-highest scoring average and field-goal percentage in the league.
The Warriors also claimed the NEC Tournament championship, but were ineligible to participate in the NCAA Tournament (more on that later).
"We started off slow, but the main message in the locker room was just staying with it and staying together and we did that, and turned the season around into arguably one of the most memorable seasons as a program and as a team," Minor recalled. "I think what I'm gonna remember is just the memories — the wins and losses — but more importantly, the people there that made those memories, and made those wins and losses special to me."
For his hard work and dedication, Minor was named first-team All-NEC (he was a third-team selection as a sophomore in '21, then made the second team as a junior in '22), and also made the conference's All-Tournament team, but that wasn't all.
In addition, Minor was named the NEC Co-Player of the Year along with Saint Francis forward Josh Cohen, becoming the first Merrimack player to earn conference POY honors in the four years since the Warriors joined. Not only that, but Minor was also selected as the league's Defensive Player of the Year, becoming just the third player in NEC history to win both awards in the same season.
A time for change
With all of that unprecedented success achieved within the Merrimack program in 2022-23, Minor ultimately decided to join on with another program for his final season of eligibility.
Minor admits it was an extremely tough choice, leaving behind his Warrior teammates along with head coach Joe Gallo and assistants Micky Burtnyk and Phil Gaetano, but that the positive feedback he received from the staff and players when he told them he was planning to move on made it all worthwhile.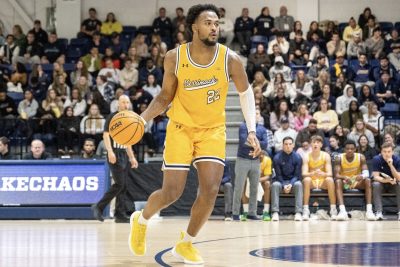 "At the end of the season after we won it all, I kind of just wanted to take like a week and debrief and get away from the game a little bit, and then it was kind of that time to talk to my family and see what was best for me," said Minor. "I think for me, it was really hard to make the decision because you've been somewhere for four years, and the staff — Coach Gallo, Coach Phil and Coach Mick — they all treated me like family.
"It was kind of hard telling them and kind of making that decision to leave, but I'm just grateful because even though I made that decision, there was no bad blood. They understood, and to this day, we're still in communication, so I'm only gonna say the whole staff, that's family to me, and nothing has changed."
Once Minor entered his name into the transfer portal, interest followed from all across the country, from numerous potential suitors including Boston College, Iowa, Georgia, Ohio University, San Diego State, Santa Clara and others.
"I want to say it was about over 30-something schools that contacted me, so that's kind of what the process looked like for me," he said. "It was a lot to deal with and get through."
The call that changed it all
Minor was quite familiar with the UVA program after the Cavaliers took home the national title just a few years back. He initially thought it could be a good fit, particularly after the mass exodus in the UVA frontcourt.
"You're always watching the top teams in the country, and UVA has always been one of the top teams in the country ever since I've been a basketball fan," Minor said. "I remember them winning it all in 2019 with [De'Andre Hunter] and Ty Jerome. So I mean, they've always been one of those dream schools, as you would say."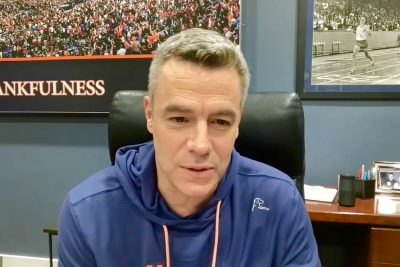 The dream became more and more of a reality when UVA assistant coach Orlando Vandross broke the ice and got in contact with Minor, followed up by a conversation soon after with Bennett himself, one that Minor says stood out from the rest.
"I remember probably the first day, Coach Vandross hit my phone and we kind of just started building a connection there, and then a few days, maybe a week after, Coach Bennett called my phone and it was a good conversation," he recalled.
"We talked a little bit, for about 10 to 15 minutes, and the last five, 10 minutes, it was funny. We shared religious songs, and it was just interesting to me because I've never had someone on the phone — usually, when it's recruiting it's just business, business, business — and it showed me that he cared about more than basketball. And that kind of drew my attention and kind of interested me in him, and just building our relationship."
Making his new home
Once the connection was established, next up was a visit to Grounds and a tour of the arena, the facilities and the Charlottesville area.
"I think when I came on my visit, I knew right away that this was somewhere where I wanted to be," said Minor. "Just the discipline, the level of focus and perfection that is here is unprecedented and something that I've never seen before, and I knew that that would kind of test me and make me a better player and challenge me to become a better player."
One of four incoming transfers, Minor officially announced his decision to make the move to Virginia on April 13. He will stick with his No. 22 jersey as a Wahoo. Being with his new teammates over the first few weeks of summer practice has lived up to the hype.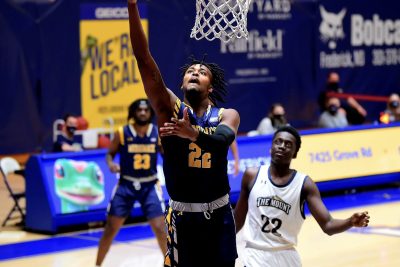 "Practices have been going well, and [Coach Bennett] harps on being consistent and being disciplined about the little things and all that good stuff," Minor said. "So I mean, it's been a blessing. It's been more than I could ever imagine, just being here and working with the team and chasing the goals."
Minor came in realizing how important defense is around these parts, and knows he will be expected to contribute with his stellar rim protection and shot-blocking ability. Learning the Pack-Line is always a bit tough initially for a newcomer to the program, and Minor said Merrimack's defensive scheme couldn't really be more different from the Pack Line, but that he's slowly figuring it all out.
"Very polar opposites, kind of like night and day," he said of the two defenses. "I wouldn't say it's been challenging for me, but when there's things I am able to pick up on quickly and things are challenging, just spending extra time with the coaches and learning it, and learning the slides. That's something that is very important to me, and the defense is something that is going to keep me on the floor.
"That's something that I've got to really lock down and focus on, so whether it's getting with coaches after practice or watching film and seeing what I could do better on a certain slide or a certain protection plan is what's key to me."
Officially on Grounds!#GoHoos pic.twitter.com/SRhX6uwWbN

— Virginia Men's Basketball (@UVAMensHoops) June 23, 2023
Getting to the Big Dance — and beyond
Although he's a new face on the roster and will only be here for one season, Minor says Wahoo fans can expect him to step right in as a vocal leader. He promises to be a great teammate who will provide a lift on both ends of the floor, and added that he's a solid finisher off of screens and pick-and-rolls, and has the ability to spot the open man for an easy look.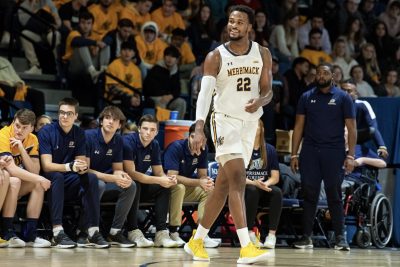 A thunderous dunker, Minor has also shown the ability to run the floor in transition and provide fireworks at the rim on the fast break. Minor really just wants to win, and to fulfill another childhood dream by season's end. 
"For me, it's just being a great teammate and trying to be a leader and trying to bring this team to a Final Four, so that's the goal," he said.
Despite winning both the aforementioned NEC regular-season and tournament championships (both program firsts), Merrimack didn't qualify for a spot in the NCAA Tournament due to its transition from Division II. As a result, Minor is bound and determined to contribute as much as possible to the success of the Cavaliers in his final season, with the ultimate goal of making a postseason run.
"I mean, for me, it's been everything that you dream of as a kid, and it's everything I've worked for up until this point and everything I'm going to work for until we get to that point," Minor said of how he expects things to play out. "So I'm just blessed and trying to handle everything with grace and patience, and just taking it day by day.
"Rome doesn't get built overnight, so we're just trying to lay the foundations and lay one brick at a time, and eventually we'll get to that point where, like I said, we're competing for a Final Four."