It's the 50th anniversary of Barry Parkhill's UVA record-scoring night
By Jerry Ratcliffe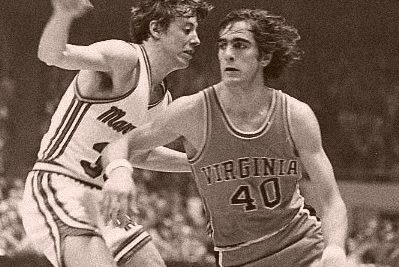 Fifty years ago today, a mop-haired, floppy-socked combo guard lit up University Hall like never before — or since — when Barry Parkhill poured in a UVA single-game record 51 points, a mark that stands to this day.
Parkhill, who went on to become a legend in Virginia basketball, probably won't celebrate. He's perhaps the most modest athlete that ever stepped foot in Charlottesville.
"I give it zero thought," Parkhill said in an interview a few years ago. "If it comes up, I'll say, 'Yeah, I had 51 against UCLA,' and [people] don't know (followed by a laugh)."
His 51 actually came against Baldwin-Wallace in a 117-83 win by UVA.
In truth, at least one person knows, longtime friend Louis Lerner, a former circuit-court judge for Virginia's 8th Judicial Circuit. Lerner never lets the anniversary go by without busting Parkhill's chops, annually calling the former Cavalier to remind him of the deed. In fact, a couple of years ago, Lerner conspired with Parkhill's wife, Pat, to deliver a special Christmas present to the former Wahoo star.
Lerner sent a wrapped present and directed Pat to place it deep under the Christmas tree, where it would be the last present to be unwrapped. No name on the package, just that it was for Barry.
Turned out to be a Baldwin-Wallace T-shirt.
"It was one of those nights when everything went in," Parkhill said.
That was all he was going to say about the feat. We told you he was modest.
On that day, Dec. 11, 1971, Parkhill made 19 of 33 field-goal attempts and all 13 of his free throws to establish a record that has stood for half a century. He also had seven assists in a game in which Virginia attempted 99 field goals.
"Coaches were aware that Barry was headed toward a record," said former backcourt mate Jim Hobgood on Saturday. "We were directed to get him the ball and let him do his thing. He clearly had an exceptional night, but you have to remember there were no 3-point baskets in those days. I'm sure some of those shots would have been 3's. To get 51 and they're all 2's or free throws, well that's a career for some people."
Hobgood was UVA's second-leading scorer in the game with 17 points. A fellow named Dean Martin led Baldwin-Wallace with 30 points.
"I think I had nine rebounds too," Hobgood chuckled. "I was Mr. Windex back in the day."
It was only the fourth game of the season, as Virginia would go on to post an 18-1 record and make the AP Top-20 poll (rising as high as 10th) for the first time in school history. The team finished 21-7, but as Parkhill said, "We proved Virginia could be competitive in basketball."
A junior that season, Parkhill went on to be voted ACC Player of the Year and ACC Athlete of the Year, not to mention All-American. He went on to become only the second player in Cavalier basketball history to have his jersey number (40) retired.
Hobgood said there was no big deal made about Parkhill's 51-point night. No ceremony, no game-ball presentation, no public-address system announcement.
"Barry would have been embarrassed if they had made a big deal out of it," Hobgood said. "He has as much humility as any athlete I have ever encountered, but that scoring record only added to the BP mystique."
Fans called him BP, and one of them even wrote a song about it entitled "Mr. BP," which Hobgood said Parkhill hated with a passion.
Parkhill didn't like attention then and still doesn't now.
"I've known him for 50 years and he probably has gotten as much attention as any Virginia basketball player other than Ralph Sampson," Hobgood said. "If you took the top 5-to-10 athletes that have contributed most to Virginia in the past century, Barry would have to be on that list."
Parkhill broke the single-game record of Buzzy Wilkinson, who scored between 42 and 48 points nine times from 1953 to 1955. Since then, the closest any Virginia player has come to approaching Parkhill's mark was Donald Hand (41 vs. NC State in 1999) and Sean Singletary (41 vs. Miami in 2008).
Sampson had 40 against Ohio State in 1981, while J.R. Reynolds scored 40 in 2007 and Devin Smith posted 40 vs. Iowa State in 2004.
Parkhill, who has spent the last 20-plus years raising funds for UVA — and spearheaded the drive to build John Paul Jones Arena and the school's golf home for the men's and women's teams — was named to the ACC's Golden Anniversary team in 2003, one of three Cavaliers to make the 50-man team.
Support JerryRatcliffe.com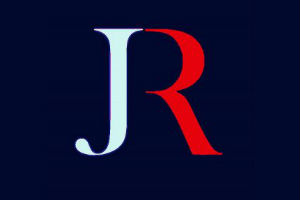 Make a one-time or recurring gift to support JerryRatcliffe.com online below. Your gift is not tax-deductible. Thank you for your support of JerryRatcliffe.com and the "Jerry Ratcliffe Show" podcast!