Jay Huff gets physical, sparks No. 9 Virginia seventh straight win over Carolina
By Jerry Ratcliffe
There's just something about Carolina blue that gets Jay Huff's blood boiling. The Virginia seven-footer's disdain for that hue has roots extending to his childhood, growing up on Tobacco Road where another shade of blue was much more palatable.
Huff summoned up that wrath once again on Saturday night when he was challenged to be his most physical self in sparking the Cavaliers to a dominating, 60-48 win over visiting North Carolina.
The buzz coming into the weekend was UNC's plan to unleash its collection of wide bodies on Huff to see what he was made of. Carolina's resume boasted its physicality along with its reputation as the nation's top rebounding team. The Tar Heels schemed to make it a long night for Huff and a long night for ninth-ranked Virginia.
None of that came as a surprise to the Cavaliers, but Huff was sent reminders by his father, Mike, to pack his big-boy pants for the game.
"I overheard my dad sent me stuff – he's all over Twitter – and it's hilarious actually, but he sent me something where UNC's plan was to get me in foul trouble," Huff grinned. "It's understandable because I've had some games this year where that's been a problem. Luckily, we were able to avoid that and then in the second half, I was able to go block a couple more shots that I might have tried not to foul on in the first half."
The oft foul-proned Huff committed only one foul the entire game, that lone discretion coming with four minutes into the second half, as he went on to play a major role in allowing Virginia to beat Carolina for the seventh straight time. It was UVA's ninth win in the last 10 regular season meetings with the Tar Heels.
Huff, who grew up across the woods in Durham, a Bryson DeChambeau's driver from Carolina's campus, delivered one of his greatest performances as a Wahoo. He led all scorers with 18 points, was 6 of 10 from the field, 3 of 5 from the 3-point arc, had a dozen rebounds and four blocked shots.
He didn't back down from the Tar Heels' physicality. He stepped up.
"Total respect to Roy Williams and the UNC program, but growing up they were my least favorite team," Huff said. "It was more of a cultural thing as a Duke fan. I still don't like them because of that, but I respect them. When you see that Carolina blue, it's a little bit added motivation."
Must have been contagious as Virginia dominated the Heels on both ends of John Paul Jones Arena as UVA put together a night to remember:
The Cavaliers' defense held the Heels to a season-low halftime total of 18 points, equaling the fewest points in any half of the Roy Williams era.
Carolina's 48 points were a season low.
It was the first time since 1966 that UNC didn't have a single player score in double figures (Walker Kessler led the Tar Heels with nine points).
UVA limited Carolina to 34.5 percent shooting from the floor (lowest of the season) and only 12.5 percent from the 3-point arc (2 of 16).
Meanwhile, Virginia was efficient offensively, shooting 40 percent from the field and was again solid from the arc, making 10 of 22. Hauser and Huff combined 7 of 11 on 3-pointers and had 35 points between them.
Even more impressive was that despite Carolina sending waves of big men to the boards, the Heels only out-rebounded UVA by 41-36. So much for fouling Huff out and having their way with the Cavaliers down in the paint.
In fact, it was Virginia that doubled the post most of the evening, taking away one of the few advantages Carolina brought across the border.
Besides Huff's 18, Hauser added 17 and Trey Murphy III 12. While freshman Reece Beekman scored but one point, he added 8 much-needed rebounds and dished out 7 assists.
The 3-point disparity was noticeable and one of the keys to the game. UVA had more 3-point baskets (10) than 2-point baskets (9).
"Not a very good job," UNC's Williams said about the failure to defend UVA's bigs on the perimeter. "A lot of them came with screens on the ball and we didn't communicate the way we'd like. So, either a big guy or the point guard is guarding them out there, instead of one guy chasing the point guard and the other guy guarding nobody, being caught in between.
"So we did a very poor job of that. We didn't do what we wanted to do defensively. They're hard to guard and those kind of things."
Virginia flexed its muscles early, bolting to a 21-4 lead midway through the half. Had it not been for a six-minute scoring drought of its own – a disturbing Cavaliers trend of late – it might have been over by halftime.
Instead it was 27-18. Carolina scored enough in the second half to stay within contact, there was never a feeling that this one wasn't going to go Virginia's way.
As a result, UVA tightened its grip on first place in the ACC standings with an 11-1 record (15-3 overall). Florida State, which returned to action after another Covid pause, is 7-2, just ahead of Virginia Tech, 8-3. Carolina dropped to 7-5 in the league, 12-7 overall.
Bennett was proud of his team, which he had accused of playing soft a few weeks ago at Virginia Tech, in matching UNC's physicality.
"Well you don't have a choice … well you do have a choice actually against Carolina," Bennett said. "They kind of deman you to stand in there and be physical if you want to have any kind of success against them. That's why I liked what Jay and Sam did. I thought they were physical. It's always a battle of kind of imposing your will or systems against them."
Likewise, he was pleased with Huff's ability to battle Carolina's big men.
"I thought offensively he could move and separate out to the [3-point line]," the coach said. "You saw some of that early. Offensively, we did what we needed to do. Jay's length was good, he was in position, and he and Sam were really trying to block out. Jay had a really nice game for us."
Williams was left to defend why Carolina, which once owned Virginia, couldn't find a way to stop the Cavaliers recent dominance of the series.
"I can't speak to all our teams in the past," Williams said. "I mean, last year, we have a lead and they make one with eight-tenths of a second to go. The year before we played them in the Smith Center and they had to go to the video to decide that Coby (White's) 3-pointer was not good.
"But tonight's play, their big guys were tough for us to handle out on the perimeter. They guard you. I don't think we've baten them since maybe the '16 finals of the ACC Tournament. They've got good players. They won a national championship in that time period, too, and they had three guys that were all draft choices."
Coming off the win, Virginia doesn't have much turnaround time. The Cavaliers go to Florida State on Monday for a huge game with their closest pursuer for the regular season title.
FSU will be big and physical, too.
Bennett is hoping Huff doesn't like the Seminoles' shade of red.
Team Notes
Virginia (15-3, 11-1 ACC) has won 11 or more ACC games for a school-record ninth consecutive season
UVA held its fourth opponent to fewer than 50 points (4-0)
UVA is 103-2 all-time when holding foes to fewer than 50 under Bennett
UVA is 9-0 at home (6-0 in league play)
The Cavaliers limited the Tar Heels to two points (1 of 12 shooting) for the first 7:47 of the game
UVA went on a 21-2 run in the first half
UVA went 1 of 12 to close the half, but held a 27-18 lead
UVA forced one shot clock violation
UVA made 10 or more 3-pointers for the eighth time
Series Notes
UVA is 60-131 all-time vs. UNC in the series that began in 1910-11
UVA is 37-44 all-time against the Tar Heels in Charlottesville, including a 7-4 mark at John Paul Jones Arena
UVA's seven-game winning streak in the series is its longest in the series since winning the first eight games between the teams from 1911-16
UVA has limited UNC to fewer than 50 points in four meeting during the seven-game winning streak
The Cavaliers have won nine of the last 10 regular-season meetings between the teams
Tony Bennett is 12-8 all-time vs. North Carolina
Player Notes
Double Figure Scorers: Jay Huff (18), Sam Hauser (17), Trey Murphy III (12)
Huff tied a career-high with 12 rebounds
Huff recorded his seventh career double-double
Reece Beekman had career bests in rebounds (8) and assists (7)
Huff (4 blocks) moved past Isaiah Wilkins for fourth on the UVA's career blocks list (144)
Huff recorded his 13th multi-block game (40th career)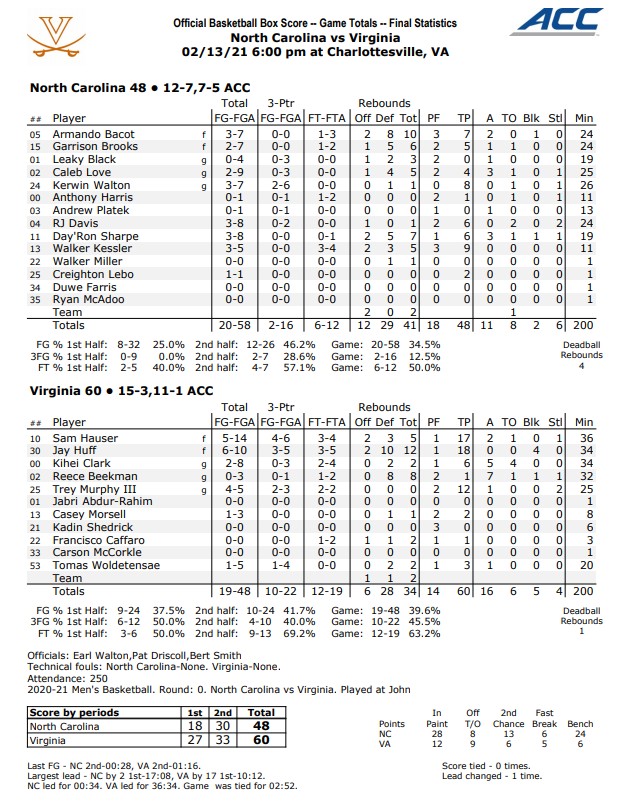 Support JerryRatcliffe.com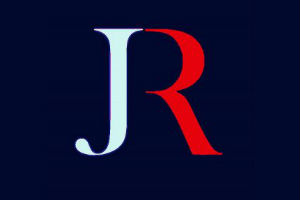 Make a one-time or recurring gift to support JerryRatcliffe.com online below. Your gift is not tax-deductible. Thank you for your support of JerryRatcliffe.com and the "Jerry Ratcliffe Show" podcast!