Jay Huff Grows His Game And His Stats As Wahoos Wallop Columbia
By Jerry Ratcliffe
With legendary Virginia shot-blocker Ralph Sampson sitting courtside, Jay Huff swatted away five Columbia shots, tying his own record at John Paul Jones Arena on Saturday.
While Huff's deeds weren't Sampson-esque, they were a portion of the evolution of Virginia's seven-foot wonder. The 7-foot-1, 240-pound redshirt junior from Durham has been a work in progress since he set foot in Charlottesville.
However, Huff is off to a fascinating three-game start so far this season, and his outing against the Ivy League visitors was yet another example of how far he has come. In essentially a 20-minute performance in an easy, 60-42 win for the No. 9 Cavaliers, Huff posted a career-best, three-game double figures scoring streak with 13 points (6 of 10).
That wasn't all. He pulled down six rebounds, had two steals, two assists, and again, blocked five shots.
Sampson, who did all of his damage across the street where University Hall used to sit, had to be impressed with how Huff continued to emerge.
Huff, who goes by an array of fan-invented nicknames, including "The 'Hoo-nicorn," "Huff the Magic Dragon" and "Huff-ington Post," brought the crowd to its feet in the first half with a reverse alley-oop dunk from point guard Kihei Clark. He also drew a roar with a 3-pointer from the top of the key midway through the second half.
Quite versatile for a man of that physical stature, and a nightmare for opponents to deal with, as Columbia coach Jim Engles pointed out.
"We're not the tallest team, and his length …," Engles said without finishing his thought. He didn't have to, we all got it.
"I was very impressed with the presence he had on the court. I thought they used him well on ball screens. He just had a really good presence and he didn't get sped up. It was very obvious that he knew the next action that was coming. He's a really talented kid."
While the alley-oops and the 3-pointers are the cool thing to do, what really gets Huff going are the other things — the rebounds and the blocks. Why? Because that's what he's there for.
"Rebounds and blocked shots are big, so I am pretty happy with that," Huff said. "Though I will be honest, I haven't looked at the stat sheet, so i have no idea.
"Points, if they come, they come; but as long as we get the win it doesn't really matter to me. Rebounds, that's my job. That's Braxton [Key]'s job, that's Mamadi [Diakite]'s job."
Those are things that his teammates really depend on as well. Longtime Virginia fans will remember how important that was when Sampson used to patrol the court. His 7-4 presence back in the lane allowed guys like "Blitz Brothers" Bobby and Ricky Stokes and Othell Wilson to gamble defensively on the perimeter, going for steals with the security of knowing that Sampson was back there to block anything that got by them.
Same thing, different century.
"Jay and Mamadi block everything really, so it makes our job a lot easier to pressure the ball, and if we do get beat then they are there," said Key, who enjoyed 9-point, 9-rebound game himself.
On this particular afternoon, Virginia's frontcourt resembled a giant ceiling fan, swatting away everything that came near it to the tune of a season-high nine blocked shots.
Those were part of another smothering defensive effort by the Wahoos, who held a third straight opponent to 30-percent or less field-goal shooting (Columbia finishing at 28.5 percent, 16 for 56), although the Lions did manage to score 42, more than Syracuse (34) and JMU (34).
Although he has not started any of the three games, Huff is getting plenty of playing time and when he and Diakite are on the floor at the same time, most believe that is part of the Cavaliers' best lineup.
While his confidence grew toward the end of the national-championship season, Huff appears to be playing more "free," this time around, which is just fine by him.
"It is nice," Huff said of gaining more of a green light from Tony Bennett. "Part of my job last year was to come in and provide an offensive spark. I was not as always as good of a defender as guys like Jack [Salt] and those guys. So, to have that freedom is really nice and it's exciting, and I think guys like Casey [Morsell] and Kihei [Clark] and everybody that can step out and shoot the three, it's freeing to kick it out."
It's also liberating to catch the ball above the fray, usually on a lob pass from the smallest guy on the court — 5-9 Clark — and slam it home, which in turn ignites the JPJ audience.
There were a few of those such dunks against Columbia, and another slam on an underrated pass by Clark, who was deep under the basket and spotted Huff coming down the lane, dished off a simple-but-effective pass for a jam.
It is, however, the dunks with pizzazz that really turns the crowd on, and the reverse-oop jam was something to marvel.
"I'll be honest," Huff said. "We did that quite a bit during the offseason and preseason practices. I have no idea how that really got started, like Louisville last year I know I had one. I don't really know, and I think I get lucky sometimes that I don't completely miss the rim."
Clark doesn't believe it's luck.
"Yeah, I kind of just throw it up and he just goes and gets it," the diminutive guard said. "I don't know how he finds the rim on some of those dunks, but he definitely makes my job a little easier. He can also space the floor and shoot the three so it makes it harder on defenders."
Add Diakite to the frontcourt and you've got double trouble, two guys who can leap, play above the rim, and shoot the 3. Geesh, talk about some twin towers.
Bennett is sure glad that Huff is on his side.
"He has very good touch and skill and I'm glad he stepped out and hit that three, but sometimes you have to take what the defense gives you," the coach said. "When there's guys that are smaller than him or he can get position, he can play over the top. It's important this year to have the ability to get some inside-outside action.
"He blocked some shots and showed both ways that he's good with his footwork and we'll continue to work on that, but he's continued to add to that by getting stronger, and all of that is starting to show."
Huff has also grown his offensive game, adding a hook shot to his repertoire, showing that a couple of times Saturday.
"This past offseason I put a lot of work into [developing] a turnaround jump hook, especially with my right hand," Huff said. "The left hand could still use some improvement."
For now, the right is just fine, thank you. As for the blocks and dunks, just keep 'em coming. So what if Huff is 386 blocks short of Sampson's record?
For right now, it'll do.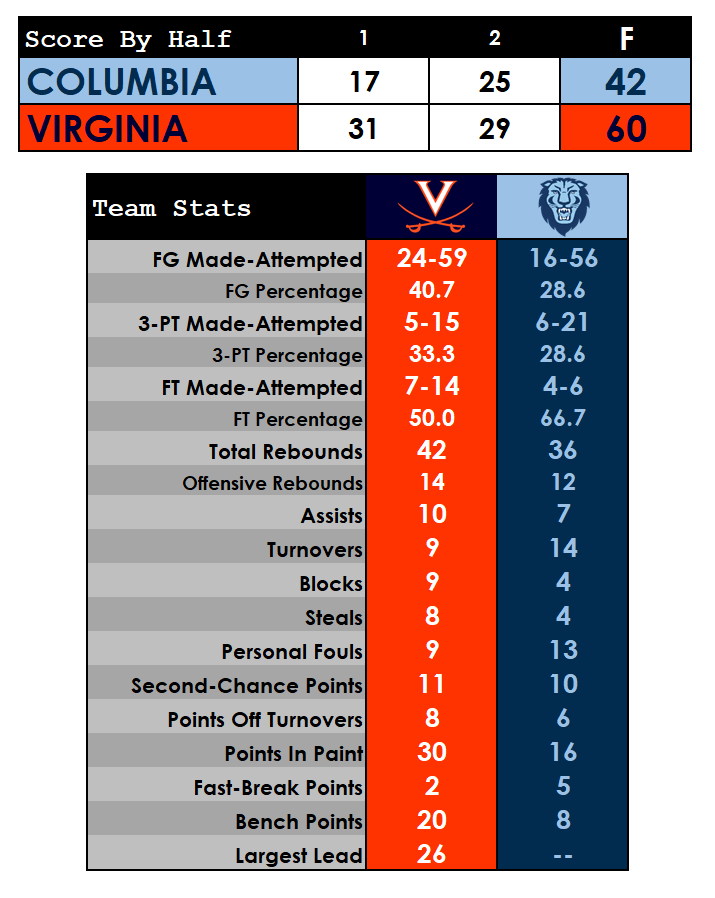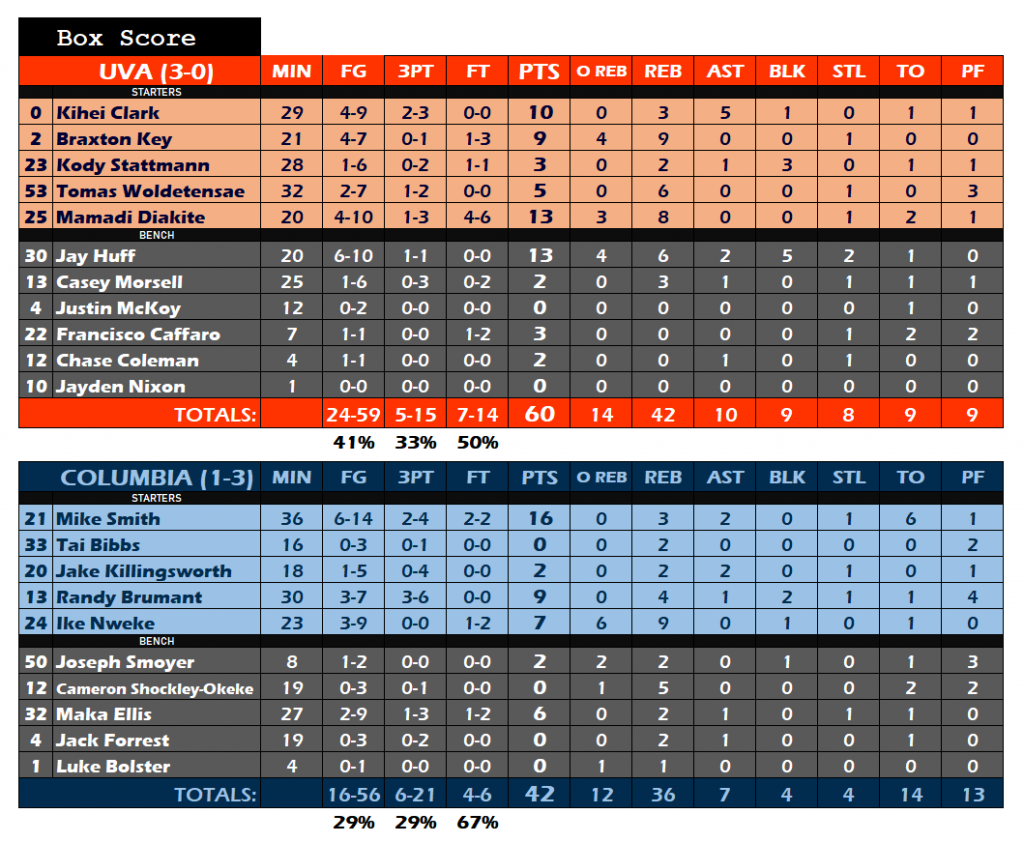 Team Notes
The Cavaliers have limited their first three opponents to fewer than 50 points for the first time in the shot-clock era and first since the 1948-49 season

UVA has a 19-game non-conference home winning streak

UVA started the game on a 10-0 run

UVA had a season-high nine blocked shots

The Cavaliers held Columbia to 17 points in the first half, marking a season low for a Virginia foe

UVA held its third opponent to 30 percent or less field-goal shooting (Columbia – 28.5%)
Series Notes
UVA is 3-0 all-time against Columbia in the series that dates back to the 1966-67 season

The Cavaliers are 2-0 against the Lions in Charlottesville
Player Notes
Double-figure scorers: Mamadi Diakite (13), Jay Huff (13), Kihei Clark (10)

Huff matched a career high with five blocks, tying the JPJ record

Huff has a career-best, three-game double figures scoring streak

Kody Stattmann had a career-high three blocked shots

Tomas Woldetensae (5 points) returned to action after missing the JMU game with an injury

Francisco Caffaro (3 points) made his collegiate debut
Up Next
The Cavaliers (3-0, 1-0 ACC) host Vermont Tuesday at 7 p.m. on the ACC Regional Sports Networks/ACC Network Extra.

Comments