Jerry Ratcliffe inducted into Virginia Sports Hall of Fame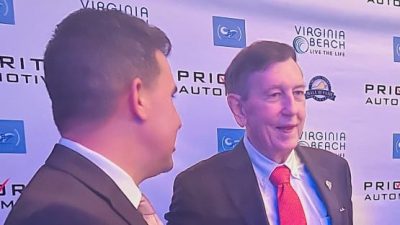 By Chris Graham
Jerry Ratcliffe was inducted into the Virginia Sports Hall of Fame on Saturday night, joining two UVA Athletics alums that he covered in his nearly 50-year career, Shawn Moore and Ryan Zimmerman, in the eight-person class, the 50th class of inductees.
The honor for Ratcliffe, the long-time sports editor of The Daily Progress, who since 2018 has built up a following at his eponymous website, JerryRatcliffe.com, is long overdue.
And on that point, why did it take that long to get Shawn Moore, who finished fourth in the Heisman Trophy balloting in 1990, to get into the Hall?
Back to Ratcliffe: he is the 23rd sportswriter to be inducted into the Virginia Sports Hall of Fame, joining ink-stained wretch luminaries including Bill Millsaps, Jerry Lindquist, Calvin Moses Jacox and Bill Brill.
Ratcliffe is a four-time Virginia Sportswriter of the Year and a former winner of the Associated Press Sports Editor Association top national honor.
He's been a Heisman Trophy voter for more than 40 years, is a charter member voter for the John Wooden Award.
He's covered eight Super Bowls, 10 U.S. Open golf championships, the Masters.
And he knows everybody who is anybody in UVA Athletics, or rather, they know him.
Zimmerman, who played at UVA from 2003-2004 before becoming Mr. National, referenced Ratcliffe in his Hall of Fame acceptance speech.
Thomas Jones, the career rushing leader at UVA, who also ranks 26th all-time in career rushing yards in the NFL, with 10,591, and is a 2018 Virginia Sports Hall of Fame inductee, nominated Ratcliffe for the honor.
Nominees then have to receive 75 percent of the votes of the select panel to earn induction into the Hall.
Which is to say, this is a big deal.
Ratcliffe choked up during his acceptance speech; so did Zim, who praised Ratcliffe as a "legend."
They're all legends. It just took the Hall folks longer to recognize Jerry, and also Shawn Moore, than was necessary.