Joey Blount: Like Father, Like Son At Defensive Back For UVA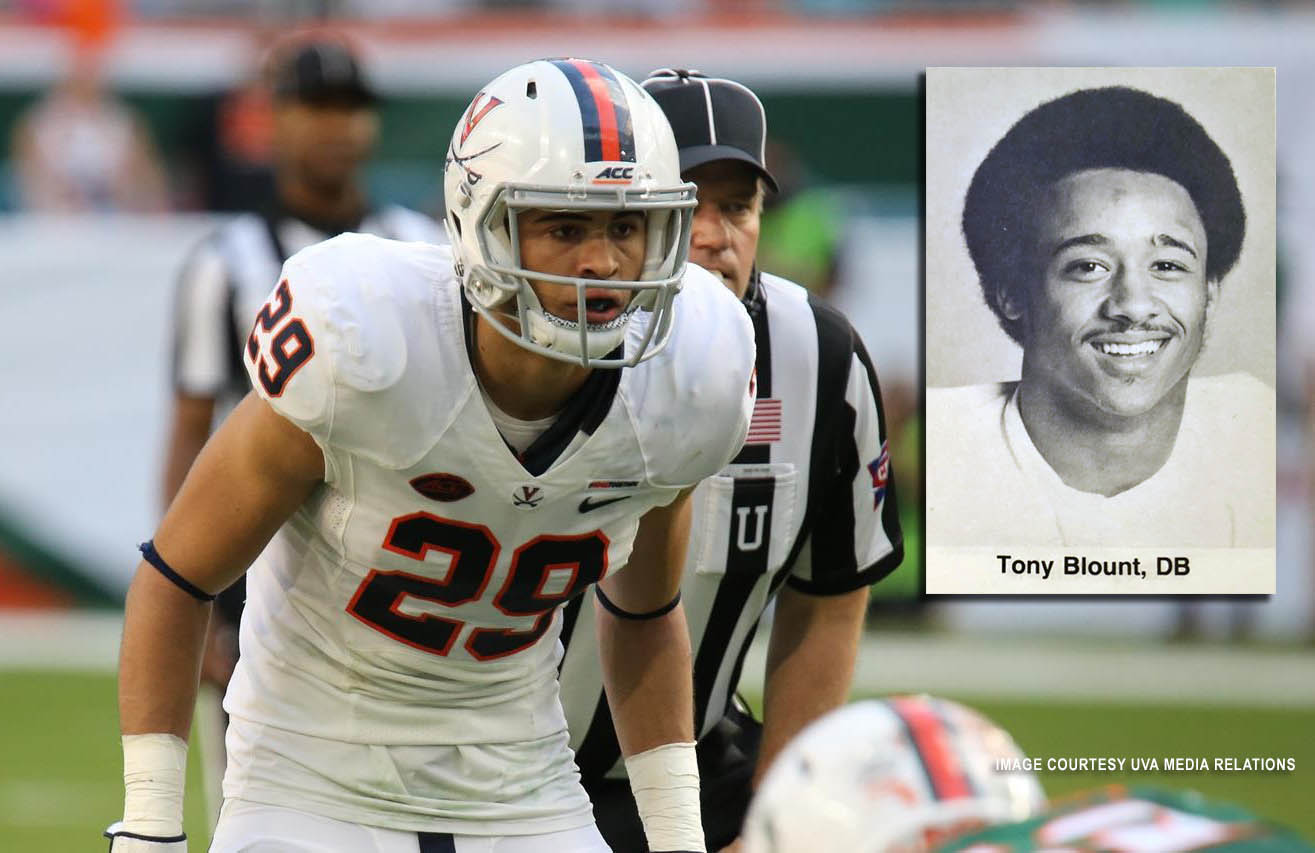 Like father (right, from 1977), like son…
Sometime Friday, Tony and Marie Blount will make the trek from Peachtree City (about a half hour south of Atlanta) to Charlottesville to watch Virginia football.
There's a big reason for their excitement: Joey Blount, who was listed No. 1 at free safety on the Cavaliers' depth chart heading into Saturday's season opener against Richmond. Tony, an All-ACC defensive back for Dick Bestwick's 1979 Wahoos, can hardly contain his excitement.
"My son is playing for my school, and being able to watch him has been unbelievable," Tony Blount said this week. "I've been living the dream."
The dream began in 1975 when Bestwick began recruiting Blount out of Douglass High School in Atlanta. The young Georgian didn't disappoint, garnering serious mention for ACC Rookie of the Year in '76, then making the All-ACC squad his senior year. Blount still owns the 11th-longest interception return (63 yards) in UVa history.
Joey, who gained significant playing time, particularly on special teams, as one of 17 true freshmen to play for Bronco Mendenhall last season, surprised some Cavalier followers when he turned up at the top of Virginia's two-deep this week.
Blount, Brenton Nelson, and Chris Moore had been locked in a heated battle at the free safety spot. Blount emerged at No. 1 ahead of Moore (a junior), while Nelson (ACC Defensive Rookie of the Year in 2017), was listed behind Juan Thornhill at strong safety.
"I see it as a name on a piece of paper," Joey Blount said of his name at the top of the chart. "Coach (Nick) Howell (defensive coordinator/secondary coach) could come in tomorrow and say, alright, you two switch. Nothing is set in stone, but the feeling of getting the starting job was just nice to tell my mom and dad about. I was trying to surprise them."
The Blounts definitely celebrated, pouring a mimosa in their son's honor.
"They were super proud of me," Joey beamed outside the McCue Center after Wednesday's practice.
Even in the excitement, Tony cautioned his son.
"I'm thrilled, he's thrilled," Tony said. "Week by week, you never know. Earned, not given is their motto. That's what I'm preaching. I'm trying to keep him humble."
That hasn't been an issue. Joey has worked hard to earn his spot, entering camp with goals that he reached with a little help from his friends.
Recovering from a spring injury, Blount knew he had to have his mind right entering fall training camp.
"Just ball and not worry about my shoulder," he said. "Going into camp that was a big factor. Just concentrate on my assignments, work hard and try to impress the coaches and let them know my ability and reassure them I could play, that as a young guy I could still contribute to the team, special teams and defense."
Last year, Blount played on all four special teams and was leading tackler of all those players, plus earned time in the secondary, starting at cornerback against Pitt when Juan Thornhill was sidelined by injury.
He had a list of things to focus on during this preseason camp:
Be more vocal on the backside of the defense, alerting motions where the checks were going to be.
✔ Check.
Nailing his man-to-man coverage so that if he was isolated with a slot receiver, he could funnel his opponent inside or take him on the out.
✔ Check.
Cleaning up little mistakes both on the field by action and off the field with more film study.
✔ Check.
After checking all the boxes, Blount did catch the coaching staffs collective eyes and finds himself the likely starter against Richmond, which features a high-octane passing game.
Virginia's players really dig into film, but they can do it from home. Joey sometimes lies in bed and watches film on his phone app, which he can rewind, look at the play from a back angle, a side angle, get down and distance for tendencies, and time on the clock.
"If you're not in the film room (or watching via the app), you're doing something wrong," he said.
He has taken his abilities to another level, erasing self doubts about coverage, footwork and diagnosing whether opposing plays would be run or pass. That work has helped him distinguish himself.
No doubt he learned a lot from departed Quin Blanding (All-ACC free safety now with the Redskins), whom UVa's staff purposely assigned as the rookie Blount's roommate last season. Blanding wasn't the only tutor though.
He often leaned on Moore, Nelson and Nick Grant, and vice versa. Where you found one of them, you'd often find the other three, dining together, attending sporting events, just chilling. While they compete for playing time on the practice field, they remain close.
"When we were on the [practice] field it was straight business," Joey said. "None of us wanted to be the one that messed up. We would all up our games and play even better because we were playing with each other. That was special."
They all helped each other out if any of them had a question about a play or a call, or where they should be lined up, letting the chips fall where they may.
Blount believes the difference between his game right now and at this same time last year is night and day. He understands opposing offenses better, understands pass routes concepts, something that comes from a very high football IQ. You can't play free safety if you aren't a good tackler, which is another bonus in his pocket.
He beefed up in the weight room in the offseason to become an ACC caliber player, something he realized when he arrived at UVa and has built upon that success.
Blount credits some of that football IQ to his dad.
"I've learned from him from a young age, hearing him in my ear and putting it together in my head," Joey said. "When I got older in high school, me explaining it to other people helped, too. It's one thing if you learn it, but if you can teach it to someone else, you've received it even better."
The father/son combo will likely draw comparisons over the next three years. Tony was 6-foot-1, 190 to 195 pounds. Joey is 6-1, 190. Both had good football IQ's and strong in the classroom as well, a point of emphasis for Joey from mom and dad, who would hold him out of a game if he didn't meet their academic expectations at Landmark Christian School outside Atlanta.
"Honestly, [Joey's] a much better athlete than I was," father Tony said. "I might have been a little tougher, but he's got a lot of good coaching that maybe I didn't have the luxury of having. I started late. His football IQ, I hate to say it, was higher than mine."
Tony actually helped coach Joey from little league football through high school, from Joey's first team in California onward. Joey was a quarterback in those early years and led his undefeated team to a Los Angeles area youth Super Bowl title.
The Blounts lived in L.A. for about a quarter century where Tony and Marie built a successful mortgage business. Due to family issues the couple moved to Georgia, a move that Joey said was difficult adjusting to at first, but was the best thing about growing up.
"I was nine years old, so I was leaving all I knew," Joey said. "That move made me the man I am now. Having seen both coasts, totally different atmospheres, I can see how it helped me grow. I'm glad I moved to the East Coast."
Tony rarely visited Charlottesville during those Cali years, but did make it back for a reunion that honored Bestwick during the early 2000's.
"I wouldn't have missed that for the world because of everything that man did for me," Tony said of his UVa coach. "I had a chance to see Dick the day before he passed (last year) and had a chance to spend time with his family."
Tony was on the Bestwick team that stunned Georgia "Between the Hedges" by a whopping 31-0 score in '79. When this reporter once interviewed Bulldogs coach Vince Dooley in his Athens office, the legendary coach said that shutout loss to UVa was "the worst loss of my entire coaching career."
Blount laughed out loud when I relayed that news to him.
"Winning that game was special because [Bestwick] had been an assistant coach at Georgia Tech (nine years prior to taking over at UVa) and knew the territory," Blount said. "He had recruited three or four of us from Atlanta, so it was exciting to beat Georgia."
When it came time for Joey to choose a college, Tony wasn't going to get in the way.
"I got serious about football my junior year of high school, and that's when we came to a couple of Coach [Mike] London's camps at Virginia," Joey said. "I could kind of seen myself at UVa from the educational standpoint.
"As far as the recruiting process, my dad didn't force me to do anything. He said, 'I love you no matter what, wherever you go, I'm still going to support you.' He said he was still going to support UVa, and that I could go anywhere except Virginia Tech," Joey chuckled.
"Dad said this is your life, I've had my journey. Now it's time for you to have yours, and that he and mom would support me."
Having that support eventually made the process go easier, although Joey didn't receive a tremendous amount of offers (Georgia State, Tulane, Mercer, Coastal Carolina and some Ivys) as a two- and three-star athlete rated by recruiting services.
While London's staff showed interest, all that could have changed when his contract was not renewed and UVa hired Bronco Mendenhall from BYU. However, the new regime also found interest in the prospect and invited the Blounts up for a visit.
"When Bronco came and sat in my house, he was unbelievable," Tony Blount said of the positive experience.
Joey felt the same.
"Their message was pure," Joey said. "There was no BS about it. They said, 'We're coming to win, that's all we know. It's not if, it's when, and we want you to be part of it.
"That's all I really needed to hear," Joey said.
So, for years, Tony, a graduate of UVa's McIntire School of Commerce, never traveled back to Charlottesville. Since last year, he's coming every home football weekend and loving reconnecting with faces he hadn't seen much in a quarter century or longer.
It is important to Tony and Marie to be there for Joey for a simple lesson Tony observed back in his playing days. He remembered teammate Tommy Vigorito's family always being there for their son after home games.
"That's one thing I'll never forget," Tony said. "My wife and I try to be there when Joey walks out of the locker room. He probably won't realize [the importance of] it now, but will sometime down the road."
Over the past year, Joey has met several of his dad's former teammates, who retell tales of their playing days, and confirm the ones he has heard over and over growing up.
"He loves coming back up here, calls it his old stomping grounds," Joey cracked a smile. "His best story is that when they played Richmond, he jumped over the fullback and knocked the running back out. I've heard that story from a lot of different people."
Tony Blount confirmed that he may have worn that story out but doesn't shy away from telling it again.
"It was the first game of the season in 1979," Tony recalled. "The [UR running back] was an Olympic track guy. [Jumping over the fullback] was something we practiced but never thought it would happen.
"But the situation presented itself and that was kind of the highlight of my career," Tony said. "Richmond, first game of the season, in Charlottesville. Isn't that a coincidence?"
Virginia won that game over the Spiders, 31-0
Hmmm.