John Grisham Joining 'Jerry Ratcliffe Show"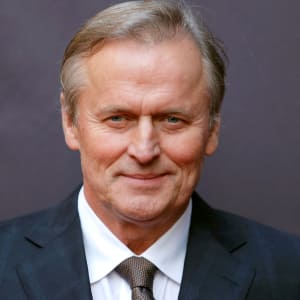 One of the greatest authors of our time, John Grisham, is scheduled to appear on "The Jerry Ratcliffe Show," this weekend on stations around the state.
Grisham just had his 33rd novel published on the 15th of this month, a new legal thriller entitled "The Guardians." He has been touring a bit to preview the book and we are excited to have him take time out of his busy schedule to talk some UVA and ACC football and basketball.
Grisham, who resides in Albemarle County, has been a UVA sports fan for quite some time and is often spotted on the front row of games at John Paul Jones Arena.
Ratcliffe's show, which originates on ESPN-Charlottesville (102.9 FM and 1450 AM) on Saturday morning's from 9 a.m. to 10 a.m. (just before College GameDay, is also now available from Richmond all the way to Virginia Beach.
The show is carried by WNTW in Richmond (AM 820, FM 92.7), and can be heard around the Richmond/Tri-Cities area eastward into Williamsburg, Newport News and Hampton, from 11 a.m. until noon. Alos, WNTW live streams the show, so you can listen from anywhere on the planet via its website.
Our show is also aired on Sunday's (working on a Saturday slot) byh WKQA, 1110 AM, in Norfolk from 1-2 p.m.
WKQA is a 50,000-watt monster with a signal that covers the entire Tidewater and the Seven Cities (Norfolk, Virginia Beach, Newport News, Hampton, Portsmouth, Chesapeake and Suffolk), and also reaches to the Outer Banks in North Carolina and into Southern Maryland.
The Greater Central Virginia market is the 45th largest metropolitan market in the nation with almost two million people within the listening audience. It includes the cities of Richmond and Petersburg and the counties of Henrico, Hanover, Goochland, Chesterfield, Colonial Heights, Prince George, New Kent, and Charles City.

Comments