Jones to stay in Louisville for weeks, 'has long road ahead;' Muskett out, Colandrea to start
By Jerry Ratcliffe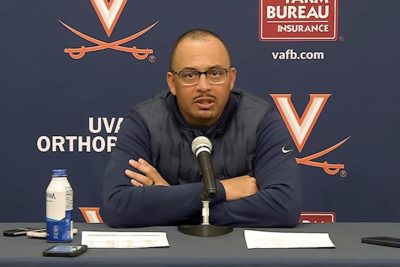 Injured Virginia running back Perris Jones was in good spirits when he talked with Cavaliers coach Tony Elliott via a Zoom chat on Monday, from his hospital room in Louisville, Ky.
Jones was injured in a violent collision with a Louisville tackler with 41 seconds remaining in the third quarter of last Thursday night's game, a 31-24 win for the host Cardinals. The sixth-year UVA running back was taken to the nearby Louisville Medical Center and underwent successful spine surgery on Friday. Virginia athletic department officials reported that Jones was able to briefly walk Saturday.
"He has to stay in ICU under watch for the first week and then we're hoping that he's going to be transferred to (University of Louisville's Frazier Rehab Institute & Neuroscience Center), which is a center that focuses on spinal cord injuries," Elliott said during his weekly press conference on Tuesday.
"I had a chance to see him via Zoom and he was in a position to talk to us. It was good to see his face and man, he was smiling, he was happy, focused on his team, telling those guys to keep fighting."
Elliott said he anticipates Jones will be in Louisville for several weeks.
"It's a long road ahead for Perris," the coach said.
Jones' family was not at the game but traveled to Louisville and has remained there along with Ashley Doozan Murray, an assistant athletic trainer from Virginia football, who was scheduled to return to Charlottesville on Tuesday.
"Just the communication with [the Jones family] has been awesome," Elliott said. "Obviously respecting their space, but any communication that I've received from his dad, stepmom and his mom has just been very positive, very encouraging. You can tell it's a family of faith. They're standing strong."
Elliott thanked everyone involved in the care of Jones — from Louisville's athletic training and medical staff to UVA's own trainers and doctors, led by Kelli Pugh — for their thorough discipline in stabilizing the injured player from the moment he went down on the field. He also thanked Louisville coach Jeff Brohm and his staff.
"I recognize Kelli Pugh and her staff," Elliott said. "As a coach, you never want to be in that position where you're standing over and watching them work, but to see how delicate they were and the attention to detail, the precision of their training, with the compassion to keep Perris in a calm state while they worked, and the [Louisville] staff has been to see Perris and his family a couple of times to take doughnuts."
One family member will be allowed to stay with Jones for the duration of his rehab once he is transferred to the Frazier facility.
Jones was UVA's leading rusher on the season with 393 yards in 10 games this season, a 5.2 yards-per-carry average and 2 touchdowns. Elliott said the next-man-up theory goes into effect.
"It's not a personal standard, it's a position standard, so whoever is in there, it doesn't really matter," the coach said. "That production is expected for that position, so Kobe (Pace) has to carry a little bit more, Mike (Hollins) has to carry a little bit more, (Amaad) Foston and (Jack) Griese are going to have to carry it a little bit more.
"So Perris has kind of set the standard or what it looks like at the position and everybody else has to be ready when their number is called. I know Coach (Des) Kitchings will have a good plan for the ball to be distributed to the other guys and they've got to step up when their number is called."
UVA Injury Report
Elliott also said that he does not anticipate starting quarterback Tony Muskett to play in this Saturday's game with Duke (3 p.m., the CW Network). Elliott added that Muskett, while "day-to-day," is out of the boot he was wearing for a high-ankle sprain he received against Georgia Tech on Nov. 4, and that he is "more hopeful" for trying to get Muskett ready for next week's season finale against Virginia Tech.
In Muskett's place will be true freshman backup Anthony Colandrea, who has played in six games this season and is coming off a 314-yard passing effort last week at Louisville. Colandrea has averaged 306 yards passing in his four starts.
Meanwhile, sixth-year left cornerback Coen King is likely done for the season due to a dislocated elbow. Elliott said that King will definitely be out for the Duke game, "and unfortunately, I don't know if he'll be available next week either. He's had that elbow dislocated before and that's typically a three- to four-week timetable.
"I hate it for him because he's a guy that's fully invested and he's been very productive for us. I know he wants it, but he'll do everything he can to help prepare the guys for the next two weeks."