Jowon Briggs Turning Heads Early in UVA Camp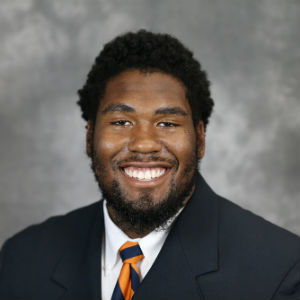 By Jerry Ratcliffe
Virginia returns its entire two-deep to its defensive line, which gives the Cavaliers a huge jump to the season in training camp.
Still, with all that experience returning, there's a true freshman delivering an eye-popping performance after UVA's first six practices.
Jowon Briggs, a four-star defensive lineman out of Cincinnati, has practiced so well that he has been working with the starters. The 6-foot-1, 295-pound rookie was rated the No. 3 defensive tackle prospect in the country by Rivals.com, after his senior season at Walnut Hills High School.
"As of six practices, [Briggs] is running with our ones," said Virginia coach Bronco Mendenhall. "He's done a really nice job.
"Not only is he a very good player, he's a great fit at UVA. He's strong academically, the number of instruments that he plays, the thespianism _ if that's a word (chuckle) _ the thespian that he is. He just has other interests, but man he's passionate about football and he does it at a really high level."
Briggs plays several musical instruments and was part of an award-winning performance of "Ragtime," in high school. Mendenhall was blown away when he began to peel back the layers of this All-American high school player. The coach was also impressed with the lack of ego by the massive lineman.
"There's no stardom to him," Mendenhall said. "The star rankings, he never even acknowledged them at the beginning. He's come in and measured up to what we had hoped through six practices. While he's running with the ones, that doesn't mean that will hold, but that is today."
Briggs could have gone anywhere, but he picked Virginia over numerous football powerhouses such as Alabama, Michigan State, Ohio State, Penn State, along with Kentucky, Miami (Fla.), Pittsburgh, Rutgers, and Tennessee.
The reasons he chose UVA was obviously the academics, and an improving football program, but there was more. He appreciated the honesty, like when defensive line coach Vic So'oto flat out told Briggs that UVA had two defensive line commits and they would probably take only one more.
"There were things I never saw on any other campus," Briggs told the Cincinnati Enquirer. "There were things I never did, interactions I never made with any other people at other campuses, meeting with professors and things like that. It was all just rare things in my eyes."
His high school coach, Gary Beauchamp said that Briggs is an all-around kid, not just your typical football-minded player.
"He gets involved in as many things as possible. Football's his No. 1 thing. He doesn't miss lifting or football for anything. But, on top of football, he's a thrower in track, he participates in drama whether it be set design or actually singing and acting. He comes from a musically-talented family."
So, perhaps at some point this year we could see Briggs singing while accompanied by basketball's Frankie Badocchi, a talented pianist who performed "One Shining Moment" at national champion Virginia's celebration at Scott Stadium back in April.
Beauchamp said that Briggs, who was a 17-year-old senior at the time, was one of the strongest kids he had ever coached. Briggs, who was almost always double-teamed in high school, was squatting more than 700 pounds back then, so that measurement is certainly even more impressive now in Shawn Griswold's conditioning program.
Briggs knew after he committed that Mendenhall is all about "earned, not given," and that was fine with him.
"As far as playing, there's always competition," Briggs said. "I'm not just going to go there and be given a spot. That's fine with me. What's the use of going there and being given something instead of working for it?"
That's music to Mendenhall's ears.
Virginia's policy is first-year football players are not allowed to participate in media interviews, so whatever Briggs said ahead of enrollment will have to do until after the 2019 season.
Still, he's already made quite an impression, not only on Mendenhall, but also on D-line mate Richard Burney, and UVA co-defensive coordinator Kelly Poppinga.
"[Briggs] is strong, a very strong kid who is willing to learn," Burney said. "The other day I was walking over to watch film and he was already the first one there with his notes, asking me questions, asking coach questions. He's eager and ready."
Poppinga could hardly believe his eyes as training camp opened and this beast of a freshman trotted out onto the practice field.
"Big, physical, smart, super quick, doesn't say crap. Just goes to work and does his thing. Impressive," Poppinga said. "He's a guy you would think is a third- or fourth-year guy here, just looking at him on the field, seeing how he plays and the maturity that he has. He's obviously got to learn the defense, that's probably his biggest thing."
All six of Virginia's defensive linemen return from last season: junior ends Burney and Mandy Alonso, along with tackles Jordan Redmond, Aaron Faumui, and Tommy Christ (all sophomores), along with the only senior on the line, Eli Hanback.
Burney was injured in the third game of the season and was out for the rest of the campaign, while Alonso was injured late in the season against Pitt and didn't return.
So'oto must be in hog heaven watching all these experienced players pick up where they left off last season. Having Briggs in the mix could help take things to a whole new level.

Comments