Keswick's Miller wins 63rd VSGA Women's Senior Am
By Chris Lang
HOT SPRINGS — Andrea Miller recently turned 50 to join the senior golf ranks, and her trip to the 63rd Virginia State Golf Association Senior Women's Amateur Championship this week was her first as a competitor. Still, she was plenty familiar with the competition she would face at The Omni Homestead Resort's Old Course. As a longtime member of the Virginias side in the Women's Virginias-Carolinas Matches, Miller forged relationships with many of the senior players.
Natalie Easterly, Mimi Hoffman, Boodie McGurn … on Thursday, Miller referred to players like that as "VSGA royalty," understandable since between them they owned 10 VSGA Senior Women's Amateur titles.
"Quite frankly, when I first saw the draw, I was like, 'Oh my God,'" said Miller, a Keswick resident and member at The Club at Glenmore. "To face Natalie, then Mimi, then Boodie potentially all together, it was very daunting. They're all incredible competitors and I obviously know their history."
After Miller completed her blitz of the field on Friday, dispatching McGurn 5 and 4 to win her first VSGA individual championship, McGurn turned the tables on that train of thought.
"There's a new sheriff in town," she said with a laugh.
Miller, a long-hitting native Texan who prides herself on the ability to scramble, showed both facets on the championship-clinching 14th hole. First the long hitting. With the par-4 hole playing a mere 222 yards, Miller attempted to drive the green, even with the hole location nestled in the back. Her drive was plenty long enough, but it drifted right, hit a cartpath and took a long hop into the woods.
The ball remained in play, though, since the woods along the right side of the hole are not considered out of bounds. Miller climbed into the thicket, took a few practice swings, and lasered the ball through an opening. It settled hole high in the rough, about 10 feet from the flagstick.
"Really, the only problem was that about a foot behind the ball, there was this little tree," Miller said. "I just had to pretend it wasn't there, and I was going to be fine. It was a very thin front wall. I figured if I could run it up the hill to the green, I'd have a chance at par. I felt a very calm peace as I stood over the ball, and I just hit it, and it came out well."
McGurn had hit her drive to the apron in front of the green, and entering the hole 4 down, figured she may have a chance to pick up a hole and keep her hopes for a fourth Senior Women's Amateur title alive. Instead, she found herself in a position of needing to get up and down for birdie to win the hole.
"I was like, 'Are you serious?'" McGurn said. "That was unbelievable. She was like 20 feet into the woods."
Miller's ensuing chip nearly dropped for birdie, and McGurn conceded the par putt. McGurn's chip came up well short. She missed the birdie putt and a short par putt, and suddenly, the match was over.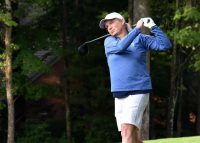 "When you don't make those first three or four or five putts, it hurts your confidence," said McGurn, who struggled all day with leaving her putts just short of the hole. "I had been playing well all week, I'd been chipping and putting well. But I just couldn't get anything to the hole today. And she obviously puts pressure on you on every hole. She played really solid golf today."
Miller served notice early that nerves weren't going to be an issue in her first title-match appearance. She hit her second shot out of the rough on the par-5 1st to three feet for a conceded eagle. She jumped to a 4-up lead after nine holes and made clutch shots every time McGurn threatened to close the gap. After Miller made a mess of the par-5 12th to drop a hole, she made a 20-foot birdie putt on the par-5 13th to regain her 4-up lead.
And she did so while battling a spasming back muscle, which flared up about eight holes into the match.
"It was really the worst when I was bending down to mark my ball or when I was getting in and out of my cart," she said. "And then it would go away. And then it would come back, and go away again. … This has been a long week. I don't think I appreciated how much it takes to get through to the end of the week, especially in this kind of competition."
Miller left no doubt about who was the best player in the field this week. After finishing tied for fifth in stroke-play qualifying, she won all four of her matches in dominating fashion, never having to play past the 14th hole in any of the four victories.
"This ranks right up there for me," Miller said. "Just knowing these ladies for so long and having to compete against the slate of competitors I had to go through, this ranks at the very top."
The Senior Women's Amateur also featured play in the first flight for those who didn't qualify for the championship flight, as well as consolation bracket matches in both the championship and first flights.
– Lang is the VSGA's manager of media and communications.
63rd VSGA Senior Women's Amateur Championship
At The Omni Homestead Resort (Old), Hot Springs
Par 72, 4,963 yards
Championship flight
Tuesday's round of 16 matches
#1 Shelley Savage (Alexandria) def. #16 Bev Lane (Great Falls), 3 and 2
#8 Joan Gardner (Alexandria) def. #9 Kay Tyler (Springfield), 5 and 4
#4 Joanne Kitusky (Glen Allen) def. #13 CJ George (Richmond), 5 and 4
#5 Boodie McGurn (Richmond) def. #12 Amy Phelan (Reston), 3 and 1
#2 Natalie Easterly (Charlottesville) def. #15 Cindy Hollingshead (Manakin Sabot), 1 up
#7 Andrea Miller (Keswick) def. #10 Peggy Freeman (Richmond), 9 and 7
#3 Mimi Hoffman (Springfield) def. #14 Karla Knight (Richmond), 4 and 3
#6 Diane Garstka (Springfield) def. #11 Linda DiVall (Alexandria), 3 and 1
Wednesday's quarterfinal matches
#1 Savage def. #8 Gardner, 2 and 1
#5 McGurn def. #4 Kitusky, 4 and 2
#7 Miller def. #2 Easterly, 6 and 5
#3 Hoffman def. #6 Garstka, 1 up
Thursday's semifinal matches
#5 McGurn def. #1 Savage, 6 and 5
#7 Miller def. #3 Hoffman, 5 and 4
Friday's championship match
#7 Miller def. #5 McGurn, 5 and 4

Comments