Kevin Miller named executive director of Virginia Athletics Foundation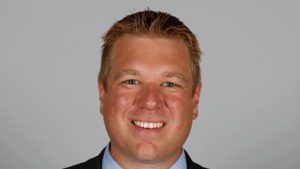 The board of trustees for the Virginia Athletics Foundation announced today Kevin Miller as VAF's new executive director and a deputy athletics director.
"We are thrilled to announce Kevin as our new executive director," said Frank Edmonds, the president of the board of trustees of the Virginia Athletics Foundation. "Kevin was the unanimous choice of the search committee. His passion for college athletics, ability to build strong relationships and proven track record in development make him an ideal leader for the organization as it approaches its 75-year anniversary of supporting student-athletes at the University of Virginia."
"Kevin is a highly regarded and respected advancement professional and athletics administrator," said Virginia director of athletics Carla Williams. "He is known for his energy, innovation, relationship building and passion for excellence in college sports. He has a great understanding of the challenges and opportunities within our industry. We are thrilled with his selection and eager to get to work."
Miller joins the VAF after spending the past six-plus years as a senior administrator for the University of Georgia and The Georgia Bulldog Club. He was the organization's senior associate athletic director and deputy executive director the past two plus years. He previously held the title of associate athletic director for development and deputy executive director with the TGBC from 2017 to 2021.
The Georgia Bulldog Club is the fundraising arm of the Georgia Athletic Association charged with providing student-athlete scholarships, first-class facilities and the financial support necessary to run and operate each of UGA's 21 varsity sport programs.
Miller will oversee all aspects of VAF's fundraising operation including but not limited to, the annual fund, the endowed scholarship program, fundraising efforts to support the operational needs for the sports programs, suite lease gifts and planned gifts.
"I am incredibly excited to begin serving the UVA community as the new executive director of the VAF," Miller said. "I want to thank the search committee, the VAF board, Carla Williams, and Mark Luellen (UVA vice president for advancement) for identifying me and believing in me.
"I'm grateful to my family for instilling a strong work ethic from a young age and for their support throughout this professional journey. I would also like to thank all of my mentors, superiors, colleagues and donors I have worked with, who have challenged me by inspiring me to think bigger in order to achieve unprecedented success every step along the way. I can't wait to begin working with the VAF board and staff to build meaningful relationships with donors by aligning their interests with opportunities for involvement in support of UVA Athletics."
Miller will work directly with the VAF board of trustees as the secretary/treasurer of the board. He will collaborate closely as deputy athletics director with UVA Athletics and will represent UVA Athletics as the chief development officer to the UVA advancement community.