Key and Clark lead second-half spurt to help UVA pull away from Navy, 65-56
Braxton Key and Kihei Clark each had a memorable day to lead the way, as No. 16 Virginia rallied from a second-half deficit to hold off a pesky effort from Navy, 65-56, to cap the non-conference slate Sunday at John Paul Jones Arena.
Clark notched a double-double with 10 points and a career-best 13 assists, while Key was impressive on both ends of the floor with a team-high 15 points, 7 rebounds and 3 steals with a few highlight-reel jams in between as the 'Hoos prevailed in the final contest of the calendar year, as well as the most memorable decade in program history.
Senior Mamadi Diakite had 13 points and a team-best eight rebounds Sunday, while freshman guard Casey Morsell added 10 points for his second career game in double figures, and the Wahoos improved to 10-2 on the season.
After a solid first half offensively, Virginia struggled to score to start the second, misfiring on seven of its first eight field-goal attempts out of the locker room, and turned it over six times in the opening nine-plus minutes after just one before halftime. However, a crucial 12-0 Wahoo run changed the course of the game after the Middies took a brief lead midway through the second half.
The Midshipmen (6-5) scored on back-to-back buckets to begin the half, cutting Virginia's lead to just four, 37-33, before Evan Wieck scored on a hook shot to make it a two-point affair in the early minutes.
A Luke Loehr 3-pointer missed that would've given Navy the lead before a Diakite 3-pointer fell through on the ensuing trip, but the 'Hoos went on to miss their next six shots.
A Cam Davis 3 whittled it back down to two, 40-38, and then a Virginia giveaway led to a John Carter Jr. triple moments later that gave the visitors their first lead since it was 2-0, 41-40, causing Tony Bennett to call a timeout with 10:36 to play.
Clark finally sank a jumper to stop the bleeding at around the nine-minute mark, and then Key swatted a Navy attempt and was rewarded on the ensuing fast break for a huge three-point play to put his team back ahead by four, 45-41, jumpstarting the game-changing scoring spree.
Huff followed that with another blocked shot, which led to a pretty Key-to-Clark-to-Key, give-and-go alley-oop to send the JPJ crowd into a frenzy with 7:56 remaining and make it a two-possession contest.
Clark notched his first 10-assist game on the momentum-changing play, then added to the lead with a shot-clock-beating 3-ball less than a minute later before Morsell capped the run with a transition layup.
After a Navy 3-pointer temporarily halted the spurt, Clark ooped one up for Huff again to push the lead back to 10, 54-44, and the 'Hoos hung on from there. Navy did get back within five points with 3½ minutes to go, but Virginia turned up the defensive pressure down the stretch.
Morsell drained a corner 3-pointer — his second of the day — to put an exclamation point on the victory in the closing minutes.
In the first half, Navy took an early lead on an easy backdoor cut on the game's opening possession, but Tomas Woldetensae answered with a triple on Virginia's initial attempt of the day.
The junior-college transfer then banked one in on a drive on UVA's second trip down the floor before Clark knocked down a jumper as the 'Hoos connected on their first three shots and took a 7-4 lead.
Key later followed home a Morsell miss with a thunderous dunk and pushed the UVA lead to double digits, 28-18, at around the five-minute mark.
Virginia maintained the advantage throughout the half, leading by as many as 11 on a Huff 3-pointer — on Clark's seventh assist — in the final minute. Loehr beat the first-half buzzer with a 3-ball of his own and trim the score to 37-29 at the break.
UVA shot 15 for 26 (57.7 percent) from the field and 50 percent (5 for 10) from deep before halftime — with Woldetensae and Morsell adding a couple more from distance — as the Cavaliers' shooting numbers continued to improve. Also, the 'Hoos only turned it over once in the first 20 minutes after giving up a season-high 19 of them last time out against South Carolina.
On the day, Virginia committed eight miscues, but registered seven blocks and four steals, and forced nine Navy turnovers.
The Midshipmen were paced by Davis' 19 points, while Wieck was his only teammate in double figures with 13. Navy finished the day shooting 38.8 percent (19 of 49) and 35 percent (7 of 20) from long distance.
UVA shot 53.2 percent for the contest (25 for 47) and 42 percent from downtown (8 of 19), and won the rebounding battle, 28-26.
Huff finished with 9 points and four blocks and Woldetensae added 8 points on a pair of 3s, as Virginia will jump back into conference play Saturday at home against Virginia Tech (2 p.m., RSN).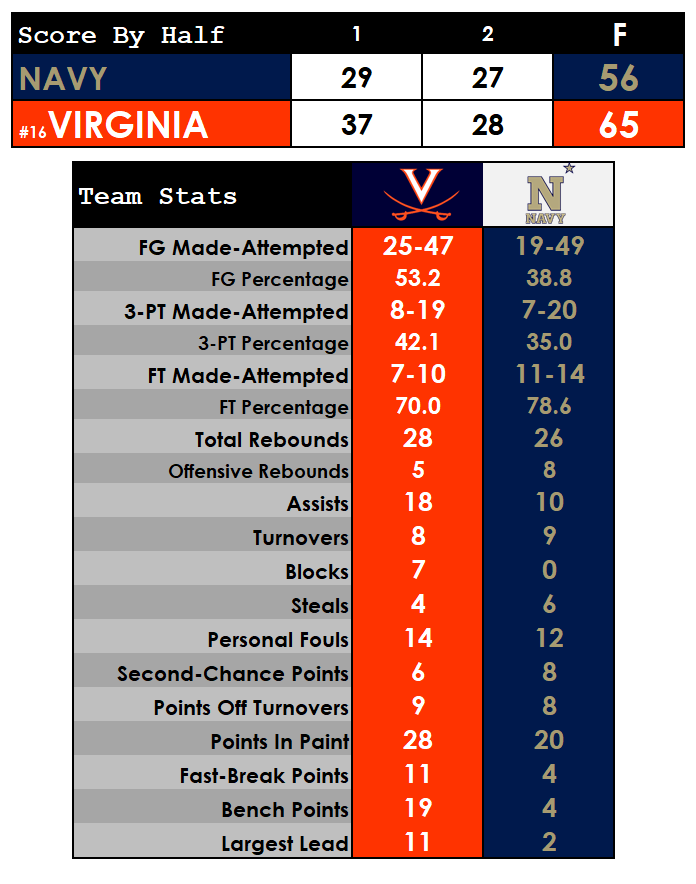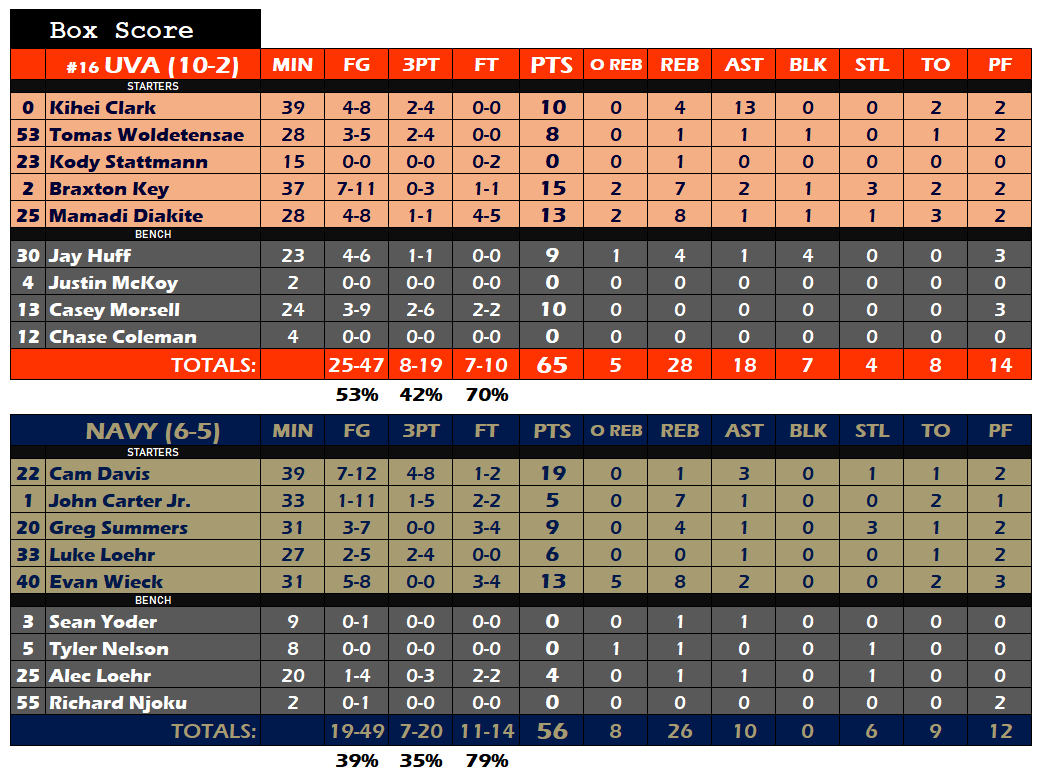 Courtesy UVA Media Relations:
Team Notes
UVA (10-2) tied a season high with 65 points
UVA gained a 50-41 lead with a 12-0 run
Navy outscored UVA 12-3 over the first 10:51 of the second half
UVA's 37 first-half points marked a season high in the opening 20 minutes
UVA went 8 of 9 from the field to start the game
UVA forced two shot clock violations (13 in 2019-20)
UVA tied a season high with eight 3-pointers and its 42.1% percentage (8 of 19) from 3-point land marked a season best
Series Notes
Virginia is 15-31 all-time against Navy, including a 7-1 mark in Charlottesville, in the series that dates back to the 1909-10 season.
The Cavaliers have an eight-game winning streak against the Midshipmen
Player Notes
Double-figure scorers: Braxton Key (15), Mamadi Diakite (13), Kihei Clark (10)
Clark tallied his second career double-double with 10 points and career-high 13 assists
Key tied a season high with three steals
Jay Huff had a game-high four blocked shots

Comments