Key takes significant step in second game back from wrist injury
By Jerry Ratcliffe
Even with a cast on his hand, Braxton Key clocked the third-most floor time of any Cavalier in Sunday's loss to South Carolina.
Playing almost one-handed, Key still managed to score eight points and pull down five rebounds, pretty much as good as anybody playing with two hands in only Virginia's second loss of the season. Only Mamadi Diakite with 21 points and Kihei Clark with nine scored more. No one else had more than Key's five boards.
It was a step back in the right direction for the UVA senior guard in his second game back since suffering a wrist injury on Nov. 24. It's also part of the process.
"Next is lighten the cast, make it smaller, progressing like Kihei went through, then go into a splint," Tony Bennett said after the game. "It looked like his hand held up. I saw him hold it once, but I think it was okay."
Key will get another week before the Cavaliers return to action when they host Navy on Sunday, which means more time for healing and becoming more comfortable.
Certainly the sooner Key returns, the better for Virginia, which is in desperate need of a solid, consistent performer, not to mention his defensive prowess and leadership.
"I thought it was a great day, I am moving forward," Key said after the loss to the Gamecocks. "Coach and my teammates have just been telling me to stay patient with it. They know how capable I am, how good I am. It's difficult, obviously, going down and having to make your way back up. I've just been getting my legs under me and moving from there."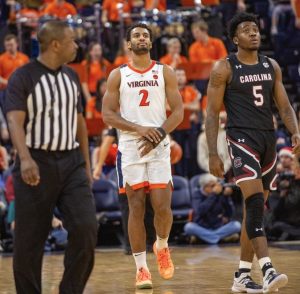 While UVA was beaten soundly by the Gamecocks after committing a season-high 19 turnovers and shooting poorly the first half, the Cavaliers managed to shoot their highest percentage (43.9) over their last seven-game stretch, and scored their most points (59) over that same span. Those numbers are a little encouraging that perhaps things are starting to come along for some of the newcomers or players in different roles this season.
"I think we are going in the right direction," Key said. "Tonight was just turnovers. We have to take care of the ball. If we had been playing better offensively and defensively, I think the outcome would have been different. 
"When you are not getting shots, it makes offense a lot harder, obviously, and you can't score points without taking shots. We just have to regroup, watch film and we will be better next game."
Bennett said that at times he thought Key was a little unsure of himself, but much better than the Stony Brook game four days earlier, in terms of Key's comfort level.
"He did some good things," Bennett said. "He certainly gave us a lift and we needed all of it. I told the guys that either didn't play or didn't play as much, you have to stay ready because you just don't know. But, yep, that was a positive for sure."

Comments