Kickoff Times Announced For First Three Virginia Games
Courtesy UVA Sports Media Relations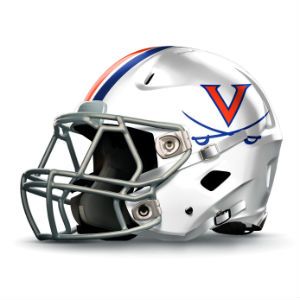 As part of the announcement of early-season football television selections, the Atlantic Coast Conference announced Wednesday the kickoff times and broadcast originations for Virginia's first three games of the 2019 season.
Virginia's season-opening game, Aug. 31 at Pitt, will start at 7:30 p.m. UVA's first home of the season, Fri., Sept. 6 vs. William & Mary will kick at 8 p.m., while the Cavaliers' home game on Sept. 14 against Florida State will start at 7:30 p.m. All three games will be broadcast live on the new ACC Network. Previously announced is UVA's Sept. 28 road game at Notre Dame, which will kick at 3:30 p.m. and be broadcast on NBC.
After the first three weeks of the season, game times and TV network selections will be announced weekly with the ACC's television partners making their choices utilizing a 12-day advance notice beginning Monday, Sept. 9 (for games on Saturday, Sept. 21). ACC television partners also reserve the right to use a six-day selection notice on a limited basis during the season.
Fans can obtain more information on the ACC Network at this link: www.GetACCN.com
2019 Season Tickets
Fans have five different price options from which to choose when purchasing 2019 season tickets. Scott Stadium seating sections are designated Priority, Prime, Hooville, Choice and Value.
Season tickets in Priority seating are $375. Prime seating is priced at $340. The Hooville season ticket (lower level closed end zone) can be purchased for $270. Season tickets in Choice seating areas are $220 and the Value area is available for $129 per season ticket. UVA faculty, staff and young alumni receive a discounted price point for each of these seating options.
Season Ticket Holder Benefits
Season ticket holders receive preferred pricing compared to single-game prices with prices starting as low as $129.
Season ticket holders who are also Virginia Athletics Foundation donors will have the first opportunity to purchase tickets to the Sept. 28 game at Notre Dame. Detailed information will be provided at a later date to those who are eligible.
Football season ticket holders will also have the opportunity to receive complimentary tickets to designated baseball, women's basketball, men's and women's soccer and men's and women's lacrosse games throughout the season. In addition, all football season ticket holders will receive invitations to special events throughout the year.
New season ticket holders will also receive a complimentary V-Sabre clear bag.
Hooville season ticket holders will have the option to receive a complimentary Nike – Hooville cap or a long-sleeve Hooville t-shirt.
Mini-Packages and Single-Game Tickets
Mini-packages are now on sale. Fans can create their own custom package by choosing any three of Virginia's first six home games.
On-sale dates and pricing information for single-game tickets will be announced at a later date. Single-game tickets to the Nov. 29 home game against Virginia Tech will be available to be purchased by 2018 football season ticket holders and current donors to the Virginia Athletics Foundation who contribute $100 or more.
How to Purchase Tickets
Season tickets may be purchased online at VirginiaSports.com starting Thursday, Feb. 7 at 9 a.m. Season tickets may also be ordered over the phone or in-person Monday-Friday from 9 a.m. – 5 p.m. at the Virginia Athletics Ticket Office in Bryant Hall. The ticket office phone number is (800) 542-8821.

Comments