Late BC spurt leads to upset of No. 18 'Hoos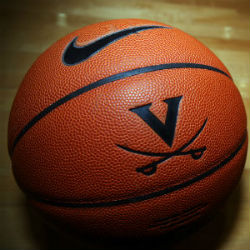 Boston College became the third team to put up 60-plus points against Virginia's Pack-Line defense, which translated to the Cavaliers' third loss of the season, 60-53, on Tuesday night in Chestnut Hill. It was the second road loss of the season for UVA and first regular-season conference loss for the 'Hoos since Duke won at John Paul Jones Arena last February.
After crawling their way back from a 12-point deficit with a 20-3 run in the second half, the Wahoos (11-3, 3-1 ACC) had a five-point edge with five minutes to go but missed nine of their last 10 shot attempts as the Eagles (9-6, 3-1) closed the game with a 15-3 spurt of their own — including seven unanswered in the final 40 seconds — to seal the conference victory.
BC was playing already without senior forward Nik Popovic (back) for a sixth straight game, but it was announced just before tip-off that the Eagles would also be without the services of starting point guard (and leading scorer) Derryck Thornton as well, who watched from the sideline in street clothes with an ankle injury.
Thornton's replacement, freshman guard Jay Heath, picked up the slack for Boston College, which grabbed the lead early on and held it for the majority of the contest. UVA senior Mamadi Diakite picked up two fouls just over a minute into the game and was not much of a factor throughout the remainder of contest.
The bright spots for the Cavaliers were few and far between, but sophomore guard Kody Stattmann set a career high in scoring for a second straight contest and sparked the Cavalanche that got his team back in it.
Ultimately, it wasn't enough. As Coach Tony Bennett mentioned after the game, "You can't get out-hustled," but that's exactly what the Eagles did to earn the win — they out-hustled the Wahoos.
Senior Braxton Key kept UVA around in the first half with 12 points on 4-for-7 shooting, but was just 1 for 5 from the field in the second half, with the only bucket coming on a blow-by drive on Jairus Hamilton in the final two minutes, which tied it up at 53-apiece. That turned out to be the Cavaliers' last basket of the evening, as they went on to miss their final three attempts.
To add insult to injury in the waning seconds, Key was going for a loose ball and landed awkwardly on the same wrist that he injured against Arizona State, which was subsequently repaired surgically. His status for Saturday's rematch against Syracuse (4 p.m., ESPN) is unknown, as he stayed down on the floor for a few seconds after the play and walked to the bench before play resumed.
Virginia shot 32.7 percent (17 for 52) on the night, including a putrid 3-of-16 performance (18.8 percent) from beyond the arc, but made good on 16 of its 20 free-throw tries to stay afloat.
After a Diakite wide-open jam early in the second half cut BC's lead to four, the Eagles used a 10-2 run to take their largest lead of the night. During that sequence, Heath banked in a 3-pointer and his teammates connected on a few tough, contested outside shots to extend the advantage.
Trailing 42-30 with just under 14 minutes to play, Stattmann ended a UVA drought of over four minutes and ignited the 'Hoos with a basket, then a sweet assist underneath to Huff for two, followed by a tough spin move in the lane to get his team back within six.
Kihei Clark had an offensive rebound carom out to him perfectly behind the 3-point line, and the sophomore point guard buried his attempt to beat the shot clock and tie the game at 45-45 with 7:10 to go. After a steal on the other end, Clark connected with Diakite on a fast break for a three-point play, and then after BC's Jared Hamilton, a 94-percent free-throw shooter on the year, missed a pair, Clark sank two on the other end.
BC was whistled for its seventh foul midway through the second half, and the Cavaliers took advantage of their trips to the line. Virginia made 7 of 9 from the charity stripe during the spurt, which also gave the 'Hoos their biggest lead, 50-45, with 5:25 remaining.
Heath scored on an and-one moments later to knot it back up at 50 before Diakite split a pair of freebies to briefly put the Cavaliers back in front with three minutes left. After Key tied it up, Jared Hamilton put the Eagles ahead to stay with 37 ticks showing, as Diakite missed a long 3 on the ensuing trip, and Steffon Mitchell nailed two from the stripe to put it on ice with 17 seconds left.
Virginia out-rebounded BC 20-12 after halftime and 33-31 for the game, with each team turning the ball over five times per half. Key led the 'Hoos with 16 points and 8 rebounds to go with a pair of steals. Stattmann finished with 11 points (5 for 9 FG) and 7 rebounds, while Clark added 12 points, 3 assists and 3 steals. Diakite had 9 points, 7 boards and a pair of blocks.
Heath paced the Eagles with 17 points, while Jared Hamilton put in 16 off the bench. His brother, Jairus Hamilton, and Mitchell each chipped in 10 for BC, which shot 21 for 47 from the floor (44.7 percent) and 4 for 17 from downtown (23.5 percent).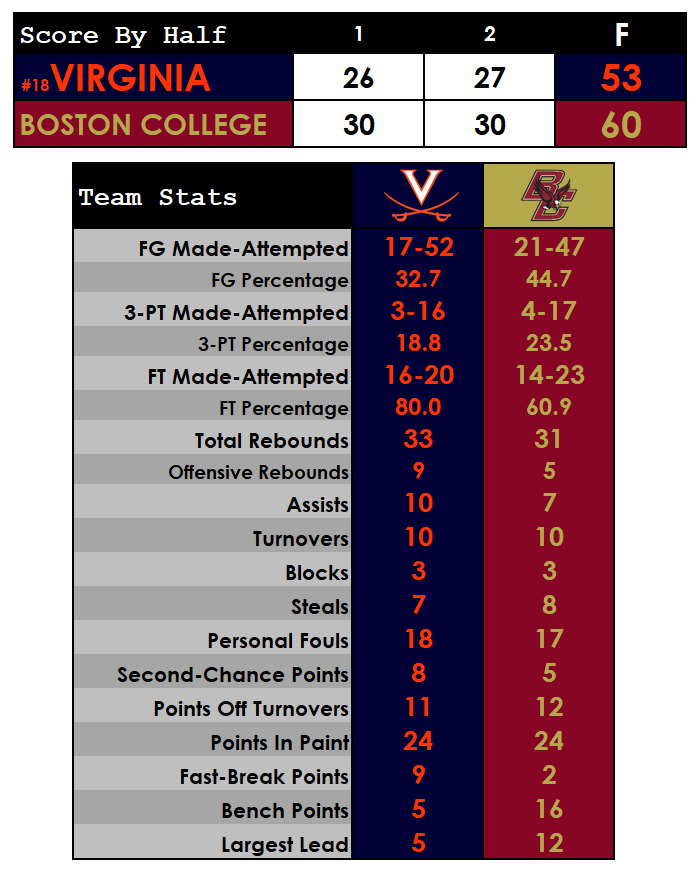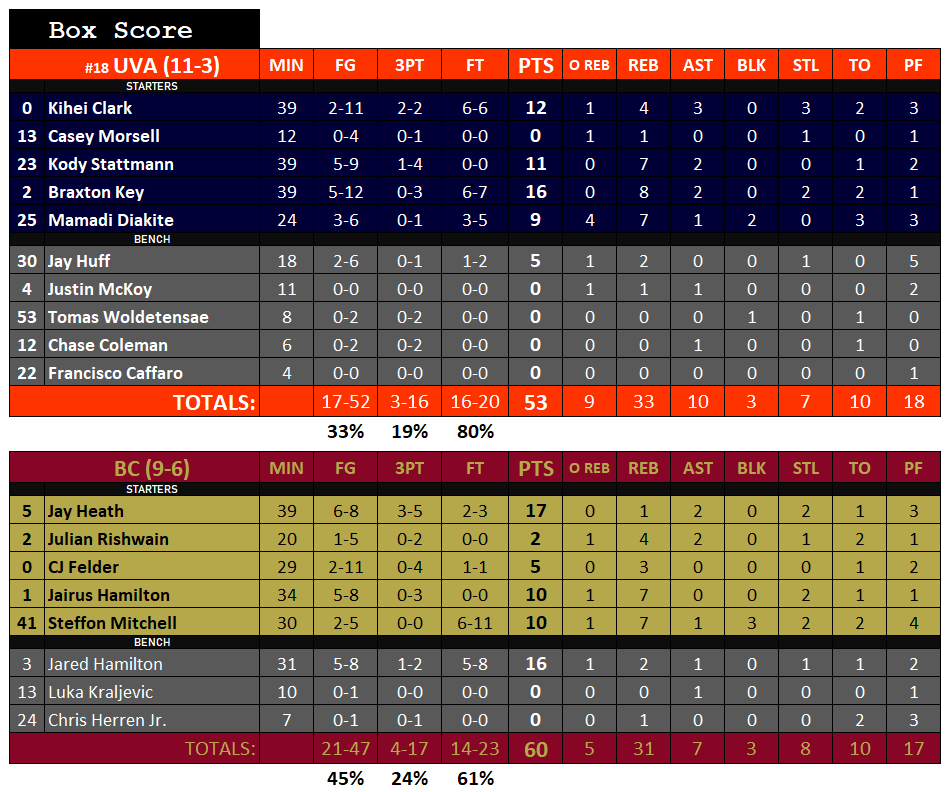 Courtesy UVA Media Relations:
Team Notes
The loss ended Virginia's six-game winning streak vs. Boston College
UVA fell to 0-3 when trailing at the half (30-25)
UVA went on a 20-3 second-half run to gain a 50-45 lead
The Cavaliers shot 9 of 26, including 2 of 10 from 3-point range, in the first half
UVA tied a season low with 32.7 percent shooting (17 of 52)
UVA's three 3-pointers were its second fewest this season (2 vs. UMass)
UVA out-rebounded Boston College 33-31
Series Notes
Virginia is 15-8 all-time vs. Boston College, including an 11-8 ACC mark, in the series that dates back to 1971-72
UVA is 4-5 against Boston College in Chestnut Hill
UVA has limited BC to 58 or fewer points in each of the previous five meetings
Head coach Tony Bennett is 9-5 all-time against Boston College
Player Notes
Double-figure scorers: Braxton Key (16), Kihei Clark (12), Kody Stattmann (11)
Stattmann had a career-high 11 points
Key added a game-high eight rebounds

Comments