Late-Game Rally Sinks Cavaliers In ACC Pool Play Finale
Courtesy UVA Sports Media Relations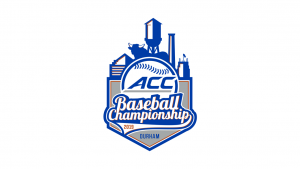 Fourth-seeded Miami pulled away late with a five-run eighth inning rally and captured a 10-3 victory over ninth-seeded Virginia in pool play at the ACC Baseball Tournament. The Hurricanes will play fifth-seeded North Carolina on Friday for the chance to take on Boston College in the weekend semifinal on Saturday.
Holding a two-run lead going into the eighth, Miami (39-17) sent 10 batters to the plate and scored five runs to open up the seven-run advantage. The five-run inning was the sixth by a Cavalier opponent this season. Virginia committed an uncharacteristic, three fielding errors in the game, leading to three unearned runs. Coming into the game, Virginia (32-24) was ranked second in the ACC with a .979 fielding percentage.
With the game knotted at two, Miami took the lead for good when it plated three runs in the fifth inning, two on a two-out, Virginia fielding error. Hurricane shortstop Freddy Zamora drove in the go-ahead run on an infield bunt single down the third base line, scoring Jordan Lala.
Jack Weiller helped Virginia erase a 2-0, first-inning deficit with a two-out, game-tying RBI double to right field that scored Nic Kent. Weiller later pulled the Cavaliers within two runs with his second double in the bottom of the sixth. For the day he finished 2 for 4 with two doubles and two RBI, his sixth multi-hit effort of the season.
Virginia starting pitcher Noah Murdock settled in after allowing two runs in the top half of the first. He posted three-straight scoreless innings before being lifted after the two-run defensive miscue. He struck out three batters in 4.2 innings pitched and was charged with three earned runs.
Kent and senior Cameron Simmons both put fourth multi-hit efforts. Kent extended his hit streak 13 games and has now reached base in 16-straight. He plated the first Virginia run with a single in the top of the first inning that scored Tanner Morris. Kent also added his 17th stolen base in the frame to take over the team lead.
Morris went 1 for 4 and scored a run for the 13th consecutive game.
The Virginia NCAA Tournament fate will be determined on Monday with the Division I  Baseball selection show. It is scheduled to air at noon on ESPNU.

Comments