Lefty Armstrong braces for challenge of leading Virginia at quarterback
By Jerry Ratcliffe
Most of the national and regional football forecasters have been down on Virginia's chances in the ACC during their preseason prognostications. The Cavaliers have been picked ninth at best out of the league's 15 teams, but mostly picked near the bottom of the conference.
What would cause such lowly expectations from the critics, especially considering the Coastal Conference champions return practically their entire defense, their whole offensive line, starting tailback and a solid receiver?
It's all about the quarterback.
Clearly the skeptics believe that UVA can't win without Bryce Perkins, who is now on the LA Rams' practice squad as the NFL team's third quarterback. Without question, UVA couldn't have advanced the program the way it did the last two years without the versatile Perkins, who could kill defenses not only with his arm, but also his legs. He broke the school's career total offense record in only two seasons.
While UVA needed Perkins to win the past two years, it appears that the program has recruited well enough and developed talent and playable depth to the point that it doesn't necessarily need a magician at quarterback.
Brennan Armstrong fits nicely into the role of Virginia's new starter.
If there are any questions about Armstrong's abilities, then experts on UVA football should calm the nerves of its followers.
Perkins said of Armstrong, "He'll be fine. He's got a strong game. Virginia won't skip a beat."
Offensive coordinator Robert Anae: "Brennan can make any throw in the book. He has a strong arm."
Quarterbacks coach Jason Beck: "I've never seen Brennan panic. He's always under control."
High praise from the folks who matter most in terms of judging Perkins' predecessor, the guy who can change an outsider's viewpoint of the UVA program.
While Armstrong doesn't have the extra gear in the open field like Perkins had in terms of running the football and scrambling for big yardage, that doesn't mean he can't run. He's a different kind of runner, controlled, physical if necessary, and able to pick up a first down.
"I would say our offense looks similar to last year," Armstrong said. "The schemes really haven't changed much. I know I have a different skillset than Bryce, and I think I just bring those to the table."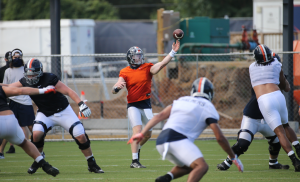 Virginia's offensive coaching staff and head coach Bronco Mendenhall have complete faith in Perkins' successor. Armstrong feels comfortable working with Beck, particularly after two seasons in the program where he was Perkins' sparsely-used backup.
"[Beck] pushes me with little details that I want to be to pushed to," Armstrong said. "When I come off the field and I see something, I will say what I see and then he'll either correct me or he'll see what I'm seeing, and so we can learn from that.
"That's why I came here. I knew I loved Coach Beck when I first committed and everything's gone smoothly from there."
It was love at first sight for player and coach.
"One of Brennan's greatest strengths is his work ethic," Beck said. "He's a really hard worker, he's a competitor. He's kind of a fighter.
"Bryce was very calm. Brennan's more intense on the field, and so I kind of described him as a fighter. Just his day-to-day, how he carries himself, how he competes, how hard he works is what set him apart."
Beck realizes that his new QB, even though he has seen some backup action the past two seasons, is facing unchartered territory as the new starter, but has confidence in his field general.
"Frankly it'll be interesting to see how it plays out when you hit the field and the bullets are flying, but for the most part Brennan wants to learn and he loves the feedback. He applies it really fast.
"From that standpoint, I don't think there's anything to worry about. We'll see if he gets a little too juiced up on gamedays and if that affects his performance at all. But for the most part, he's going to give it everything he has. It's a matter of making the adjustments, recognition, what's happening on the field and what adjustments we want to make from there for him to attack."
In the few appearances Armstrong has made, UVA fans have been impressed with his ability to bulldog his way to first downs, even the end zone, as a physical runner. His ability to throw the ball is something skeptics have wondered about, but coaches have pooh-poohed any thoughts of him not being an effective passer.
We flat-out asked Armstrong how he's improved since this time a year ago as a passing quarterback and he answered confidently.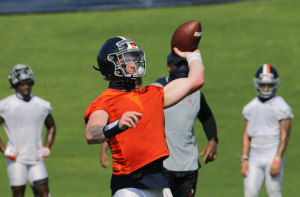 "As a passer, a lot of timing, anticipation," he said about his strengths. "I've grown a lot since I first got here. Just from high school to college, the anticipation of seeing things open up and when they're maybe not open at that second.
"Arm strength, I feel like I've always really had arm strength. Accuracy is improved, and that's just with my footwork. I think I've become a pretty good passer. I feel like I can make any throw on the field, too. I think that brings a lot of confidence in myself and from the receivers, too."
Even though UVA didn't have spring ball, Armstrong believes that throughout the extended fall practices that he and the receivers have developed a solid chemistry.
"I mean, we really didn't miss a beat, honestly," Armstrong said. "I was surprised from not having spring ball and then the summer … getting back later, because we were still able to come out here in little groups and throw. I was really surprised on how well we connected right out of the gates when we came to fall camp.
"We just picked up where we left off to where we would be even if we had spring ball. It's clicking pretty well right now."
Beck has coached some quality quarterbacks both at BYU and UVA, but said that Armstrong is a bit different than the others.
"Brennan is unique with his skillset and his ability," Beck said. "There's nobody that compares that similar to him, even just with being a lefty. He's the first lefty I've coached. But he's a really good player in his own right. He's played in some critical moments for us, so it'll be a fun opportunity for him to kind of be his show and show everybody what he can do."

Comments